This Genius Sex Toy Accessory Orders Pizza For You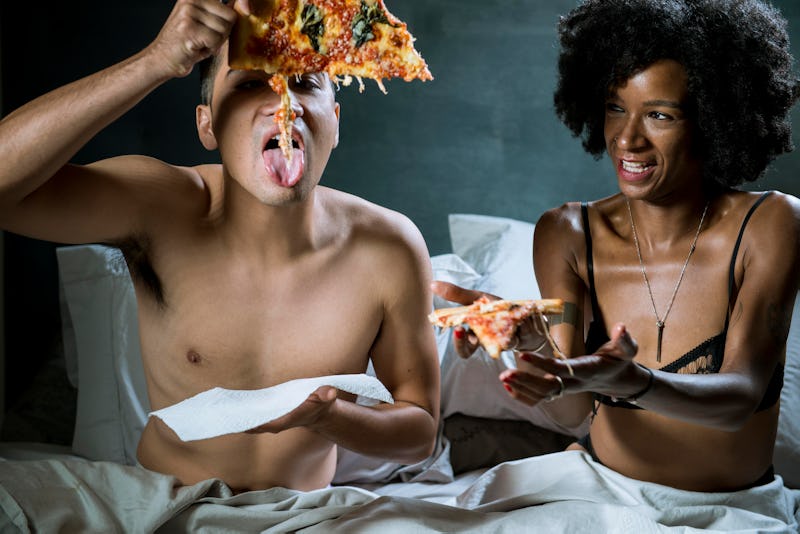 BDG Media, Inc.
On the list of things I never want to go without in this life, both orgasms and pizza make it into the top ten — so the news that someone came up with a way to order pizza using your vibrator (!!) is basically the best news ever. That's right: thanks to Domino's Pizza and adult entertainment webcam platform CamSoda, the "RubGrub" is about to make its debut on the sex toy market. But what exactly is RubGrub? Essentially, it's a way to turn your vibrator into one with a hidden super power that's cheesy, gooey, and delicious.
"Combining sex and food is something we've been trying to work into our mix of offerings for some time now, and we couldn't be more excited for the launch of RubGrub," Daryn Parker, VP of CamSoda, tells Bustle. "It's essentially a programmable Bluetooth button, designed to fit on a lush vibrator, so that when you reach orgasm, before you're even completely finished, a fresh pizza is being prepared for delivery to you."
Here's how it works: the RubGrub is an internet-connected button which is pre-programmed upon purchase with your payment, delivery, and order info. Simply attach it on the end of any vibe — although it's 3D-printed specifically to fit the Lovense Nora — and you'll be able to instantly double your potential for pleasure. Whenever you're finished (or even before you finish, if you're impatient) using the vibe, simply press the button, and a large cheese pizza from Domino's will instantly start making its way to your door — just make sure you have time to get dressed before letting the delivery person in.
If I'm being honest, just the idea of immediately getting pizza post-orgasm is pretty arousing in and of itself... and I'm definitely not alone in that feeling. According to a 2016 survey of almost 12,000 people by Havas Worldwide and Market Probe International, 54 percent of Millennials believe food and sex are equally pleasurable. And that's not all: Yelp recently surveyed 2,000 Millennials about the foods they'd most like to eat after a one-night-stand, and number one is — you guessed it — pizza. So clearly, the makers of the RubGrub knew exactly what we all really want. But how did this genius idea come to fruition?
"We feel that dual purpose toys for masturbation are a natural progression in this space," Parker says. "As technology continues to advance, new forms of convenience, be it within the sex/entertainment industry, food, retail, etc., will take us to new heights."
Although this amazing news is being announced today, unfortunately we'll have to wait a bit before we can actually get our hands on this godsend of a sex toy accessory. According to CamSoda, RubGrub is currently in its "final stages of development" and will be available for purchase in the coming months. The good news? It's expected to be priced at a mere $19.95, which means you won't have to feel the least bit of guilt if you want to treat yourself to one — but keep in mind that each pizza you request will cost you, too.
And because it's 2018 and anything is possible, there's one last piece of exciting news about the RubGrub: CamSoda says they plan to get additional restaurant chains (including ones serving Mexican and Chinese cuisine) on board — which means if you're lactose intolerant, you won't have to feel left out of this orgasms-and-eats party for long.
So should you add the RubGrub to your online shopping list? If you're a food enthusiast who also happens to love self-pleasure, I don't see any reason not to. We're living in the future, and thanks to news like this, I officially have no complaints.