The Backlash To Ruby Rose's Batwoman Casting Was So Bad, It Might Have Driven Her Off Twitter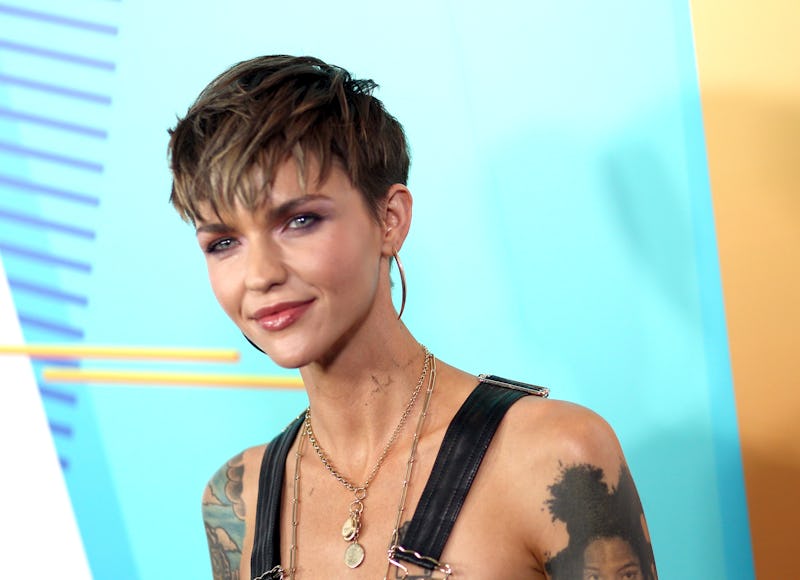 Tommaso Boddi/Getty Images Entertainment/Getty Images
It feels like just a week ago the internet was rejoicing at the casting of an actor who identifies as LGBTQ for the role of the gay superhero, Batwoman, but now the backlash to Ruby Rose playing Batwoman has reportedly caused the actor to leave Twitter. Bustle reached out for comment, but had not received a response at time of publication.
The Australian actor and model is set to play the iconic superhero in both crossover episodes of The CW's Arrow-Verse and potentially a standalone Batwoman series currently in development at the network. Immediately after the Aug. 7 announcement, she couldn't have been happier. In an Instagram post confirming the casting, Rose was overwhelmed with joy, writing a thank you to everyone who helped bring her to this milestone moment:
"The Bat is out of the bag and I am beyond thrilled and honored. I'm also an emotional wreck.. because this is a childhood dream. This is something I would have died to have seen on TV when I was a young member of the LGBT community who never felt represented on tv and felt alone and different. Thank you everyone. Thank you god."
But just days later, social media was flooded with heated criticism for the 32-year-old's casting. Some took issue with Rose's lack of Jewish heritage, some expressed doubt that she had the acting chops to carry a whole series, and some even took aim at her sexual orientation.
In short, it's been a whirlwind, and an extremely disrespectful one at that. That said, it's not entirely without merit. The backlash is multi-layered and escalating quickly, so let's dive in. Here are the four main reasons that critics have been speaking up about Rose's casting.
People Who Are Upset That She Isn't Jewish
The origins of Batwoman — also known as Kate Kane — stretch back to the 1950s, when she was created as a love interest for Batman before largely falling out of fashion as she was eclipsed by other characters. But in her current renaissance, DC has given Kane a rich backstory as not only an out lesbian, but also a Jewish woman, so fans are disappointed at the missed opportunity to give visibility to an actor who identifies as both.
People Who Claim She Isn't A Lesbian
Rose is gender-fluid and told Teen Vogue in February 2017 that whens she came out to her mom at age 12, she told her, that "when I eventually get a boyfriend, it will be a girl." But that hasn't been enough for some fans, who don't see this as a win for the LGBTQ community. In fact, this criticism appears to be the one that catalyzed the star's departure from Twitter over the weekend. As reported by LGBTQ Nation, Rose responded to the attacks about her sexuality and identity on Twitter, writing:
"Where on earth did "Ruby is not a lesbian therefore she can't be batwoman" come from – has to be the funniest most ridiculous thing I've ever read. I came out at 12? And have for the past 5 years had to deal with "she's too gay" how do y'all flip it like that? I didn't change 🤯"
She vanished from the platform.
People Who Want Another Actor Instead
What's probably the most hurtful about the #RecastBatwoman campaign is that critics have another woman in mind for the role. That woman is Jewish actor Ashley Platz, who's gotten so much attention for missing out on the role that she had to address the situation herself, tweeting, in part: "I know This role means a lot to Ruby (it would mean a lot to me) and she will work her ass off to fulfill the character."
It's totally understandable to feel strongly about a comic book character, but when the expression of those feelings drives an actor off of Twitter, there's a possibility things have gone too far. For now, Rose remains in the role, and she's deserving of respect, whether you agree with her casting or not.