The Breakout Star Of 'Deadpool 2' Was Hand-Picked By Ryan Reynolds Himself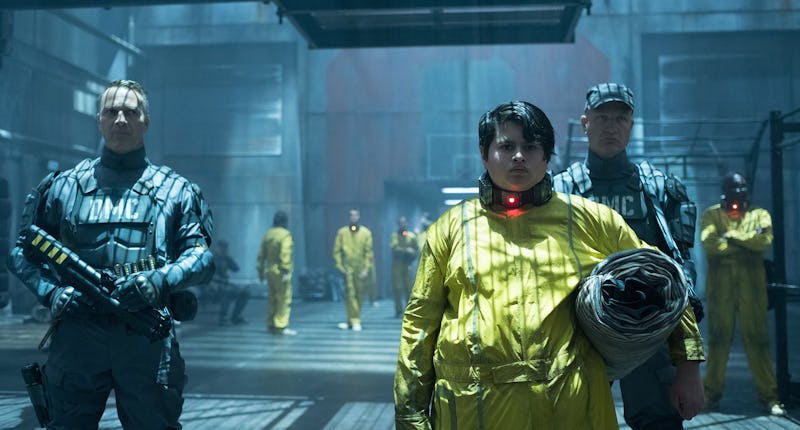 20th Century Fox
Deadpool 2 seems to subscribe to the idea that bigger is better. The sequel to the surprise 2016 hit Deadpool has a bigger budget, bigger stakes, and most notably, a bigger cast than its predecessor. Josh Brolin has come on board as the iconic antihero Cable, Zazie Beetz is the assassin Domino, Terry Crews is the mutant Bedlam, Bill Skarsgård plays Zeitgeist, Lewis Tan is Shatterstar, and Rob Delaney stars as regular guy Peter. Then there's Russell, the kid around whom the entire plot revolves, and the actor who plays Russell in Deadpool 2 is seriously great.
If you're from New Zealand, then you almost definitely recognize the actor behind Russell as Julian Dennison. The 15-year-old Kiwi starred in 2016's Hunt for the Wilderpeople, one of the most successful New Zealand produced films ever made. Directed by and starring fellow New Zealand natives Taika Waititi and Sam Neill, respectively, the film tells the story of Ricky Baker (Dennison), a trouble-making teen who's placed into foster care and ignites a nationwide manhunt after he disappears into the woods with his foster uncle (Neill). Dennison's role in the film was a star-making turn, winning Best Actor at the 2017 New Zealand Film Awards and drawing the attention of Deadpool star Ryan Reynolds.
"I'm very good friends with Taika (Waititi)," Reynolds told The New Zealand Herald's Dominic Corry. "So that's kind of how I found [Dennison]. Obviously I saw Taika's film (Hunt for the Wilderpeople) and I was like 'Who is this kid and what voodoo did you put on him to make him this good?'. And Taika said, 'He just is that good.' He was the only one we ever considered for the role."
Deadpool 2 director David Leitch confirmed that no one else was ever really considered for the role of Russell, telling Fandango's Erik Davis, "I'll just say this about Julian — when we were looking for a person to play his character, there was only one name that came to mind. It's sort of a tailor-made character for him. He has incredible acting chops and also comedic chops that we exploit throughout the film, and we're really fortunate to have him." By now it should be clear that the powers that be were very keen on getting Dennison to star as Russell in Deadpool 2, but who exactly is Russell?
While his identity was kept secret for a time, it was recently revealed that Russell is actually the mutant Firefist. Also known by his real name of Russell "Rusty" Jones, Firefist is actually a pretty obscure character from the X-Men corner of the Marvel Comics universe. Making his first appearance in 1986's X-Factor #1 as a 16-year-old, Firefist possessed the mutant ability to generate fire from his body, known as pyrokinesis. He then joined the New Mutants — a younger offshoot of the X-Men that eventually evolves into X-Force, a team which will make its on screen debut in Deadpool 2 — and later became aligned with the villain Magneto, becoming a member of his Acolytes. Firefist never made much of an impact on the comics, however, and was ultimately killed off by the villainous mutant Holocaust in a 1995 issue of X-Men.
With Firefist AKA Russell not having a very iconic history in the comics, Julian Dennison is free to create what will likely be the defining version of the character in Deadpool 2. And given the teen's impressive acting ability and comic timing, there's little doubt that when people think of Firefist from now on, they're going to picture the star of Hunt for the Wilderpeople, and not the New Mutants character who barely made a blip in the world of X-Men comics.