A Designer Just Sent A Bunch Of 'Harry Potter' Sorting Hats Down The Runway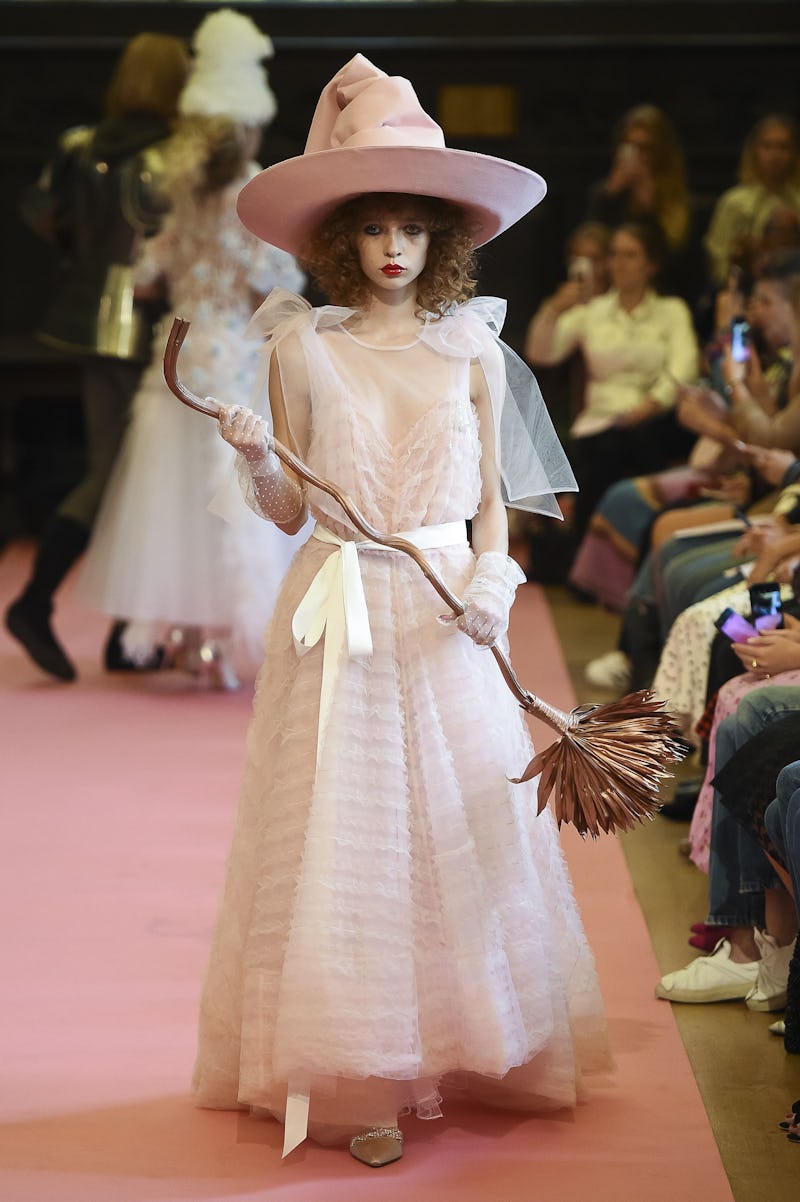 Pixelformula/SIPA/Shutterstock
The iconic book Harry Potter and the Philosopher's Stone came out in 1997 some 21 years ago, and the world is still not over it. Case in point: the Wizarding World has made its way into London Fashion Week, stomping down the catwalk. Ryan Lo created a Harry Potter inspired collection, but it wasn't witches and wizards walking down the runway, but Muggles. Going across the pond to where Hogwarts originally is, Lo created a collection that looked like a fantasy, accessorized with brooms and floppy witch hats. (Or is that a Sorting Hat?)
Hi collection was entitled "Saturn Returns," and it was meant to be a mystical, fairy-tale-like collection full of fairies, witches, and spells, leaning heavily on romantic materials like tulle, ruffles, and chiffon. "Full-on pretty, full-on princess, full-on fairy tale," Vogue explained. "Thus the various fairy godmothers in bewitching Stephen Jones millinery wielding vaguely pagan Harry Potter broomsticks, plus that fairy-tale ending."
The dresses themselves were a Victorian-meets-the-prairie aesthetic,with crochet work, scalloped necklines, ribbon accents, and puffed out sleeves. While the outfits are decidedly hyper-feminine, the accessories were where the Platform 9¾-like accents come alive. Maybe the outfits might not have looked appropriate at the Ministry of Magic — where everything is professional and somber — but one can see these pieces being brushed off for a wedding, holiday party, or even something occasional and special like the Yule Ball. You do have to dress up to the nines for that, after all.
The light pink, frothy number below would definitely be one such "robe," accented with a floppy satin pink hat and a bronzed and gnarled broom for added drama.
According to Lo, Glinda the Good Witch was the inspiration behind the look, which one could imagine would be a celebrity in the Wizarding World. The fact that the brim is oversized and almost platter-sized makes it feel even more fairy-tale like.
Then there was the pointy red witch's hat with a princess-like tulle trail coming from the top, making it feel like a special occasion type of hat. Like this would be mother-of-the-bride kind of accessory in the magical world.
Then there is this crumpled origami-like version, which has "spring in Diagon Alley" all over it. You would want to drink your Butterbeer out on a patio with this one, so the world could see this beautiful pastel concoction.
As you can see, the whole collection is full of magic. But it wasn't the only one that paid homage to Harry Potter. Vaquera opened its show during New York Fashion Week playing a Harry Potter theme song, bringing us straight back to our favorite childhood story. But that doesn't mean that models stomped down the runway in robes. The theme instead was a zombie high school, where models walked down in slashed pieces in various degrees of dissarya. Though there was a t-shirt with Draco Malfoy's face on it, so you know you will want to snap that one up.
No matter how many years pass, we all still stay spellbound by the magical world of Harry Potter.