Ryan Reynolds' Christmas Cookie Fail Will Have You Relating To The Actor So Much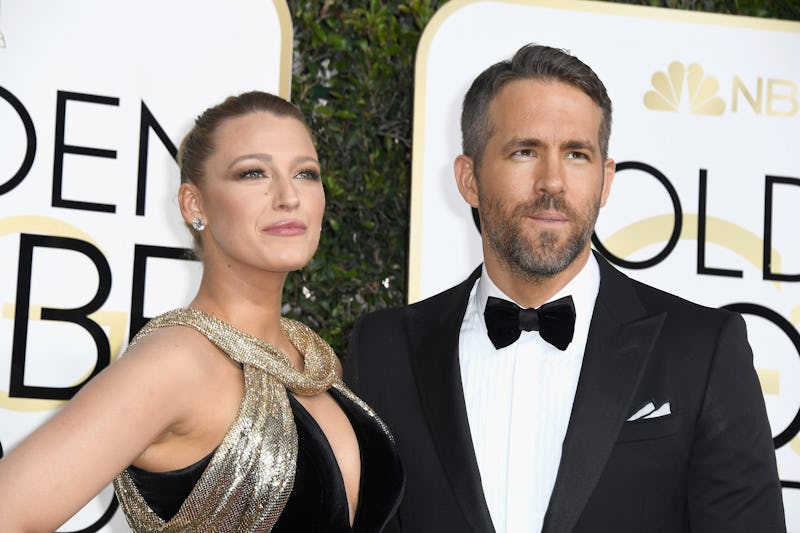 Frazer Harrison/Getty Images Entertainment/Getty Images
Being a superhero is easy, but baking Christmas cookies? Not so much. Blake Lively shared her husband Ryan Reynolds' Christmas cookie disaster on Instagram for the whole world to see, and it's hard not to laugh. Reynolds likely did his best, but the results are a straight-up Christmas cookie massacre. Forget the misshapen stars and crooked trees, these poor holiday treats are unrecognizable.
Lively and Reynolds seem to delight in poking fun at each other, as their annual birthday Instagram posts illustrate to hilarious effect, and this situation is no exception. Not only did Lively share a photo of her husband's cookie mayhem, she captioned the confectionery carnage,
"@vancityreynolds made some Christmas cookies...
...He's verrry handsome though.
Not to be outdone, Reynolds headed to the comment section to defend his artistic endeavor. "I wanted to be the first person to bake Christmas cookies using only a hammer," he wrote on Lively's post. Well, in that case, Reynolds did a truly admirable job. It doesn't entirely explain why one of the cookies appears to be dripping with nothing but black icing and another one is sporting an unappealing brown swirl in the middle of what looks like a tree, but hey, who's going to argue with Deadpool? (Aside from Lively, of course.)
Few celebrity couples are quite as relatable as Lively and Reynolds. While the love between them is apparent, they rarely post gushing proclamations about each other's greatness. Instead, they seem to delight in keeping each other humble. For instance, in April, Reynolds was honored at the Time 100 gala, and while Lively was likely super proud of her husband, she took the opportunity to write an ode to John Legend.
Lively captioned a photo of her husband's silhouette,
"Congratulations to the most influential person in my life. The best man I know... you deserve this @time 100 honor ... If only my husband wasn't blocking you in this shot. I'm so sorry @johnlegend."
Well-played, Lively, well-played.
Seeing the way these two lovingly tease each other is a gift all year round, but it's even more welcome than usual during the stressful holiday season. Lively and Reynolds are the parents of two little girls, James, 3, and Ines, 1, and they've largely shielded their daughters from the public eye. It's not hard to imagine that the kids may have had a hand in helping their dad with the whole cookie debacle, which only makes the scenario sweeter.
Like many parents, Reynolds and Lively seem to be finding ways to make their own fun this holiday season. And what's more fun than bonding over a baking disaster? Whether or not those cookies were edible, they were baked with good intentions, and they led to a story that the family will likely be laughing over for quite some time.
The moment is even funnier when you remember that Lively has a passion for cooking. She sometimes cooks with Top Chef winners for fun, so it's highly likely that she could whip up gorgeous Christmas cookies with ease. But instead, Reynolds headed into the kitchen and made a beautiful disaster that left his wife amused — and a whole lot of Instagram users feeling his pain.
Lively's comment section is full of people who understand Reynolds' baking woes all too well. One Instagram user wrote, "OMG. My twin. Don't worry, that is what bakery's [sic] are for."
Reynolds probably won't be giving up acting to become a baker anytime soon, but he's done his part to spread some holiday cheer this year with his cookie fail. And Lively did the world a favor by sharing her husband's kitchen antics just in time for beleaguered holiday revelers everywhere to bask in the feeling of solidarity with Reynolds. May the new year bring even more of this adorable couple's playful teasing to keep everyone's spirits bright.