Ryan Reynolds Reminds Everyone He's A Hot Dad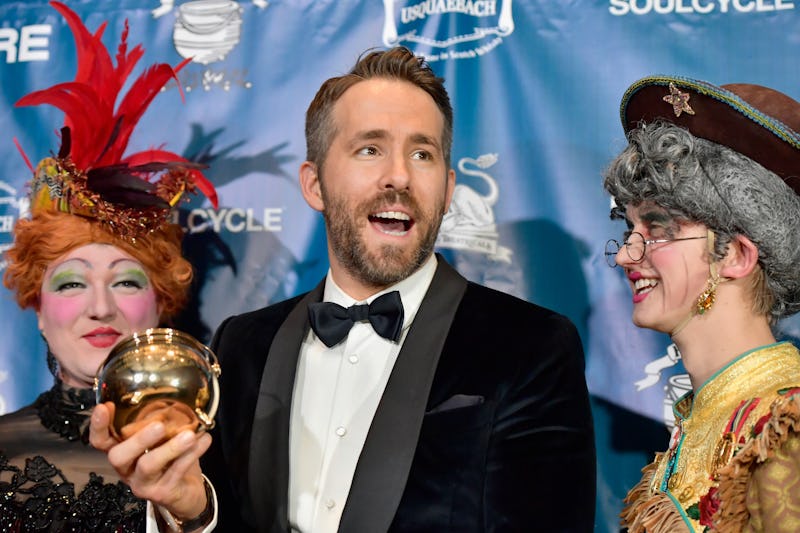 Paul Marotta/Getty Images Entertainment/Getty Images
Make sure you get out your fans, madames, because this story is about to get steamy. But, like, in a really cute, "Isn't he just the greatest guy?" kind of way. I'm talking, of course, about Ryan Reynold's Hasty Pudding speech on Friday, where he spent a portion of his time talking about the joys of fatherhood. Oh, yeah, in case you'd missed that part: Reynolds is freaking hot dad right now. He's the hot dad America needs and, if I may be so bold, deserves. Put that in your pipe, fellas.
During his acceptance of the Hasty Pudding honor, Reynolds took a moment to expound on the joys of fatherhood. With wife Blake Lively, Reynolds is father to James, 2, and newborn Ines. Together, they make up the cutest foursome in Hollywood. Honestly, look at the below photo of Reynolds and co. while he was accepting his star on the Hollywood Walk of Fame and you try to tell me it's not ridiculously precious.
According to People, while talking about his proudest moment as a father, Reynolds reportedly told the audience, "Just seeing my older daughter be so infatuated with our younger daughter, who's 4 months old. Seeing her kiss her and hug her and hold her, it kinda crushed me. But would put anyone else to sleep." One moment, I'm crying because that image is just so adorable and beautiful.
So, apart from absolutely melting because Reynolds gushed about his daughters, he was also able to give great insight into why he loves comedy so dang much. He said,
"It's one of the greatest tools of social commentary. In the best of times it's amazing. In the worst of times, it's even better. For me, it's a real shelter from the storm and I know it is for a lot of people too. I love smart comedy. I think its value is somewhat under-appreciated in the arts, but overall, I think it ain't going anywhere."
Reynolds would know all about what makes a good comedy, thanks to his well-deserved inclusion in the 2017 awards season conversation for his film Deadpool. The film itself is almost a year old, but the fact that it's remained popular enough to still merit Reynold's name being thrown into Best Actor conversations for the 2017 Oscars is amazing. (Unfortunately, he ultimately did not get nominated.)
Hot dad, hotter comedian. That's about the best summary of Reynolds I think you will hear all day.