Ryan Reynolds' Joke About Blake Lively Divorcing Him Is Next Level Trolling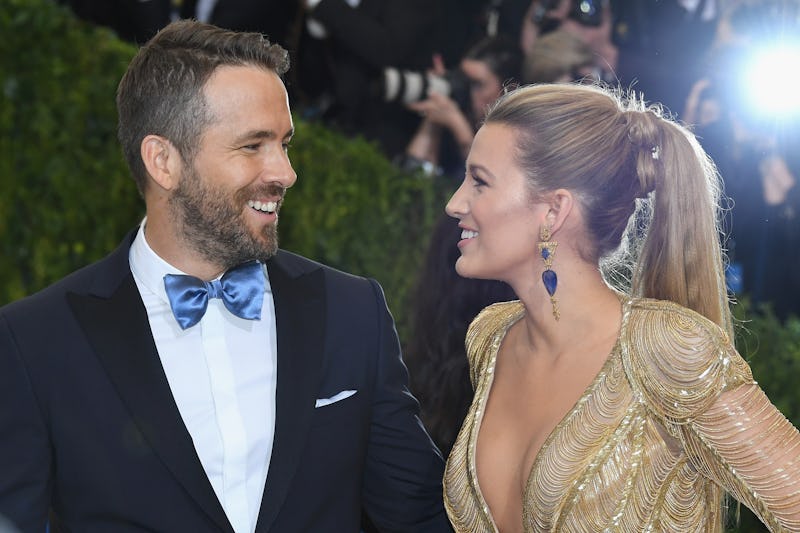 Dia Dipasupil/Getty Images Entertainment/Getty Images
Deadpool 2 star and target of Blake Lively's Instagram burns Ryan Reynolds is talking about divorce. But don't worry, it is not like that. It's all in jest, y'all. During a Comic-Con panel on Saturday, July 21, Reynolds cracked wise about the state of his and Lively's relationship in a very Ryan Reynolds way.
According to E! News, Reynolds jokingly said,
"My wife's been shooting a film overseas so I've been having a ton of time to pretend like I'm watching the kids. She's probably filing [divorce] papers as we speak."
Lively is currently working on The Rhythm Section, which is filming in Ireland and Spain. Reynolds told the audience at the Deadpool 2 Comic-Con panel that he has been passing the time by marathoning "like every Quentin Tarantino movie." That, and sprinkling Comic-Con panels with breakup jokes.
Lively and Reynolds began dating in 2011 and got married the following year. In 2014, they welcomed their first child, James. Their second daughter, Inez, was born in 2016. And in 2017, the couple took their relationship to a new level. And this level is a truly heartwarming level where they crop each other out of birthday IG posts.
Imagine, if you would be so kind, that you are an extremely famous human who is in a relationship with another extremely famous human. You know what will eventually happen, right? No matter how strong the relationship, you and your significant other will almost certainly be faced with breakup rumors at some point. It's just one of the many weird things that comes with being a celebrity. So, how do you choose to handle said rumors? Do you deny the gossip in a straightforward statement? Do you ignore the tittle-tattle? Or do you go the Reynolds route and have some fun with it?
If there is one thing that can be gleaned from the last several months, it is that Reynolds has taken to kidding around about divorce like a duck to water. Like a group of friends to a magical pair of jeans. Like a Green Lantern to a power ring. For example, on March 31, Reynolds responded to a rumor that he and Lively were headed to Splitsville with a tongue-in-cheek tweet. "I wish," he posted. "I could use a little more 'me time.'"
A few days later, he addressed the divorce rumor again with another tongue-in-cheek tweet. On April 3, Entertainment Tonight published an article titled, "Ryan Reynolds Joins Blake Lively and His Mom on Red Carpet After Shutting Down Split Rumors." The Deadpool actor was not about to sit idly by as misconceptions bubbled up. He set the record straight... about where he and his mother stand.
"We're never splitting. She'll always be my mom. No matter how much jazz-cabbage she smokes with her rollerblading friends."
Ya got us again, Reynolds.
Back in May, Lively unfollowed Reynolds (and everyone not named Emily) to promote her forthcoming movie A Simple Favor. Reynolds deadpanned to Australian radio presenter Smallzy that the unfollowing "definitely stings." He doubled down on the bit, adding,
"It's a terrible way to find out that I've been kicked out of the house, to be honest. Absolutely terrible. Don't know where a rage like that comes from."
But duh, everything is fine; the IG unfollow did not sound the death knell for their relationship. Once she was done with the A Simple Favor PR stunt, Lively eventually re-followed her husband.
And thank goodness for that. Could you imagine a world where these two goofballs suddenly gave up trolling each other on Instagram? No, thank you.