Ryan Reynolds' Throwback Birthday Photo May Be Funny, But It's Also Bittersweet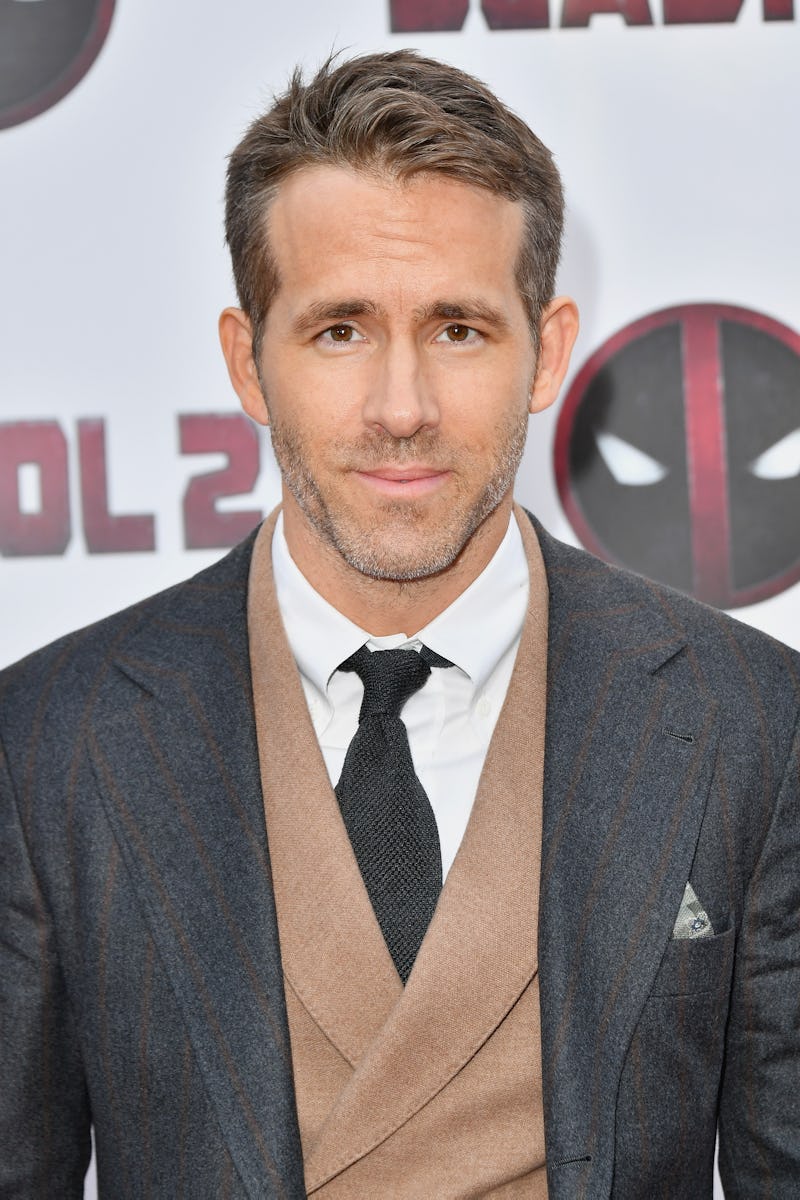 Michael Loccisano/Getty Images Entertainment/Getty Images
Tuesday, Oct. 23 is someone special's 42nd birthday, and if you log onto Instagram you'll see Ryan Reynolds' throwback birthday photo of himself as a young boy with his father, James C. Reynolds. It's an adorable picture of Ryan sitting close to his father and an untouched birthday cake on the table in front of them. Of course, the Deadpool star couldn't help but use a funny caption with it. Would you expect anything less?
Along with the photo, Ryan wrote,
"Happy Birthday to me. Or as Dad used to affectionately say, 'the condom broke.'"
Yeah, that sounds about right. As funny as his post is, the Instagram is also bittersweet. This picture serves as a memory Ryan has of his father, who died in October 2015 at the age of 74 after battling Parkinson's for more than 20 years. After his dad's death, the actor took to Twitter, where he shared an old photo of James holding who appears to be Ryan as a baby and a link to The Michael J. Fox Foundation. The organization is dedicated in finding a cure for the disease, and was also founded by actor Michael J. Fox, who was diagnosed with Parkinson's in 1991.
Next to his photo, the Deadpool 2 actor tweeted, "RIP Pops. James C. Reynolds. 1941-2015. If possible, please donate/support: http://www.michaeljfox.org."
As the January 2016 cover start for Men's Health magazine, Reynolds opened up about having to say goodbye to his dad. According to People, he recalled, "In my dad's dying moments, we were making him laugh. We were all in there together, me and my brothers, just joking with him. And of course we end up busting each other's chops. I recommended that the doctor raise dad's dose of Dilaudid in order to make my other brother more tolerable."
Reynolds also revealed that sometimes you need to find laughter during tough times. He said, "Laughing can serve you in those dark moments and even help you crawl your way back out."
Ever since his father's death, Ryan has been remembering his dad in touching ways. For example, he and Blake Lively even named their daughter after him. Their firstborn is named James Reynolds.
That said, Ryan and James didn't have a solid relationship at all times. In February 2016, he opened up to People about his complicated relationship with his father. Ryan admitted, "Our relationship never really mirrored the father-son dynamic I envied watching '80s sitcoms, but in the end it found its own version of closure in peace."
Actually, it was Lively who pushed her husband to reconcile with James before his death. "She has a gift for foresight," he said of his wife in an interview with Mr. Porter published in May.
The actor also said about naming their 3-year-old after her late grandfather, "It felt right." Ryan later added, "My father died soon after my daughter was born, but he got to see her, which makes me happy."
Ryan's birthday is definitely more of an emotional time than most people's birthdays. If you think about it, his special day is around the same time as his dad's death. Combine that with the ups and downs of their relationship that thankfully found some closure and peace, well, it's kind of a sad time for him — and will most likely continue to be. But, it looks like Ryan's trying to find the happiness in his day by laughing through the tough stuff and doing it with Lively by his side.