'Sabrina, The Teenage Witch' Stars Sent The 'CAOS' Cast A Super Witchy Video Message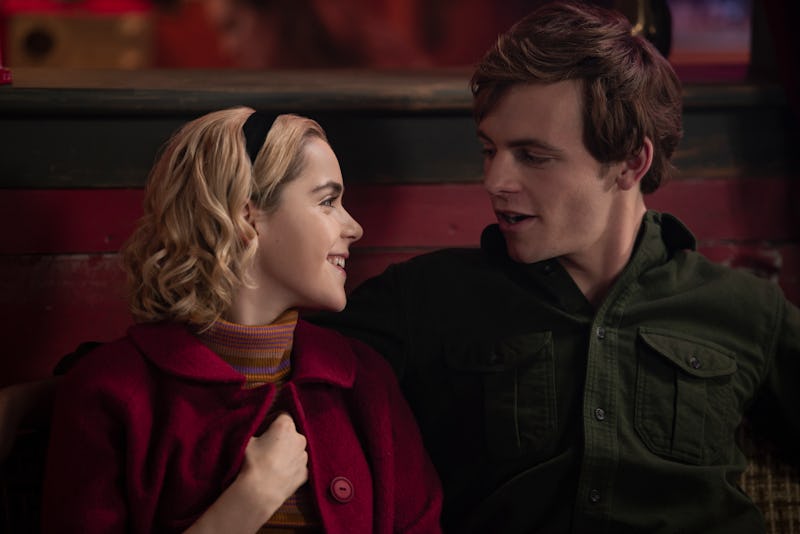 Netflix
The Oct. 26 debut of Netflix's Chilling Adventures of Sabrina series has every coven firing up their cauldrons in preparation. Even the Sabrina The Teenage Witch stars sent The Chilling Adventures of Sabrina cast "best witches" ahead of the series' premiere. Lest you think they meant something nefarious, there's no need to bust out your spell books for some light hexing, since the video they recorded is probably the cutest thing in both the mortal and witch worlds.
On October 25, Netflix's See What's Next account — which lets fans in on all things Netflix ahead of time — tweeted a video of the '90s cast of Sabrina, the Teenage Witch being charming AF together, all to celebrate the new series. Melissa Joan Hart, Nate Richert, Caroline Rhea, and Beth Broderick, otherwise known as Sabrina, Harvey, Aunt Hilda, and Aunt Zelda, all expressed their excitement for the upcoming series. And though The Chilling Adventures of Sabrina isn't a reboot of the beloved '90s show, it's still sweet to see them pass the proverbial torch onto the next generation of witches. Especially once you realize that the WB series went off the air four years before "Netflix Instant Play" was even created.
It's difficult to resist the urge to pick apart every detail of this well-wishing video. Like when Richert advised new Harvey Ross Lynch to "stay alive." What is that supposed to mean? Is he hinting at Harvey Kinkle's fate in The Chilling Adventures of Sabrina, or just making an ominous statement to tease fans? "I hear the new Sabrina is scary, and pretty damn twisted," he explains to the camera in the video, "I'm rooting for you, buddy". Um, okay!
Meanwhile, Hart advised Kiernan Shipka on how to choose between a broom and a vacuum cleaner as a method of transportation, reminding fans that Hart's Sabrina Spellman definitely had more lighthearted issues on her plate back in her day. Based on what Netflix has announced about CAOS, choosing between a broom and a vacuum sounds like it would be the least of this Sabrina's worries. After all, the '90s-era coven had some rules, but The Chilling Adventures of Sabrina, they're much more severe. Think less "there's a portal to another dimension in the linen closet" and more "it's time to go worship the devil in the woods."
The actors who played Sabrina's aunts are also as perfect as ever. Rhea, giggling, seems ready to hit a Halloween party right after filming — very Hilda. Meanwhile, Broderick's steely well wishes to the new Zelda (Miranda Otto) feel just as appropriate.
There's only one thing missing from the core crew, and that is Salem the cat. Salem's wisecracks were a key part of Sabrina, The Teenage Witch. He'll still play a prominent role in The Chilling Adventures of Sabrina, but don't expect any sarcastic remarks to come out of his mouth. Salem doesn't speak this time around, which may be why they didn't pop him into the Netflix video. But, fans will still get to see him on CAOS. And, really, as long as Salem is there in some form, fans of the '90s show can't complain — much.