New Sabrina The Teenage Witch Kiernan Shipka Never Watched The Original For This One Reason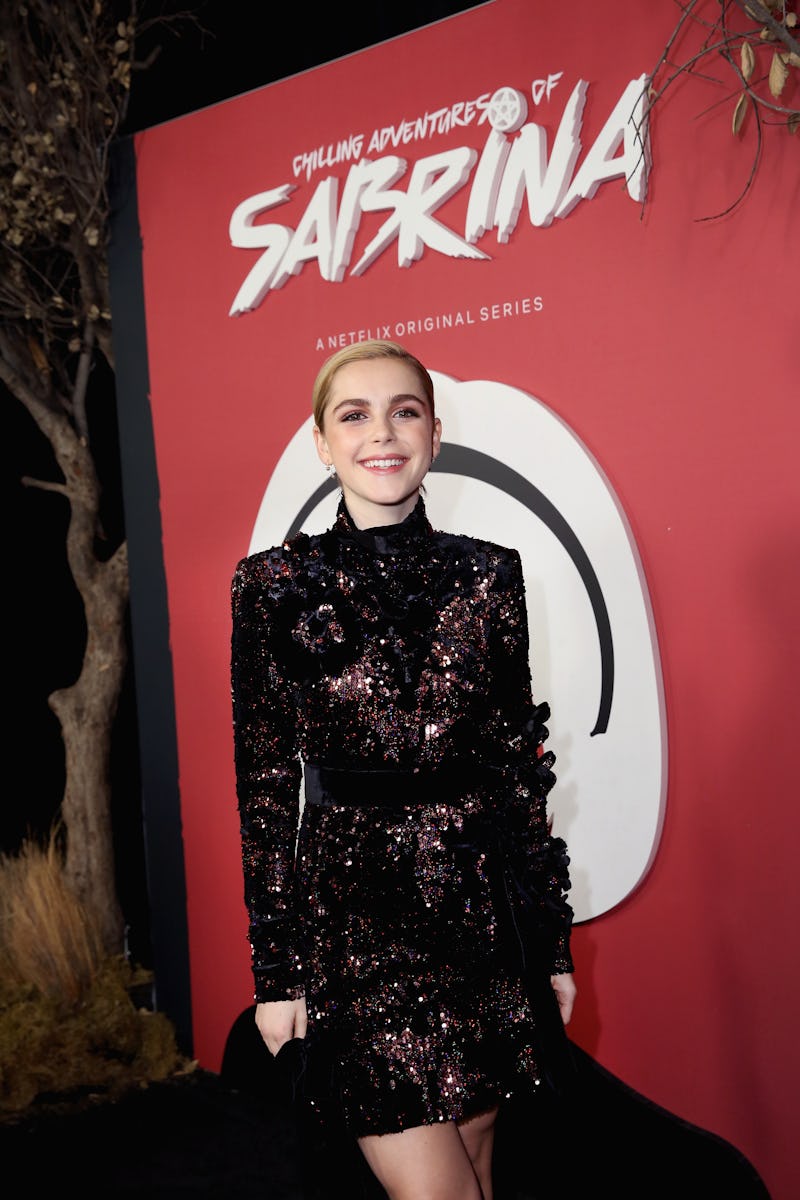 Rachel Murray/Getty Images Entertainment/Getty Images
As this generation's newly-imagined Teenage Witch, actor Kiernan Shipka has some pretty big shoes to fill. But, judging by Chilling Adventures of Sabrina star Kiernan Shipka's latest comments on the original series, it seems safe to say the talented teen isn't letting herself get caught up in comparisons to Sabrina circa 1996. Which probably means fans shouldn't, either. During a recent sit-down interview with E! News, Shipka — who will make her onscreen debut as Sabrina Spellman 2.0 just a few days from now, when Netflix's Chilling Adventures of Sabrina premieres Friday, Oct. 26 —revealed that she's never seen an episode of Sabrina, the Teenage Witch.
"I actually didn't really know that much about the old Sabrina, the Teenage Witch," the 18-year-old actor recently revealed to E! News, adding that she "was a little too young for viewing" when the series saw its first run back in the '90s. (Anyone else feeling ancient right now?) Sabrina, the Teenage Witch premiered in 1996, three years before Shipka was born.
According to E! News, Shipka does "eventually" plan to watch Sabrina the Teenage Witch. (Which, presumably, means she still hasn't seen it.) But, if her comments are any indication, it definitely doesn't sound like she's rushing into anything on that front. Why? As Shipka told the outlet, she wanted to make this Sabrina all her own:
"I was sort of excited to take a crack at something that was iconic and interesting, but sort of have a completely different take on it that was new and hopefully fresh and fun and exciting, so this Sabrina is my Sabrina."
While it's a little surprising to hear that 21st-century Sabrina hasn't furiously studied the fictional shenanigans of her '90s predecessors on TV, Shipka's rationale also doesn't come as much of a shock. Those who've been following the recent wave of updates about the Chilling Adventures of Sabrina on social media know Netflix's upcoming adaptation will depart from the original in some pretty notable ways.
Perhaps most notable? In stark contrast to the lighthearted — albeit, nonetheless spellbinding — quips that characterized much of the narrative on Sabrina, the Teenage Witch, Netflix's new take promises comparatively more haunts than humor. Anyone who's borne witness to the Chilling Adventures of Sabrina's official Twitter account (and its exceedingly spooky social media promos) probably knows this to be true already, given its recent output of ultra-creepy photos and accompanying messages, including but not limited to an August tweet whose caption literally read: "scared yet?"
The network's official description, which was first released over the summer, called the Chilling Adventures of Sabrina "a dark coming-of-age story that traffics in horror, the occult and, of course, witchcraft," adding that the adaptation will be "tonally in the vein of Rosemary's Baby and The Exorcist." Continuing, the series' description teased some serious doom and gloom ahead for Shipka's Sabrina:
"This adaptation finds Sabrina wrestling to reconcile her dual nature — half-witch, half-mortal — while standing against the evil forces that threaten her, her family and the daylight world humans inhabit."
OK, so, yes, we're definitely at least a little scared. But, echoing some comments Melissa Joan Hart, the original Sabrina Spellman, made to People back in August, Netflix's brand-new take on Sabrina is also pretty exciting. "I'm glad they're not doing a reboot of Sabrina," she told the publication, expressing both relief and appreciation for the new series paving its own way, as far as tone and characterization are concerned.
And, judging by Shipka's lack of concern over watching the original series, it sounds like she and Hart are more or less on the same page. So, even though the young actor certainly missed out on some quality television — and should definitely make up for it with a well-deserved Sabrina, the Teenage Witch marathon one of these days — here's to a brand-new decade. And a brand-new Sabrina.