This 'Dear White People' Episode Will Inspire Interracial Couples To Have Some Tough Conversations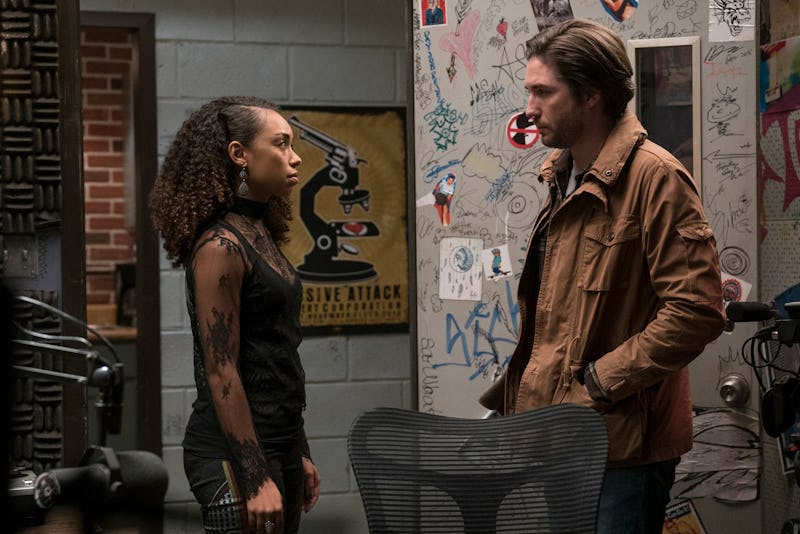 Saeed Adyani/Netflix
Spoilers ahead for Dear White People Season 2.
Like its debut season least year, the second season of Dear White People tackles a slew of issues from abortion to sexuality, all while continuing to add nuance to its discussion of race in America. The new season begins with Armstrong-Parker getting a sudden and unwanted surge of fresh white faces, and the boisterous Samantha White (Logan Browning) dealing with her own post-protest-turned-disaster blues from Season 1, which results in her becoming the target of a slew of alt-right social media trolls. But one of the most interesting parts of Dear White People Season 2 is Sam and Gabe's fallout, and their discussion about the differences between white allyship and white saviors. It's an interaction that's powerful because it could inspire those in interracial relationships — both romantic and familial — to continue having frank discussions about race.
Dear White People continues to be a show that thoughtfully dissects the experience of black bodies in white spaces. It gives viewers an honest portrayal of the black intellectual plight, without feeling the need to pander to respectability politics, or go out of its way to define language specific to the black community, as many other shows about the black experience do too often.
Though meant to entertain the masses, I can't help but to feel as if Dear White People was written for people like me — educated and unapologetically black, sometimes to a fault. And during a time when stories about white families who are extremely dismissive of anything non-white are not only being rebooted, but praised by problematic politicians, having a show such as Dear White People helps me to feel both seen and heard.
Though Sam's need for dominance is somewhat annoying at times, the outspoken student does a fine job of pushing to have those tough conversations about race that many would find way too uncomfortable to confront. The conversation she has with Gabe about what white allyship should look like is one that those in interracial relationships should consider initiating sooner than later.
In the midst of battling alt-right social media trolls hiding behind the moniker Alt-Ivy, Sam finds herself extremely bothered by her ex-boyfriend Gabe's documentary Am I Racist? — an exposé about a white man's fight against inherited biases he may or may not have about people of color. You may remember that the former couple ended their relationship at the end of Season 1, after seemingly succumbing to the insecurities they both felt about living in each other's worlds. Oh, and who can forget Gabe's call to the campus police, which resulted in Reggie Green (Sam's friend, and member of the Black Student Union) staring down the barrel of a pistol, and Sam's sexual rendezvous with said friend while dating Gabe?
In Season 2, it's apparent that Sam and Gabe have valid reasons for keeping their distance, but Gabe's documentary seems to have pushed Sam over the edge — fully validating, at least to her, why she, a black woman, can't possibly have a serious romantic relationship with her "oppressor." Gabe's film wears a shield of white allyship, but for Sam — someone who constantly finds herself staring controversy in the face because she's outspoken about the plight of black people in white spaces — Gabe's project is more about his white guilt than about actually trying to seek change.
The two ex-lovers attempt to discuss these heavy topics, and though their conversation is deeply personal, it also hits on some pretty universal topics — like, how Sam's "Dear White People" podcast is meant for black audiences, but can feel like an attack on white listeners; how through Gabe's Am I Racist? project, he's pushing the same messages as Sam, but coming from a white perspective makes the ideas more palatable to a white audience, and Gabe monopolizing off of that knowingly makes him more of a white savior than ally. They discuss how blaming the oppressed for their own oppression instead of the oppressor is problematic, how it's unfair for Gabe to tell Sam how to process her anger so as not to scare potential white allies away, and how fixing this racist society shouldn't be the responsibility of people of color, but of those who created this thing called "whiteness" in the first place.
Though admittedly uncomfortable to watch, Gabe and Sam's extremely passionate conversation helps illustrate what white allies can do to earn the trust of those that they're seemingly fighting for. Yes, white people are crucial to ending white supremacy, but only because they created it, and not because people of color need saving. Inviting themselves into black spaces, and infiltrating movements already started by black people with a superiority complex, doesn't do anything but soothe their own white guilt. If white allies want to affect real change, hiding behind black movements and bodies isn't the way. By putting themselves on the front lines of their own movements and developing their own plans for dismantling the idea of whiteness they can be more of use.
Looking to Sam and Gabe for relationship goals probably isn't the best idea, but when it comes to tackling racial issues that those in platonic or romantic interracial relationships more than likely face, they're definitely doing a fine job at setting the bar.