'Sex And The City' Fans Will LOVE Sarah Jessica Parker & Chris Noth's Instagram Exchange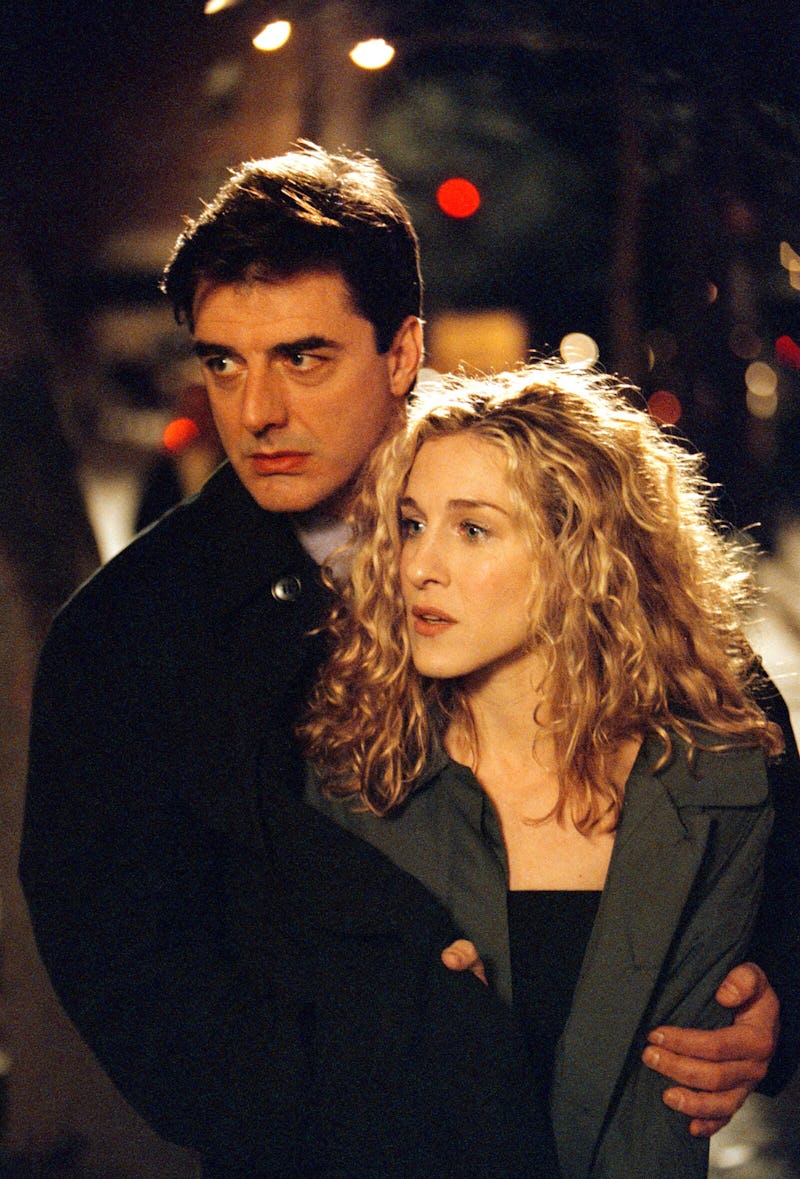 Getty Images/Getty Images Entertainment/Getty Images
It's hard to believe it's been 20 years since the world was first introduced to Carrie Bradshaw and Mr. Big when Sex and the City premiered back in 1998. But while their relationship definitely faced its fair share of ups and downs on-screen, it appears as though the dynamic between their off-screen counterparts has continued to withstand the test of time. In fact, the latest Instagram exchange between Sarah Jessica Parker and Chris Noth — who played Carrie and Big , respectively, during the show's six-season run (plus two movies!) — is proof that these two will forever hold a special place in each other's hearts. And yes, Sex and the City fans simply can't get enough of it.
But let's back up for a minute and get to how this whole thing happened in the first place. It all started when Noth posted a photo of himself on Instagram where he's showcasing his workout results at the gym by flexing his arm muscles. "Climbing the mountain of time and gravity!," the actor's caption read. That in and of itself was enough to inspire numerous fan comments, however, it wasn't long until Parker herself took notice of the picture and decided to grace us with her own remark on the matter. "Still looking good!!!! X," she wrote. This prompted Noth to respond to her comment with a winking face and kissing face emojis that sent the hearts of Big and Carrie shippers into overdrive.
Of course, there are those out there who may not have enjoyed seeing Carrie and Big's relationship play out on-screen. In fact, there are many out there who don't think they should've ended up together in the first place, given how frequently Big had broken Carrie's heart over and over again in the past. And while that argument is certainly valid, it's still impossible not to get even just a tad sentimental seeing two actors who worked together for so long have such a sweet exchange — and in a very Carrie and Big sort of way. (It's easy to imagine their characters making those same exact comments to each other.) So even if you weren't for the on-screen dynamic, their off-screen chemistry is still downright irresistible.
Additionally, this is bound to make fans slightly hopeful that a third Sex and the City movie could still be in the cards. Back in September 2017, Parker confirmed that while a third installment had been greenlit, SATC 3 ended up getting canceled, with Parker explaining to Extra that "It's over… we're not doing it." Though she failed to go into detail about what exactly had caused the plans to come to such an abrupt halt. "I'm disappointed. We had this beautiful, funny, heartbreaking, joyful, very relatable script and story," she told the outlet. "It's not just disappointing that we don't get to tell the story and have that experience, but more so for that audience that has been so vocal in wanting another movie."
As of now, there's sadly been no word that the movie could ever get brought back to life once more, but after this latest exchange between Parker and Noth, fans are going to want it all the more so they can see where these two lovebirds are now in their lives and how married life is treating them in the big city. But regardless of whether or not more of Big and Carrie's story will play out in theaters, it's at least comforting to know that the friendship between Noth and Parker is stronger than ever. And for now, that's enough.