Sarah Sanders Says Nancy Pelosi Should Smile More Often & Oh, Hell No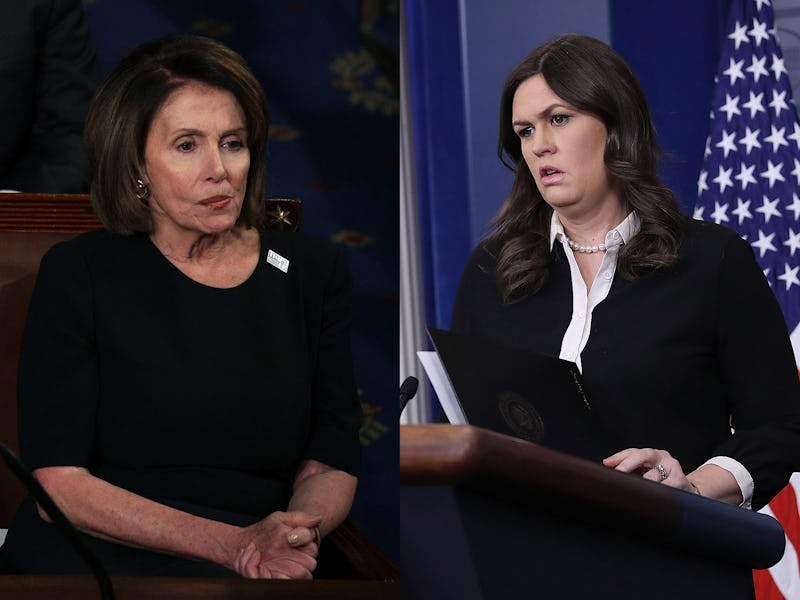 Alex Wong/Getty Images News/Getty Images; Win McNamee/Getty Images News/Getty Images
Women are told to smile while walking down the street, while grocery shopping, while enjoying a drink at the bar — and apparently while watching a State of the Union address on Capitol Hill. During an interview with CNN following President Trump's first SOTU, White House press secretary Sarah Huckabee Sanders said Nancy Pelosi should smile more. "I think the country would be better for it," Sanders quipped Wednesday morning about the House minority leader's facial expression during the speech.
The California Democrat went to Trump's State of the Union in protest, wearing black in support of the #MeToo movement that's shining a light on sexual harassment and assault across industries. Because Pelosi has been a vocal opponent of Trump's policies on every issue from immigration to taxes, it's no surprise she looked less than enthused to watch Trump address the nation for more than an hour.
However, Sanders seized the opportunity to comment on Pelosi's face, telling CNN's Chris Cuomo:
I think Nancy Pelosi looks like that all the time. I think she should smile a lot more often. I think the country would be better for it.
She further asserted that Pelosi "seems to kind of embody the bitterness that belongs in the Democrat Party right now."
Sanders' wasn't the only person to point out Pelosi's facial expression during the State of the Union, as others chimed in on Twitter to make fun of her. But women quickly jumped in to say "Nancy Pelosi is all of us" and call Sanders' comment "a backwards bunch of misogynistic crap."
Women have dealt with men telling them to smile since the beginning of time. Wether it's meant as a way to start a conversation or to make the person making the request feel more comfortable, it completely disregards the fact that women don't owe men — or anyone — a smile. As Erika Hardison explained on HuffPost:
The sexualization behind telling women to smile is alarming. It makes women feel that we are only meant to be happy and pretty ... Asking a woman to smile is a selfish act and it's rarely in a caring tone.
Sanders showed Wednesday that women use the same line to critique other women's appearance and demeanor. But women can't always be happy enough to smile. In fact, that's an impossible request.
Pelosi has yet to respond to Sanders' comments, but explained Tuesday night that she wasn't impressed by this year's SOTU message. She tweeted immediately following the speech:
Tonight, @realDonaldTrump presented a self-congratulatory speech w/o vision. He promised unity, but sowed division. America deserves better. #SOTU
With such a negative reaction to Trump's words, it's no wonder she wasn't smiling.
The White House press secretary has also previously defended Trump's sexist comments, including a tweet he posted in December claiming Sen. Kirsten Gillibrand "would do anything for" political donations.
"I think only if your mind is in the gutter would you have read it that way," Sanders said at the time. "There's no way that this is sexist at all. This is simply talking about a system that we have that is broken in which special interests control our government."
Sanders' controversial statements are often a strategy to divert attention away from critiques of the Trump administration, and saying Pelosi should smile more is no different. After all, her job is to portray the White House is the best light possible. Still, making sexist comments about women from the opposing political party should never be part of the White House press secretary's job. Criticize Pelosi's policies, political decisions, or leadership skills all you want — but commenting on her appearance drags all women down.