Todd Kraines Would Be Proud Of Scott & Khloe's Prank On 'KUWTK' This Week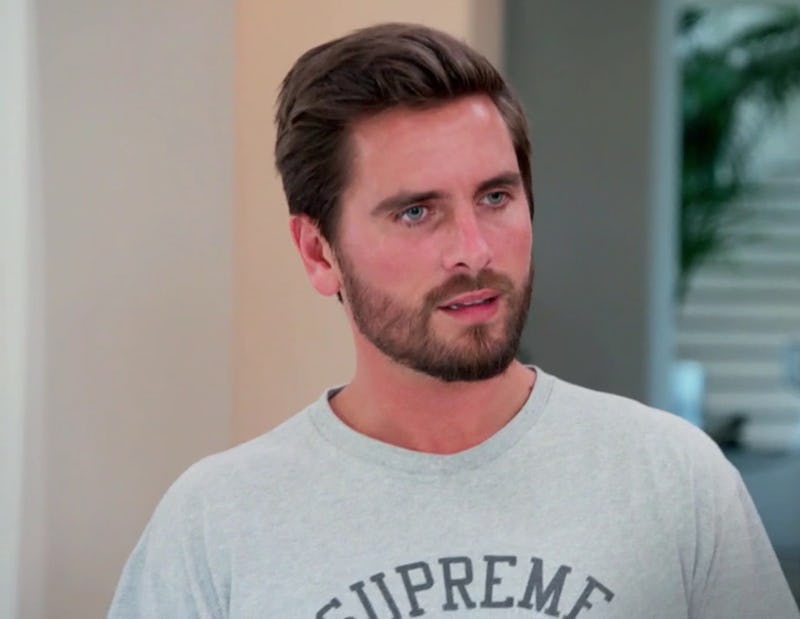 E!
We're only two weeks into the newest season of Keeping Up With The Kardashians, and there's already been about three months' worth of famous family drama. The premiere showcased an explosive fight between Kourtney and her sisters, but luckily, this week's hour offers a bit of a reprieve. Scott and Khloé pranked Kris yet again, just like in the good old days of Keeping Up With The Kardashians, and it's definitely the most fun part of the episode.
It all starts after Khloé feels like Kris is "art-shaming" her — Khloé asks about a balloon animal sculpture that is in Kris' office, and thinks Kris is judging her for not recognizing the work of the artist, Jeff Koons. "My mom has not known about art for years and years," Khloé tells the camera. "She's just learning." The level of supposed art snobbery is too much for Khloé, and she decides to take the matter into the capable, pranking hands of Scott Disick.
"We could sue her. Do you want to get a lawyer on the line?" Scott says when Kris' art-shaming was becoming an issue. "No, I want to art-shame her back," Khloé replies. Let us not forget that Khloé and Scott have teamed up for pranks in the past — namely, the legendary Todd Kraines debacle, in which Scott prank-called Kris for literal years, pretending to be a distant cousin who wouldn't leave her alone.
Needless to say, a good old fashioned Scott Disick prank is exactly what the doctor orders to break up the otherwise tense scenes featuring the aftermath of Kourtney, Kim, and Khloé's fight last week. Scott and Khloé work together to hire an actor to play renowned (imaginary) artist, "Art Vandelay," in the hopes of exposing Kris' interest in art as flimsy and uninformed. The name itself is a tell — any Seinfeld fan will immediately recognize it as a fake name used frequently throughout the series.
They take Kris to an art gallery that's been set up for the prank, and the actor totally dupes her, convincing her immediately that he's the next big thing to hit the art world. Scott adds insult to injury by dropping random names Kris pretends to be familiar with, and it's kind of amazing. "Kris is pretty funny when you get her going, because you basically drop any French or Italian style name who sounds elegant, she'll ... act like she knows them," he says.
From there, Khloé and Scott even put on their own artist smocks, slap some paint on a few canvases, and convince Kris to hang the "Vandelay work" up in her house. The entire plotline is full of treats, including a great Scott line about Khloé's painting skills — "It's like watching Jesus work" — and a dramatic painting montage set to intense classical music. Fans were excited about where the plot took them.
It Was Just Like Old Times
The paintings Scott and Khloé create are actually not too bad to look at, either, and Khloé tweeted during the show that she might not be putting down her paintbrush for good.
This episode is such a welcome return to the show's roots because it offers easy entertainment that you don't really have to read too much into — a rarity in a show about an always controversial family that's sometimes a struggle to keep up with (no pun intended).
It also lets viewers see a happier, more lighthearted Scott. He's had his share of ups and downs during his time on Keeping Up With The Kardashians, and that's no secret. He and Kourtney ended their years-long relationship for good not all that long ago, and his struggle to stay sober and properly deal with his mental health has been a recurring theme in the show, for better or worse. Regardless of the mistakes he's made, though, the KarJenner fam and fans can't get enough of him and want to see him happy — and he and Khloé's friendship and antics are a testament to that, for sure. More pranks, please. Especially if things continue to be rough among the rest of the family.