Selena Gomez May Have Made A HUGE Donation To Time's Up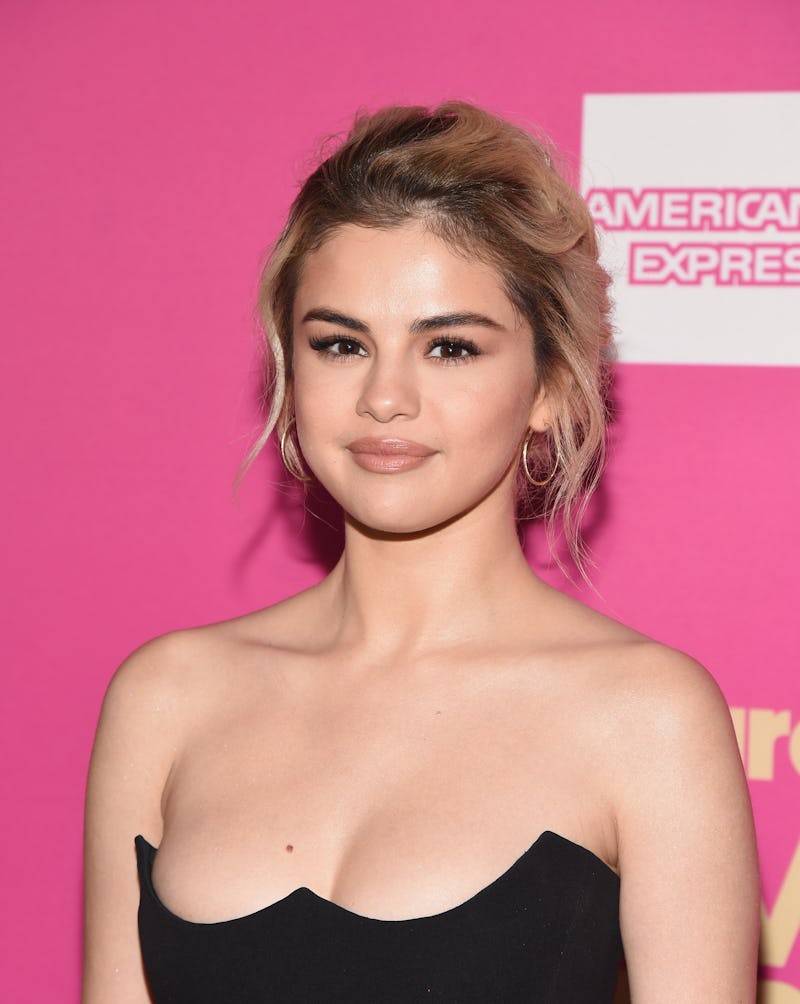 Michael Kovac/Getty Images Entertainment/Getty Images
Though Selena Gomez has remained mostly quiet about acting in Woody Allen's upcoming movie A Rainy Day in New York (producer: Letty Aronson), the singer has been vocal about her commitment to the Time's Up initiative. A new report in People claims that Selena Gomez anonymously donated to Time's Up, an amount that "far exceeded" her salary on the Allen picture. (Bustle has reached out to her rep for confirmation, but did not receive an immediate response.) The report, which cites an anonymous source close to Gomez, comes shortly after a few of the "Bad Liar" singer's Rainy Day co-stars announced that they have donated their salaries to charitable causes, including Time's Up, which provides subsidized legal support to women and men who have faced workplace harassment and gender discrimination.
Whether Gomez donated the money, as her co-star Rebecca Hall did, as a sign of support for Dylan Farrow is unclear, however. Hall, who had a breakout role in Allen's 2008 film Vicky Cristina Barcelona, announced last Friday that she would be donating her Rainy Day in New York salary to Time's Up. She said that she was motivated to do so after "reading and re-reading" Farrow's statement. Farrow, who is Allen's estranged daughter, accused the filmmaker of sexually abusing her when she was 7-years-old. (Allen has denied the allegations many times over the years.) She has maintained her claims as an adult, in essays in the New York Times and Los Angeles Times.
Hall said that Farrow's words had made her rethink her decision to work with Allen:
"I see, not only how complicated this matter is, but that my actions have made another woman feel silenced and dismissed. That is not something that sits easily with me in the current or indeed any moment, and I am profoundly sorry. I regret this decision and wouldn't make the same one today. "
Likewise, Timothée Chalamet, who also has a role in Gomez's upcoming movie, announced that he would be donating his salary to Time's Up, RAINN, and The LGBT Center in New York. The Call Me By Your Name actor credited the "powerful movement" he saw growing in Hollywood to fight "injustice, inequality, and above all silence" for changing his perspective on working with the director. "I want to be worthy of standing shoulder to shoulder with the brave artists who are fighting for all people to be treated with respect and dignity they deserve," Chalamet wrote on Instagram.
Griffin Newman, who is perhaps best known as playing Arthur Everest in The Tick, was the first to denounce his role in the Allen film. Back in October, he wrote on Twitter that he would be donating his salary to RAINN, the Rape, Abuse & Incest National Network.
In contrast, in recent weeks, Gomez has avoided saying anything publicly about the movie, which also features Elle Fanning, Jude Law, and Liev Schreiber. In a profile with Billboard last November, the singer admitted that she's "not sure how to answer" questions related to Allen's alleged past. She explained:
"To be honest, I'm not sure how to answer — not because I'm trying to back away from it. [The Harvey Weinstein allegations] actually happened right after I had started [on the movie]. They popped up in the midst of it. And that's something, yes, I had to face and discuss. I stepped back and thought, 'Wow, the universe works in interesting ways.'"
Though her answer at that time did not address the allegations head-on, there could be a reason for that. In Chalamet's Instagram post, he had mentioned that he was not able to answer direct questions about the Allen allegations "because of contractual obligations," a point which also could apply to Gomez. The singer might also have preferred to keep her charitable donations private; after all, she has not confirmed her donation, but she did show her support for the organization through an Instagram post, writing, "It's time to shift the balance in the workplace, from representing the few to representing us all."
Though Gomez might chose never to explain how she felt about Farrow's accusations, this new report indicates that she is committed to putting her money where her mouth is by helping other other women through Time's Up.
If you or someone you know has been sexually assaulted, call the National Sexual Assault Telephone Hotline at 800-656-HOPE (4673) or visit online.rainn.org.