Here's Why Fans Are Convinced Selena Gomez's New Music Will Be About Justin Bieber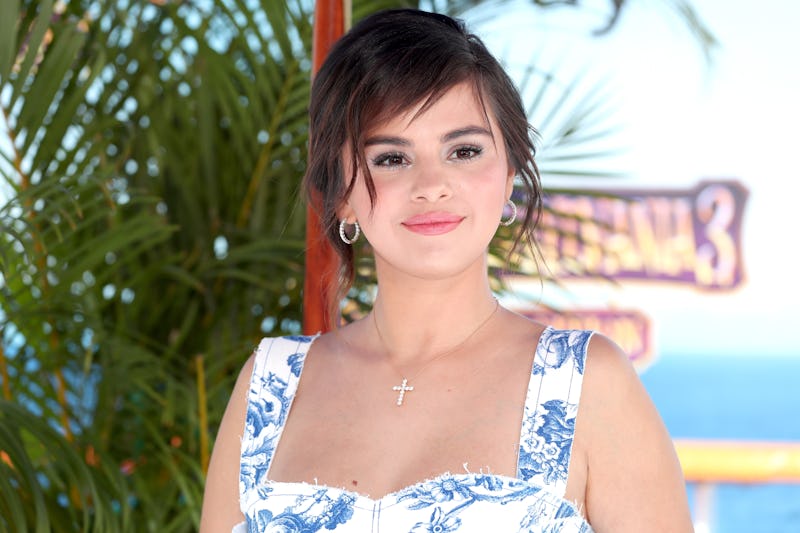 Christopher Polk/Getty Images Entertainment/Getty Images
For those who want to know how Selena Gomez is doing, she wants fans to know that she's "so happy" right now, and that happiness will reportedly find its way into her music. In a new interview with Elle, Gomez teased her new album, which could be out as early as this fall, explaining that it will be about her independence. That said, Gomez teased new music in her interview, and fans immediately jumped on the lyrics printed in the article as clues that at least one of her new songs could be about Justin Bieber. But even if the track teased is actually about the Biebs, it's very possible it will be Gomez's final song about her ex, as she she makes it clear in her interview that she's ready to move on with her life.
In her Elle cover story, Gomez teased new music, even playing some new songs for the reporter. According to the reporter, one of the songs included lyrics about ending a relationship that lasted "1,460 days" as a way of "cleaning my slate." Gomez didn't say what the title of this song is, but she did play a bit of the track for the magazine. "Without you," she reportedly sings on the new track, "I don't overthink it" before singing on the song's hook: "I'm drunk and I might as well tell you, Get you ooh ooh ooh out of my head now."
Gomez didn't tell the outlet who the song was about, but fans had a few guesses based on the numbers she gave. See 1,460 days comes out to four years, which is a meaningful number for Jelena shippers, as one Selena Gomez fan tweeted when asked by another fan why Twitter thought this song was about him. "Selena and Justin stayed 4 years together, 2010-2014," they wrote. "1,460 days = 4 years."
Another fan named @gomezbop was shocked by Gomez's comments, which they felt revealed that this song was about Bieber, who recently got engaged to Hailey Baldwin shortly after he and Gomez reportedly attempted to give their relationship another try. "If u total up all the time Selena and Justin were dating its 4 Years," they wrote. "Wow."
But before fans read too much into these lyrics, they should be warned that these might not be the exact words in the song. Hours after the interview went live, Gomez took to Instagram in three separate posts to imply that the lyrics reported might not be the final lyrics fans hear when she releases the song, which she teased could be very soon. "And maybe edit my actual lyrics as you will all hear it soon," she wrote, seemingly suggesting that her lyrics will not remain as printed by the magazine.
Gomez did not comment on Bieber or his engagement in the interview, and fans have yet to listen to this new mystery track, so any guesses as to who it might be about are just that — guesses. Instead of talking about her romantic past, the singer focused on where she is at in her life today. "Right now I feel very sure of where I am," she told Elle. "I don't feel erratic or emotionally unstable. Or like I can't handle my emotions, like I used to." She continued, adding that she's at a point in her life that she's "kind of understanding myself a little more. By all means I don't have myself figured out. But it feels good."
Of course, when Gomez finally drops her new album fans are going to pour over the lyrics looking for a Bieber connection. (Though, Gomez might not know it since she's basically stopped looking at the internet.) But, as Gomez pointed out to Elle she's ready to move on and do her own thing. Now it's about time Jelena fans did the same.