Selena & The Weeknd Look A Lot Like Her Parents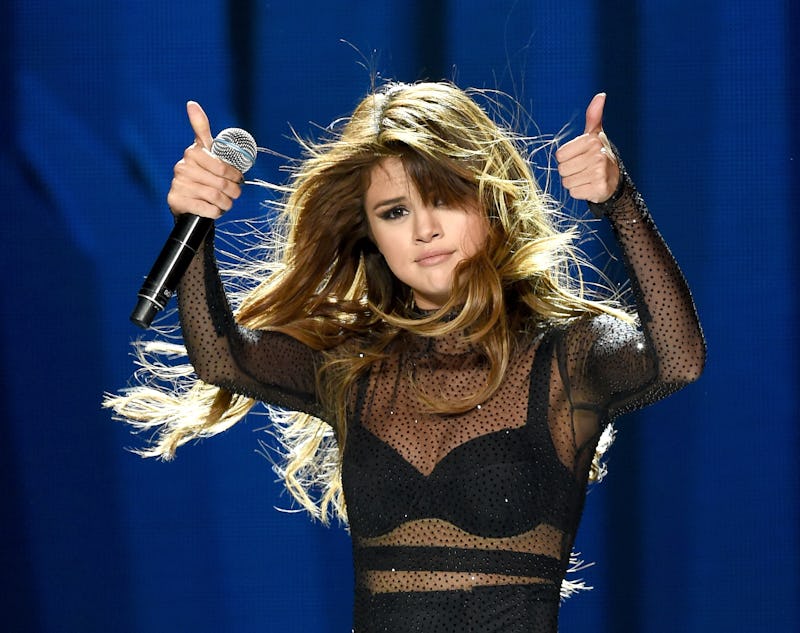 Kevin Winter/Getty Images Entertainment/Getty Images
It's been a whirlwind of a romance for Selena Gomez and rumored boyfriend The Weeknd — one that's involved dozens of blurry paparazzi photos, countless headlines on celebrity gossip sites, an Italian vacation, and, of course, Instagram was involved, too. But now, allow me to present you with another reason to be in love with this blossoming celeb romance. As Marie Claire points out, Gomez and The Weeknd look striking similar to Gomez's own parents in an adorable throwback photo that's recently been making the rounds online.
Instagram fan page @JelenaSenergy shared the picture comparing the couples, which has since gone viral quickly racking up over 25K likes in just a few days. Although you'd naturally expect that Gomez would bear a resemblance to her own mother, what makes this photo so epic is how similar The Weeknd looks to her father. I mean, not only do they physically look alike, but they even have similar facial expressions. Maybe it's true what psychologists say and we're all destined to be with someone that reminds us of our parents.
Although there's no official confirmation, it definitely looks like the guy in the photo alongside Gomez's mother Mandy Teefey is Gomez's biological father Ricardo Joel Gomez, not her stepfather Brian Teefey, who helped raised Gomez since she was a young girl. But, it doesn't really matter IMO... The pic is so adorable yet fascinating at the same time, that it's practically impossible to look away!
Gomez and The Weeknd haven't even confirmed their romance (besides a reported now-deleted Insta video on Gomez's page that showed The Weeknd and was captioned with a heart-eyed emoji), and they're already giving us all major ship goals.
Oh, and speaking of 'rents, it's been rumored that The Weeknd is looking to take things to the next level by taking Gomez to his hometown of Toronto, Canada. It's also been rumored that the two might attend the 2017 Grammy Awards together, which take place mid-February. So, expect plenty of stories about these two lovebirds over the next few weeks.