These Selena Gomez Lyrics Definitely Sound Like They're About A Certain Famous Ex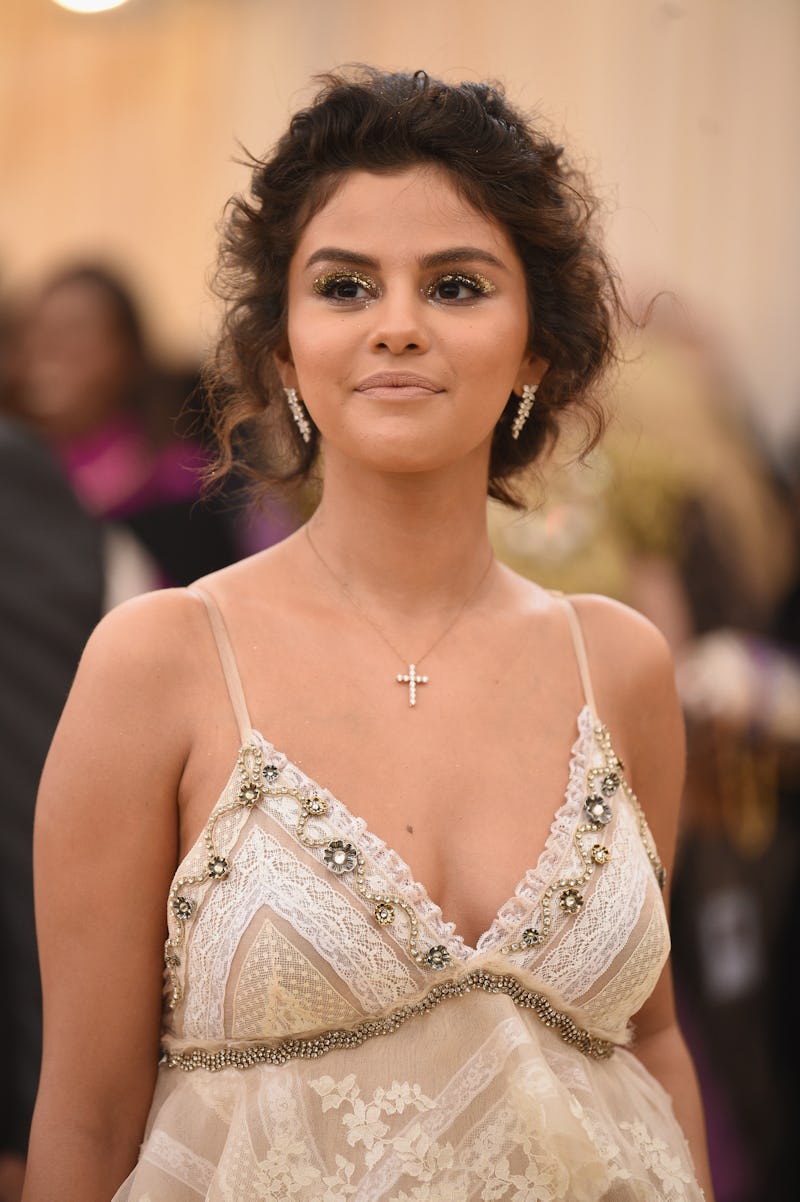 Jason Kempin/Getty Images Entertainment/Getty Images
Selena Gomez just released her first song following her most recent split from on-again, off-again boyfriend Justin Bieber, and fans can't help but wonder if Gomez's "Back To You" lyrics are actually about Bieber and their seemingly unresolved romance. The tune, which debuted on May 10, seems to make direct references to their relationship that are almost undeniable.
Gomez's new song, a featured track on the 13 Reasons Why Season 2 soundtrack, speaks of wanting a relationship that she knows it not the best situation for her. In the first verse, she sings:
"Took you like a shot
Thought that I could chase you with the cold evening
Let a couple years water down how I'm feeling about you (feeling about you)
And every time we talk
Every single word builds up to this moment
And I gotta convince myself I don't want it, even though I do (even though I do)"
Speaking directly to the notion that she and Bieber have had a hard time keeping their romance in tact, Gomez's verse two lyrics also seemingly point to their circumstance of having the whole world aware of the undying feelings they had for one another. The song continues:
"We never got it right
Playing and replaying old conversations
Overthinking every word and I hate it
'Cause it's not me ('Cause it's not me)
And what's the point in hiding
And everybody knows we got unfinished business
And I regret it if I didn't say this isn't what it could be (isn't what it could be)"
Gomez and Bieber reportedly decided to take a break back in March of this year with an insider claiming to E! News, "They were having a lot of little disagreements recently and one fight in particular blew up and caused them to decide to 'break up,' however, they've been in contact the entire time and their feelings for each other have not changed."
During that time, the split was posed as being a temporary parting. However, a more recent report from E! indicated that Gomez has "completely moved on" from Bieber and is "not interested in getting back together with him anytime soon."
Despite Gomez's current position with Bieber, the chorus of "Back To You," seems to suggest that the door will always be open in terms of their relationship. She sings:
"You could break my heart in two
But when it heals, it beats for you
I know its forward but it's true
I wanna hold you when I'm not supposed to
When I'm lying close to someone else
You're stuck in my head and I can't get you out of it
If I could do it all again
I know I'd go back to you"
During a prior break-up period between she and Bieber, Gomez entered a very public romance with The Weeknd in January 2017. The pair seemed close, and it was reported that the "Starboy" crooner played an instrumental role in Gomez's recovery following kidney transplant surgery due to complications with lupus. After 10 months of dating, it was revealed that the duo had split in October 2017 when Gomez was spotted hanging out with Bieber. Despite her seemingly happy romance with the Weeknd, Gomez's recent lyrics appear to suggest that she may have had Bieber on the brain during that time as well.
Speaking on the then-rekindled romance of Jelena, an insider on the couple told Us Weekly, "Selena and Justin are back together. Selena and The Weeknd just fizzled and ended amicably — it wasn't dramatic and it wasn't about Justin. But Selena always had feelings for Justin."
Although Gomez's most recent reunion with Bieber was brief, it's apparent that there is some sort of energy that has kept them connected to one another for more than seven years now. As for how the singer is doing now that her relationship with Bieber seems to be officially over for good, a source for Us Weekly recently explained,
"Selena started seeing the bigger picture when it came to their relationship, like what was more important: her general happiness and her family and friends approval, or her being together with Justin, where no one really supported their relationship."
While it's still unconfirmed whether Gomez's new song is actually about Bieber, it's safe to bet that the "Where Are U Now" singer likely served as a major inspiration.