Sephora's New Concept Stores Will Make Shopping For Makeup More High-Tech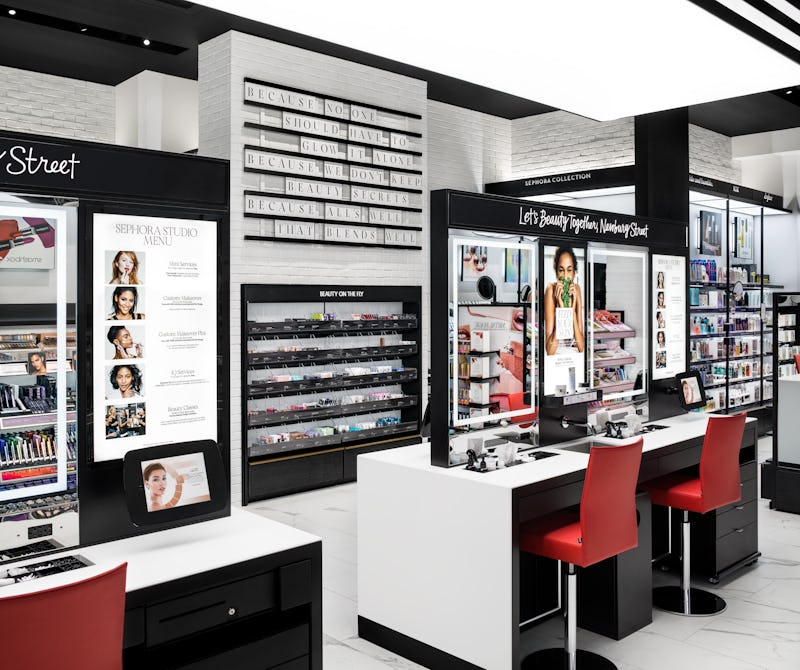 Richard Cadan/Courtesy of Sephora
If you thought you couldn't love walking through the aisles of Sephora even more — just wait until you hear the latest news. Sephora stores near you are about to get a makeover, one that will make the customer experience easier and more personal. The beauty brand's new concept, Sephora Studios, will be opening soon across the U.S., according to a news release.
So what exactly will these new Sephora stores be? The company's current stores typically are 5,500 square feet, but the new Sephora Studios will be smaller at 2,000 square feet to make sure Sephora employees can assist each customer to have a personalized shopping experience.
As soon as you walk into one of the Sephora Studios, be prepared to be greeted with welcome monitors and the Sephora + Pantone Color IQ touch screens that will help you find and choose exactly what colors you need, based on your skin tone.
The Studios will also be the first Sephora stores to offer a new Beauty Studio Service, which is a 75-minute makeover with the choice of a skin care consultation or a mini facial.
While the first Sephora Studio of its kind opened on July 21 in Boston, Sephora shoppers can expect several more store openings soon — exciting!
Arguably the best part of this new concept store? If you order from Sephora.com, you will be able to pick up your online order at the Sephora Studio in the same day — talk about beauty spending habits taken to new heights! Currently, same-day-pickup will only be available to Boston customers starting in October.
So far, shoppers who visited the Boston store are super excited about the concept.
Such a friendly and adorable welcome.
Even the puppies came out to get pretty!
Gorgeous.
A brand new section for sheet masks? Yes, please!
Fingers crossed the Sephora studios start rolling out across the country soon!