Serena Williams Just Set The Record Straight About That Royal Wedding Beer Pong Game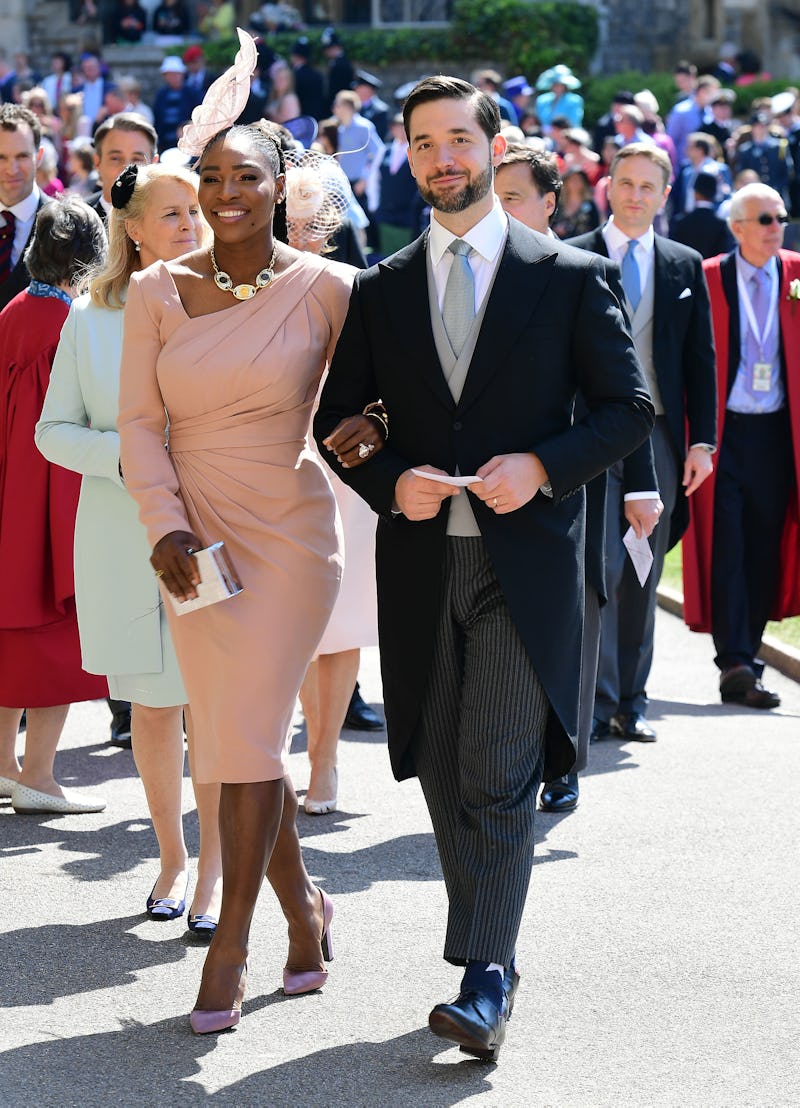 WPA Pool/Getty Images Entertainment/Getty Images
Serena Williams might have dominated in the French Open on Tuesday, but, apparently, the tennis pro didn't have as much luck during that rumored royal wedding reception round of beer pong earlier this month. In fact, Serena Williams didn't actually play beer pong at the royal wedding reception at all. Why? According to Williams herself, that particular post-royal wedding tale was "not even remotely true." Plus, she doesn't drink beer.
The beer bong chatter has been circulating ever since Prince Harry and Meghan Markle (who, by the way, happens to be an old pal of Williams', which is how the tennis star snagged a coveted invite to both the ceremony and reception) tied the knot during their much-anticipated wedding ceremony at St. George's Chapel on May 19. Speaking at a press conference following her triumphant Grand Slam victory earlier this week, Williams finally addressed the beer bong buzz. According to New York Times sports columnist Christopher Clarey, who tweeted Williams' response to the rumors Tuesday afternoon, Williams was clear:
Among other things, Serena insists that "there was no beer pong" at the royal wedding. "I don't even drink beer," she says.
As much as the world has loved fantasizing about what it'd be like to watch Williams wax victorious over a beer pong table at Frogmore House, news of its fictitiousness shouldn't come as too much of a surprise. After all, the fact that a game of beer pong was even mentioned in conjunction with perhaps one of the grandest weddings of all time seemed a little far-fetched from the start. It's pretty hard to imagine any one of the reception's stacked roster of A-list invitees getting their hands dirty (as in, literally dirty) over a round of beer pong while dressed to the nines in their fanciest royal wedding attire.
For those who missed Williams' killer ceremony and reception ensembles, those gems have been archived via the superstar athlete's Instagram account. Thankfully, that means fans can still relive the true majesty that was Williams' floor-length Valentino gown and sneakers to match, which she wore to the glitzy private reception.
But even though Williams' shoes might have been beer pong appropriate, that particular royal wedding reception rumor has been officially debunked. That being said, according to a Tuesday report by the Daily Mail, Williams said she and husband, Alexis Ohanian (who was also in attendance during the royal wedding festivities), shared "a big laugh" over the beer pong reports.
The rumors about Williams playing royal wedding beer pong stemmed from a source who spoke with The Sun after the wedding. According to The Sun's report, an unidentified "reception insider" told the publication:
"Sere­na Williams played beer pong like it was tennis. Everyone had so much fun with it, there were even fireworks."
Debunked beer pong chatter aside, Williams has been pretty busy this week. On Tuesday, the record-setting tennis superstar turned heads when she beat out Kristýna Plíšková at this year's French Open. Her big win marked Williams' powerhouse return to the tennis courts since giving birth to her daughter, Alexis Olympia Ohanian, Jr., about nine months ago.
So, for anyone who thought Williams might have been indulging in some frat-party-like drinking games just days before making her triumphant Grand Slam resurgence, think again. Though Williams does probably wield the physical aptitude necessary to dominate most people in pretty much any recreational activity, the tennis champ has her eye on the prize. In this case, that prize seems to be Williams' next hopeful Grand Slam title, not winning a royal wedding reception round of beer pong.