Shannen Doherty's New Comments About The 'Charmed' Reboot Will Surprise You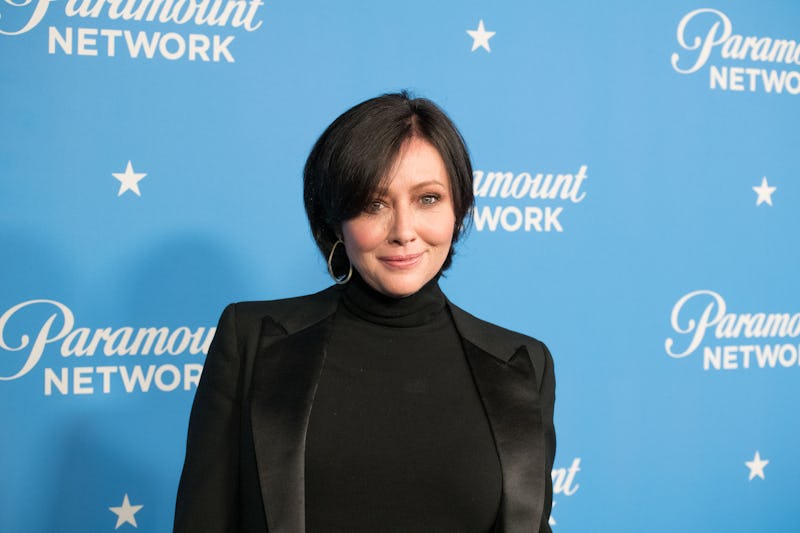 Earl Gibson III/Getty Images Entertainment/Getty Images
Those who've been following this year's news about The CW's upcoming Charmed revival know the series has already dealt with its share of backlash, mainly from members of the show's original cast. But after reading Shannen Doherty's latest comments on the Charmed reboot, which the actor shared with Entertainment Tonight over the weekend, it sounds like she's changed her tune a little bit.
Presumably responding to a question about her thoughts on the upcoming reboot series, Doherty (AKA Prue Halliwell) expressed what seems like enthusiastic support. "I think it's great. I think it's awesome," she said, adding that she thinks "second lives are amazing," so she's all for it. Continuing, the original Charmed frontrunner went on to explain why the new series — which will see a new trio of sisters discovering their magical powers and "tearing down the patriarchy" in the process — feels so exciting, and so necessary, right now. To that end, Doherty told ET:
"I'm happy to see that a show, that back then was all about strong women who supported and loved each other, is now coming back again in this day and age. It's about female empowerment again — not that that's something new. Charmed originally was that too. But I think it's wonderful, you know?"
Wrapping up her comments to ET, Doherty noted that the reboot is "providing a lot of jobs for people," and she honestly wishes all those people well. And while Doherty's most recent reboot-centric comments do sound totally sincere, they are still a pretty far cry from the ones she made publicly known earlier this year.
Back in January, when The CW first announced that a Charmed reboot was indeed in the works, it described the series revamp as "a fierce, funny, and feminist reboot of the original series." And while the enormous import of "fierce, funny, and feminist" content on TV is pretty much impossible to argue with, the original Charmed trio — Doherty included — felt a little put-off by the description's wording. Mainly, because they thought it dismissed the fact that the '90s show (much like the upcoming revival series, no doubt) was fierce, funny, and feminist, too.
"Their wording is terrible and a bit offensive," Doherty tweeted back in January, responding to the CW's announcement. Those looking for a more direct explanation as to why the original cast took issue with the "fierce, funny, feminist" description might want to check out Holly Marie Combs' comments on the reboot, which the actor (who Charmed fans will remember fondly as Piper, the second-eldest Halliwell sister) has periodically posted to Twitter over the last eight months or so. Though Combs did share some thoughts on the reboot's description right off the bat in January, her most recent comments came several months later.
"Let me say first that I appreciate the jobs and opportunities the Charmed reboot has created," wrote Combs in a lengthy tweet posted May 22. "But I will never understand what is fierce, funny, or feminist in creating a show that basically says the original actresses are too old to do a job they did 12 years ago."
Combs' tweet does raise a valid point about age discrimination — and its disproportionate impact on women — across industries. But it sounds like the people behind The CW's Charmed reboot didn't mean for its description to undermine the series' original cast, or its fiercely feminist run. (Another EP from the reboot series responded to Combs' criticisms back in August and seemed very obviously empathetic.)
In fact, a new report from Variety, published Sunday, Sept. 9, makes it pretty clear that the Charmed reboot isn't trying to step on the legacy of its '90s predecessors at all. Instead, it sounds like the upcoming series is paving its own way, as far as fierce, funny, and feminist narratives are concerned. As the reboot's executive producer, Amy Rardin, told Variety over the weekend, the new series won't rely too heavily on the narratives established by the original.
For starters, it stars a whole new band of sisters (played by Melonie Diaz, Sarah Jeffery, and Madeleine Mantock) who practice a whole new kind of magic. According to Variety, the reboot series will explore Brujería — the Spanish word for "witchcraft," which usually refers to spiritual practices historically tied to African, Caribbean, and indigenous Latinx cultures — as the sisters navigate their new powers.
"We have a real Latinx witch in our writers' room," Rardin told Variety, adding that the reboot's focus on Brujería was an intentional departure from the more euro-centric concept of witchcraft that took center stage in the original. Continuing, she said,
"Every culture has their own witchcraft traditions, and we really wanted to explore not just from a Salem witchcraft but all kinds of different witchcraft that happens all around the world."
Hopefully, the original Charmed castmembers like Doherty will eventually be able to embrace the reboot's new exploration of witchcraft when the new series premieres October 14. The new Charmed will never replace the original, but as Doherty suggests, it could very well blaze its own trail.