This New Book Celebrates The Women Writers Who Had An Opinion Before It Was Acceptable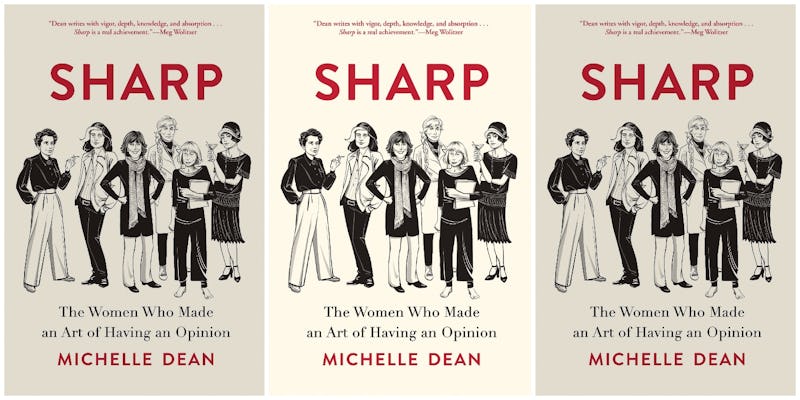 Ask any female politician, celebrity, writer, CEO — hell, ask any woman who has ever sat through a work meeting or a family dinner — and she can probably list of dozens of labels she's been given just for speaking up. Women with opinions are chastised for being catty or cruel, criticized for seeming difficult or rude, called out for being nasty or biting, and few people understand that better than the subjects at the heart of Michelle Dean's Sharp, a new book that celebrates the women who created a professional model of dissent.
Out now from Grove Press, Sharp: The Women Who Made an Art of Having an Opinion explores the lives of 10 remarkable women whose criticism, fiction, poetry, and log-form journalism shaped 20th century cultural and intellectual thought. A well-researched and highly readable book that combines biography, literary criticism, and cultural history, Sharp celebrates pioneering writers who managed to make their voices heard, despite the culture of sexism and misogyny that actively worked to keep them silent.
The 10 women Dean include in her book — Dorothy Parker, Rebecca West, Hannah Arendt, Mary McCarthy, Susan Sontag, Pauline Kael, Joan Didion, Nora Ephron, Renata Adler, and Janet Malcolm — come from different backgrounds, fall into different political parties, and form vastly different artistic opinions, but each one share one critical thing: sharpness. "I gathered the women in this book under the sign of a compliment that every one of them received in their lives: they were called sharp," explains Dean in the book's introduction, but that characterization refers to more than their acute intelligence and brilliant writing. It also captures just how scared and intimidated these women's male counterparts, and the male and female audiences who read their work, felt about their influence. "Sharpness, after all," Dean writes, "cuts."
Not only were they brilliant and intrepid writers and critics, but the subjects in Sharp were, by the estimation of their male subjects and counterparts, wounding, unkind, and even, at times, menacing. From the Algonquin Round Table of the 1920s to the Partisan Review of the 1930s to The New Yorker in the 1980s, the intellectual culture throughout the 20th century was a boys' club, but with their pointed pens and sharp tongues, these women forced their way in, pushed past a culture of sexism and misogyny, and became the defining voices of American cultural and intellectual history.
Sharp: The Women Who Made Art of Having an Opinion by Michelle Dean, $20.40, Amazon
What makes these women remarkable isn't just their talent, but their perseverance and their ruthlessness. In a male-dominated field that rarely rewarded, let alone made room for, women's voices, writers like Dorothy Parker, Hannah Arendt, and Nora Ephron became the filters through which so many readers saw American culture through. They were, as Dean puts it, "participating in the great arguments of the twentieth century," and their opinions of art and music, war and workers' rights, feminism and film shaped the world around them.
The subjects of Dean's book aren't just sharp, though. They are also loud, they were tough, and they knew how to wield their pens like swords and cut down. Whether it was through their criticism, journalism, or fiction, these women made a career out of dissenting from their male counterparts. They dismissed the status quo and insisted on having their voices heard, as Dean puts it, "in a world that was not eager to hear women's opinions about anything."
Although they were paid for their opinions and for what was in their minds, more often than not, their work was judged in terms of their gender, sexuality, marital status, and appearance. Whether they were producing novels, nonfiction reporting, or critical reviews, each woman's writing was inevitably filtered through a lens of sexism and misogyny, one that lead them to being labeled as harsh, nasty, and even malicious.
Mary McCarthy frequently and quite unapologetically parodied her fellow intellectuals, and as a result, was labeled as catty, even cruel. Dorothy Parker, who reveled the chance to disagree with her male counterparts in her theater reviews, struggled to be taken seriously by readers and critics alike. Film critic Pauline Kael was often called rude and impolite for her no-holds-barred criticism, accusations male critics rarely had to deal with. Even Janet Malcolm faced harsh backlash after publishing an unpopular opinion about the practice of journalism. Writers, including her own colleagues, blamed her for tarnishing the pristine reputation of their noble profession. When male thinkers and critics hold an unpopular viewpoint, they're labeled as brave and revolutionary. When women like the subjects of Sharp do it, they're difficult and cruel. That didn't stop them from writing, though, and it still doesn't stop us from reading about them, flawed as they are against the backdrop of the 21st century women's movement.
They may have been groundbreaking in their day, but many of the writers in Sharp would bristle at the idea of being called feminist icons today. For that reasons, modern day feminist intellectuals and writers see them as problematic. "I ran into quite a lot of people who wanted to cut these women out of history precisely because they took advantage of their talents, and did so without turning those talents to the explicit support of feminism," Dean writes. "It is viewed as an unforgivable lapse." But despite this unforgivable lapse, as Dean puts it, the progress these women made on behalf of women's equality is undeniable. "These women openly defied gendered expectations before any organized feminist movement managed to make gains for women on the whole," writes Dean. "Through their exceptional talent, they were granted a kind of intellectual equality to men no other women had hope of."
How were women like Rebecca West and Hannah Arendt able to break into the boys' club and make a seat for themselves at the table? Their talent propelled them, but luck, connections, and privilege played a major role. The truth is, the 10 major writers featured in Dean's book share more than just sharpness: they also share a particular privilege granted to them because of their race and class. It's worth noting that every subject in Sharp is white, an issue Dean raises in her book's introduction. In a better world, Dean says, "a black writer like Zora Neale Hurston would have been more widely recognized as part of this cohort, but racism kept her writings at the margin of it." So too does Sharp. While there is a brief section of the book devoted to Hurston and her writing, little attention is paid to other 20th century women writers who were not white, cisgender, and middle class. If anything, this flaw in the book only further demonstrates the utter lack of diversity in America's artistic and intellectual culture, not just in the people who are creating it, but also in the people who are criticizing it.
"What I really want to read next is a book about the diverse young critics — black, brown, queer, disabled — who are publishing now," Kate Tuttle writes in her review of Sharp for the Los Angeles Times, and I couldn't agree more. It's crucial that, within the realm of arts and literature, we not only demand more diverse books from more diverse creators, but that we also insist on more diverse reviewers and critics. When the people responsible for choosing what becomes popular and what doesn't all look the same, so too do the works they celebrate.
In that way, Sharp shows readers why the 10 women writers were so important throughout the 20th century: their voices not only helped shape the world of art, culture, politics, and beyond, but they helped shaped women's progress and the fight for equality, too. Whether they identified as feminists or rejected the label altogether, as many of them did, these influential writers and thinkers, as Dean writes, "cleared a path for other women to follow," and that is certainly something worth celebrating.