Shawn Booth's Latest Comments About His Relationship With Kaitlyn Bristowe Are SO Sweet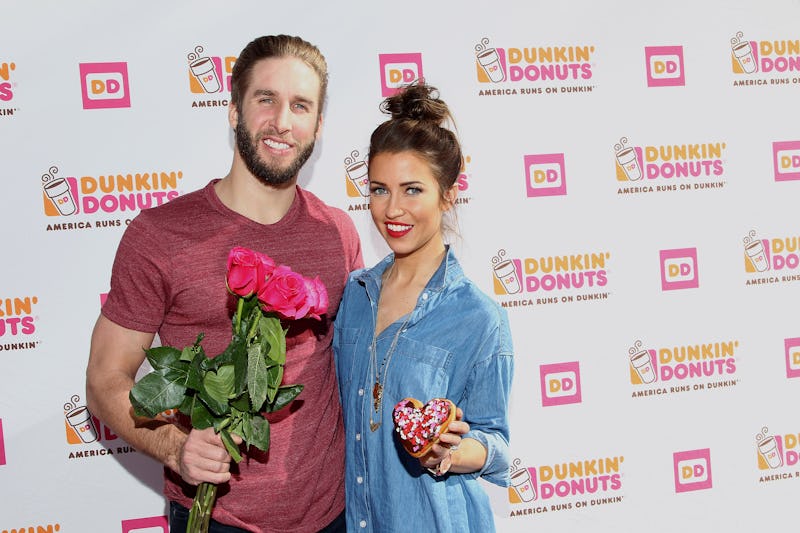 Tommaso Boddi/Getty Images Entertainment/Getty Images
As of this May, The Bachelorette alums Shawn Booth and Kaitlyn Bristowe have been together for three years. You know what else they've been up to for the last three years? Assuring every Bachelor Nation skeptic that the lack of wedding date isn't some harbinger of doom. In a recent interview with Entertainment Tonight, Shawn said some things about his relationship with Kaitlyn that echo the sentiment he and his fiancée have expressed time and time again: they are happy as is, and when the time is right, they will start to mull over the whole wedding thing.
As they've made clear dozens of times over the last three years, Shawn and Kaitlyn are not in a rush to get married. Instead, they are sort of treating their engagement like the dating period of their relationship. Shawn told Entertainment Tonight,
"Yeah, it feels like we're engaged, but we're taking our time, too. People always say it's crazy that we're not married yet after three years, and I'm always like, 'Well, what's the average time frame when somebody meets somebody to being married?' We've been engaged for three years, but we've also known each other for three years."
Like any couple that has been together for a while, Kaitlyn and Shawn have gone through ups and downs over the years. Oh, and they have the wonderful added bonus of experiencing those ups and downs in front of the whole world. It's got to be tough, but apparently, it isn't too tough for this strong pair of lovebirds.
Shawn explained to ET,
"It's tough. I can understand why [Bachelor] couples break up. If you're not strong enough to handle a lot of the outside noise and just the concept in general, it's very easy to call it quits. We've obviously had a lot of bad times, but a lot of good times. We've just stayed humble through it all, and just put each other first and worked on our relationship. But it's not easy."
They may butt heads, but, as Shawn said, "We wake up still saying, 'I love you,' and it's onto the next day." Aww.
Kaitlyn has also touched on what's next for the engaged couple. She apparently wants to give her fiancé the ring back, but not like that. Earlier this month, she told Us Weekly,
"I feel like we are going backwards! I feel like we've talked about him re-proposing because sometimes I don't even want to wear a ring anymore cause I want him to have it just so he can surprise me."
She added,
"I've thought about giving the ring back to Shawn so that he could use it to propose when the time comes, and we can start wedding planning when we feel that it's that time."
They're doing the thing that works for them. That thing may or may not involve a re-proposal, and you know what? That is actually pretty cute. It's like, "Hey, we've let that whole Bachelorette whirlwind breathe, we let the dust settle, and we still really do want to get married, so let's make this happen on our terms and on our timeline."
Speaking of things that could happen at some point down the line, Shawn told Entertainment Tonight that he and Kaitlyn are stoked about the idea of starting a family together. And they are way more stoked about that than the whole wedding thing. He said,
"Kids, dogs, that excites us more than marriage. Whatever happens, happens. There could be a little kid running around before a wedding ring. Who knows?"
Whatever happens, happens. And whatever happys, happys.