Should You Stay Or Go When Your Partner Cheats? We Asked An Expert & Here's What They Said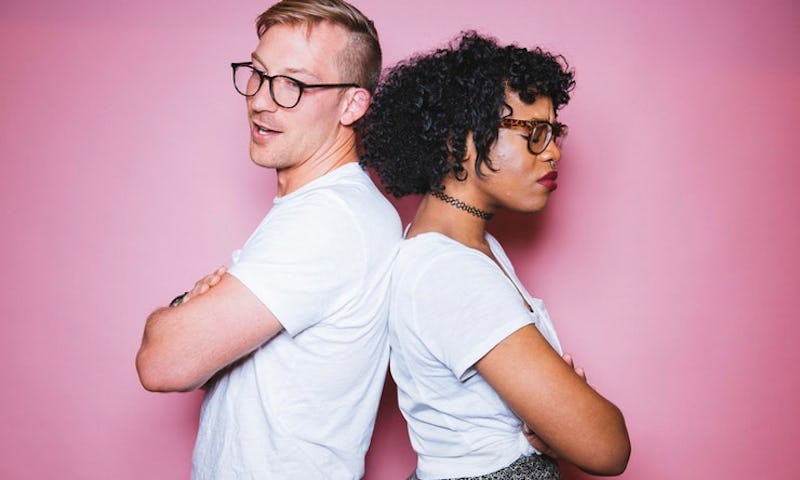 BDG Media, Inc.
Chances are that you and I both know someone who's been cheated on, or who did the cheating or perhaps it happened to you. When it occurs, it often takes a toll on everybody involved. Maybe your partner did it and didn't plan to tell you, but then they accidentally out themselves. For instance, they leave an email open on their computer and don't realize it, and they'd just told you that you can check your emails on it. Or their phone is sitting near you both and you see a stream of heart emojis texted to them — and you know they're not from their mom. Whether your significant other confesses to you or not, should you stay or go when someone cheats?
"Because you feel betrayed, your first impulse is usually anger, and wanting to leave — fight or flight," Tina B. Tessina, Ph.D. (aka "Dr. Romance"), psychotherapist and author of How to Be a Couple and Still Be Free: Fourth Edition, tells Bustle. "But, after you calm down, you may realize there's a lot you'll lose, and you may also have children to consider. Don't make an instant decision you may regret later, after the damage is done. It is possible to find an extraordinary love after breaking up or divorcing late in life, but most of my clients report that the potential partners out there are no better than the ones they left."
That said, there are different definitions of cheating, and technology adds another aspect to cheating, too. For instance, there are terms like "micro-cheating," aka little actions you'd hide from your partner. The bottom line is: If you and your partner have different definitions of cheating, you should have a conversation about it. And then, if someone in the relationship cheats, it's time to decide what to do about it. Of course, cheating may be an automatic deal-breaker for you. However, you may be conflicted as to what you should do. Here's how to tell if you should stay or go when someone cheats.