Sia Is The New Face Of MAC & The First Image From The Campaign Is Super Haunting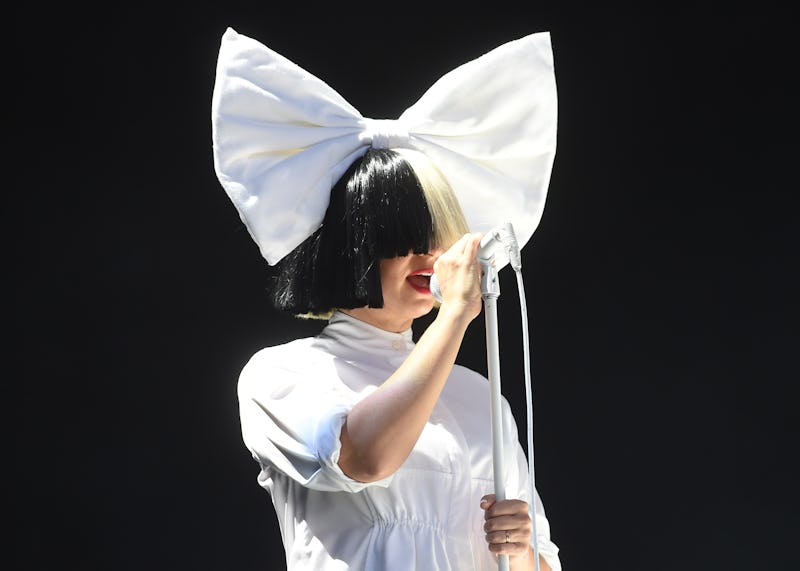 Stuart C. Wilson/Getty Images Entertainment/Getty Images
Singer/songwriter Sia usually shrouds her eyes (and much) of her lovely face from view with a variety of wigs and bangs. The avant-garde pop star has turned concealment of her features into an art, preferring to let her voice be the focus. Sia is the new face of MAC VIVA GLAM for 2018 and she is perfect for the gig! She's wonderfully quirky, like so many MAC collaborators, and the fact that her lips are so central to her image will help call additional attention to the VIVA GLAM initiative.
VIVA GLAM lipsticks (and lip glasses, when applicable!) are special because every cent of the selling price of VIVA GLAM products goes towards efforts to end HIV/AIDS. To-date, more than $470 million has been raised for people affected by the disease.
Sia's VIVA GLAM lipstick will cruise into MAC stores and online on Jan. 25. It's a warm, vivid, utterly statement red in a creamy, matte finish. There looks like some slightly orange tones in this crimson lippie, as well. It's on trend, but totally classic at once.
This lippie costs $17 and could veritably be your go-to red for 2018. However, Sia could have an additional VIVA GLAM shade(s) in the works for later in the year, as such has been the case with the most recent VIVA GLAM campaigns.
Sia's first campaign image is so... Sia. Her hallmark bob is in effect, appearing two-toned, while her eyes are covered by hands boasting a mocha-colored manicure. She is pursing her lips in an extremely distorted fashion — which has become one of her posing signatures as of late. It's an effective strategy, since your eyes are drawn to her pucker and the strawberry red shade with which its painted.
That's a va-va-voom red, complete with Sia's name scrawled on the matte black packaging.
The VIVA GLAM campaign turns over every year, with new lipstick and lip gloss shades, as well as a new celebrity ambassador. Previously VIVA GLAM campaigns were fronted by Lady Gaga, Rihanna, Miley Cyrus, and Ariana Grande. Sia takes over for Taraji P. Henson and Jussie Smollet, who are VIVA GLAM's outgoing reps.
The latest VIVA GLAM shade is so sultry that you could swipe two or three coats across your pout and leave the rest of your features bare and you'd still be glam and gorj AF.
Sia and MAC VIVA GLAM make sense. The brand is touting the Sia red as being "as loud as you dare to be." Indeed, a red lip requires the wearer to be comfortable and confident and this shade pretty much asks to be worn on all skin tones. Plus, Sia's eyes are often obscured, so it's not like she could effectively promote an eyeliner or mascara.
This lippie is also a passive way for you to do good. Your purchase directly benefits men, women, and children living with AIDS, all the while pampering your pout. You should feel as good as you look when slick this shade across your smacker.
Twitter is stoked about a MAC x Sia. Fans are already pledging their allegiance.
That's primo dedication.
Convert.
Sia reigns supreme in music and makeup.
Some fans did post their concerns about Sia, a known animal sympathizer, working with MAC due to animal testing concerns. She addressed those worries and highlighted MAC's stance directly with this tweet.
The MAC VIVA GLAM x Sia partnership was announced the day before World AIDS Day (Dec. 1). That's beautiful symmetry. While you'll have to wait another month-plus for the singer's VIVA GLAM shade to be shoppable, you can and should do you something, like RT the above, to promote AIDS awareness now.