These Harry Potter S'well Bottles Are Perfect For Your Butterbeer (And Water)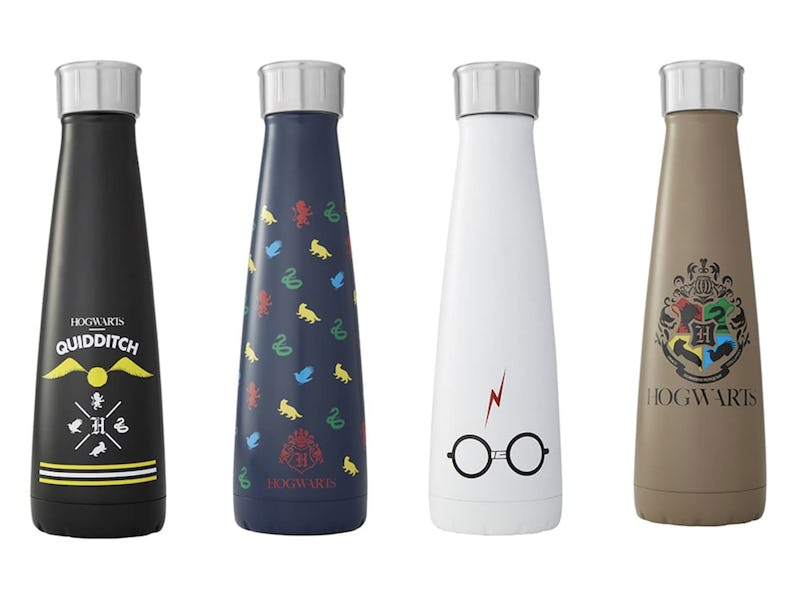 Sip by S'well
The holidays may still be a few months away, but I already know one thing that will be on every Potterhead's wish list: the new S'well Harry Potter water bottles. Available in four fun designs that pay homage to your favorite book series, these must-have accessories will have you saying Aquacanti all day long.
It's no secret Harry Potter fans like to flaunt their love of the fandom. From home decor and school supplies to athletic attire and jewelry, there is no limit to the number of items with a Hogwarts sigil, house crest, or lightening bolt a Potterhead will buy. Now, not everything out there is that practical, let alone useful. I mean, how many wands does one Muggle need? (Answer: all of them. All of the wands.) But there are plenty of products out there that are so bewitching that they make every Potterhead want to drop some serious Galleons. Among the best are chocolate wands that are cute as they are delicious, the upcoming soundtrack to Harry Potter and the Cursed Child that fans cannot wait to hear, the limited edition Harry Potter Trivial Pursuit board game, the addicting Harry Potter video game (and the new one that is rumored to be coming out), and, thanks to S'well, super cute new water bottles.
Staying hydrated is important, but remembering to drink enough water isn't always easy. Luckily, you don't need a Remembrall to make sure you're hitting your daily water intake goal anymore, because S'ip by S'well has released a new line of Harry Potter-themed water bottles that are so cute, you'll never want to leave the house without one.
Featuring four unique designs, the new line will inspire even the least athletically-inclined witches and wizards to hit the Quidditch pitch — or at the very least, drink more water. After all, who can resist these fun and functional accessories and their bewitching appearances?
First up, the Hogwarts water bottle, which features a colorful version of the legendary wizarding academy's official crest. If you want to show your school spirit, this is a fun and hydrating way to do it.
Do you love the idea of the Hogwarts Houses but can't decide which one you belong to? Then you're going to love the House Crests bottle featuring an adorable animal insignia pattern representing Gryffandor, Slytherin, Hufflepuff, and Ravenclaw.
Athletes will love the sleek Quidditch bottle, which features a golden snitch and symbols from all four houses. If you're heading to the gym, this is the bottle you're going to want to bring with you.
Anyone who grew up reading this beloved series will want to get their hands on The Boy Who Lived bottle. Featuring Harry's iconic glasses and lightening bolt scar, it's a fun and functional way to show off your love for the beloved book series.
Each 15 oz reusable bottle features S'well's double-walled, insulated steel design and leak-free top, so no matter where you're going — Quidditch practice, divination class, work, or yoga — they're guaranteed to keep you hydrated without getting water all over you robes. Each bottle is also only $20, which makes deciding which one to get that much harder. Are you more a fan of the classic designs, like the Hogwarts crest or the Harry Potter glasses, or do you prefer something a bit funkier, like the house crest pattern or the Quidditch bottle? If only there was a S'well had a Sorting Hat to help you pick.
Whether you are shopping for yourself or getting a head-start on buying gifts for the holidays, you can order the new S'well official Hogwarts collection online.