Skittles Has A New Pink Pack — But It's Only Here For The Summer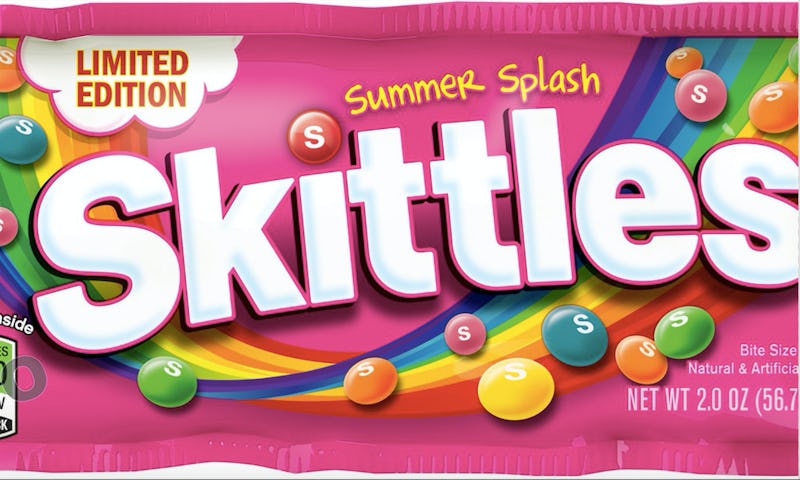 Wrigley
I'm not one to be picky, especially when it comes to Skittles. They're the most perfect bite-size, refreshingly fruity candy on the market and there's tons of options if you're looking to switch things up. Skittles just released a pink pack as part of their Summer Splash line, and I'm already obsessed.
The limited-time offering is as aesthetically pleasing as it is delicious. The bright-pink wrapper is stuffed full of delicious new flavors like blue raspberry, watermelon, kiwi banana, orange, and strawberry (so basically, it's a fruit salad, which makes it healthy, right?). Although I haven't gotten my packs yet (BRB, ordering them ASAP), they're said to taste deliciously refreshing, according to Elite Daily. My body is ready. Ready to order yours, too? As of now, the packs are exclusively available at Dollar General stores, according to Spoon University.
When it comes to creating magical concoctions, this isn't the first time Skittles has totally blew my mind away. Skittles are clearly experts when it comes to creating delicious new treats. This past March, they blessed us with Sweet Heat Skittles, which have the perfect amount of kick. They also teamed up with Taco Bell to create the heavenly Skittles Strawberry Freeze drink so you can wash down your Summer Splash skittles with a refreshing, ice-cold beverage.
If you're craving more bright-colored snacks and sweets just in time for summer, you're in luck. I've compiled a list of my favorite bright-colored bites so you can enjoy them, too: