This Customizable Clothing Brand Cast Disabled Models In Its New Campaign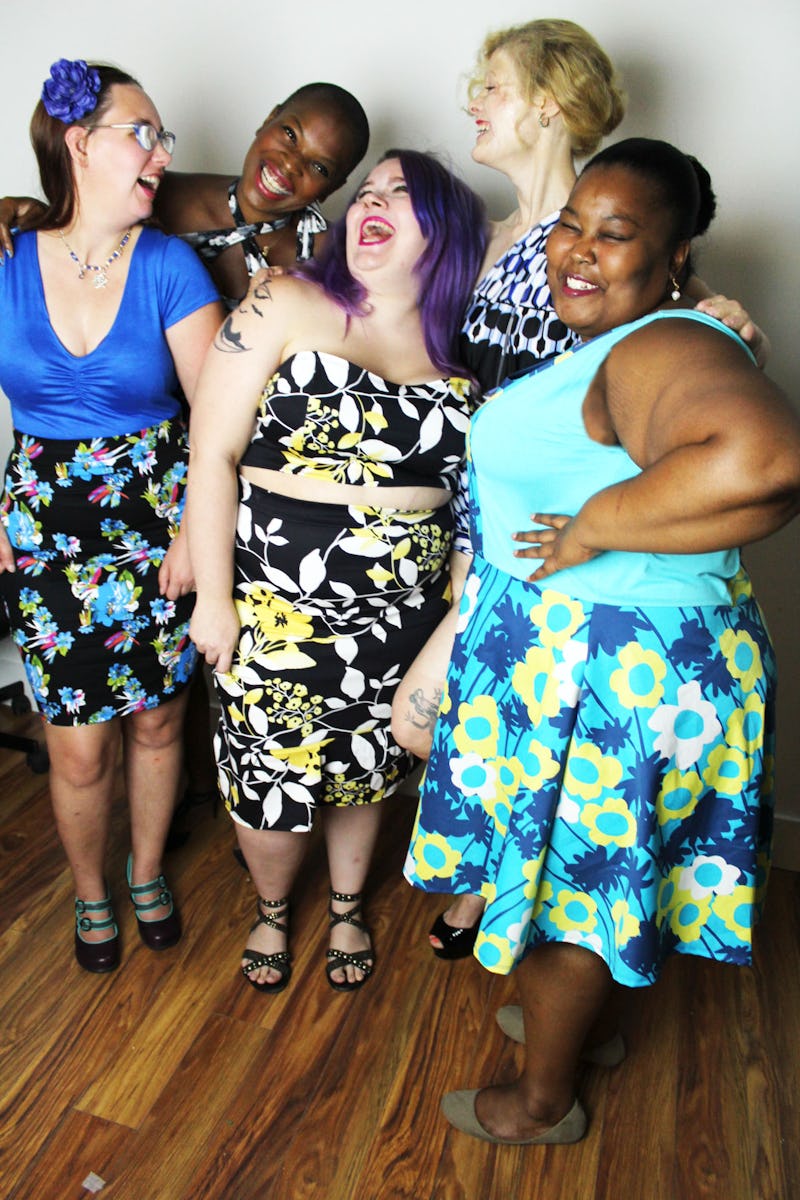 SmartGlamour
Of the 7,035 models who walked in New York Fashion Week's Fall 2017 shows, zero were disabled. While the industry is definitely moving toward inclusivity, disabled folks seem to be getting left in the dust — which is why clothing brand SmartGlamour's latest #AllMeansAll campaign installment exclusively features disabled models.
#AllMeansAll is SmartGlamour's ongoing project, with each installment focusing on models who belong to marginalized groups that are often left out of the industry's push for diversity. Previous installments have celebrated trans and femme models, women size 24 and up, and models of color. For this installment, SmartGlamour founder and designer Mallorie Dunn wanted SmartGlamour's numerous disabled customers to be able to see folks like them visibly modeling the brand's various offerings.
"There is so much othering happening in our society today, and a group that absolutely feels the brunt of it is disabled folks," she tells Bustle. "We (generally, as a society) infantilize them, assume they can do less than they can, stating they are automatically 'inspiring' by just living, and that they constantly need our help through every little thing."
She adds, "As a society, we refuse to see them as whole, beautiful people, full of talent, intelligence, worth, or even sex appeal. The only way to chip away at this is by changing how they are seen. And the biggest way to do that is through media representation."
This visible and positive representation both on SmartGlamour's site and in its modeling campaigns has drawn overwhelmingly happy responses from the brand's customers. Dunn explains, "I once received an email from a cane user who told me she was in tears (happily) after seeing a model glamorously posing amidst the other models on my site, while using her cane. She had never seen that before, and this is why just one example of why representation is so important."
In prior campaigns, Dunn did not point out models who belonged to marginalized groups; instead, her marginalized models were treated exactly the same as her white, cis, straight, and abled models. But after seeing how some groups are so frequently left on the sidelines, she knew launching #AllMeansAll was a way to celebrate models' differences and call attention to the lack of industry opportunities for them.
"We have had a plethora of disabled models in past photoshoots, runway shows, and campaigns, but we never want our models to feel their differences are being exploited," she says. "Lending their likeness to our company and modeling our clothing has made true differences in folks' lives, and that is important to highlight."
SmartGlamour will continue to highlight marginalized folks with #AllMeansAll throughout 2017, and the next group to be featured will be models over the age of 45. Dunn says that installment likely won't release until October, as August will be a month of popup shops for SmartGlamour. Fans of the brand will be able to snag its clothes at popups in New York City, Westchester, Philadelphia, and Boston.
To check out the full album from this #AllMeansAll installment, head to SmartGlamour's Facebook page.