SmartGlamour's Summer + Swim Collection Is For All Bodies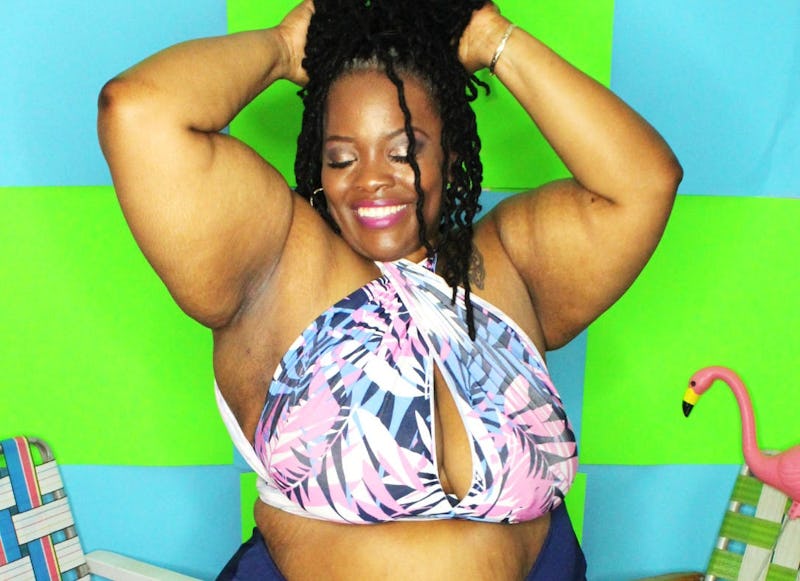 For folks with bodies that fall outside the straight size, cisgender, able-bodied norm, the advent of swimsuit season can mean another year of struggling to find well-made, well-fitted swimwear. That's why it's so important that inclusive brand SmartGlamour just released its Summer + Swim collection, with swimsuits for all bodies.
"All the items are available in sizes XXS to 6X and beyond and are fully customizable, and ethically priced, with nothing over $65," says SmartGlamour founder and designer Mallorie Dunn, who personally handmakes each SmartGlamour piece, so can offer her clothes in literally any size, made to fit any body.
The extensive collection is SmartGlamour's third full swim line, and on the Swim side, offers a mix of tops, bottoms, and one-piece styles bursting with eye-catching floral patterns. On the Summer side, there are "multiple short and pant options, some crop tops, a romper, swing dress and a maxi dress," Dunn explains.
Dunn also wanted to include more of SmartGlamour's popular convertible pieces. "Four of our swimsuits are convertible: the Marilyn Swim Top and One Piece, and the Arianna Swim Top and One Piece," she explains. "[This gives] customers tons of options for styling, swimming, and support. Our Bette Swim Bottoms come in three rise heights — low, medium, — and of course, are customizable on top of those options, so if you need a specific cut, we can do that too!"
The Marilyn Convertible One-Piece Swimsuit, $55, smartglamour.com
Dunn is offering customized cuts for "tons of reasons," she says. "Fit, preference, comfort...It's not specifically for those with differing gender expressions, but it does obviously become a helpful tool for that. I'm a big believer that every person, every body, every identity, has fit issues and different preferences and needs."
She adds, "SmartGlamour customizations are really never made for one group in mind, but for everyone. I see complaints online often for 'all I see is high rise for plus' or 'I want high rise and can't find it.' Everyone wants something different, so I do my best to offer them all."
The Lupita Sweetheart Keyhole Swim Top, $40, smartglamour.com
Dunn explains she's seen a need for "affordable, ethical, cute swimwear in a large range of sizes." She says, "I first made Bette Bottoms in 2014, with just one swim top. In 2016, I expanded to a full swim line and continued from there. I think ever since the GabiFresh 'fatkini' explosion a few years ago, swim has gotten better, but I still see fit complaints, price complaints, size complaints, and style complaints, all over the internet, so I do my best to address those with our designs."
Aside from knowing she of course wanted customizable looks for all body types, Dunn found inspiration in retro styles. "I always have a nod to retro cuts and styles while trying to keep things clean and modern," she says. "It's like updated modern glamour with fun prints and colors...Items that scream summer, relaxation, but while feeling cute and fun."
The Susan Palazzo Pant, $45, smartglamour.com
Dunn has plans to add to SmartGlamour's loungewear and intimates collection in the coming months, offering customizable, comfortable lingerie options — another difficult-to-navigate category for folks outside the "norm." Along with new collections, Dunn will continue SmartGlamour's #AllMeansAll campaign, which has already spotlighted models of color, trans and femme models, and models size 24 and up.
If that's not enough, fans of the brand will also be able to find SmartGlamour pop-up shops in New York City this summer. For now, you can shop the full Summer + Swim collection on SmartGlamour's website.