'SNL' Calls For A Republican Hero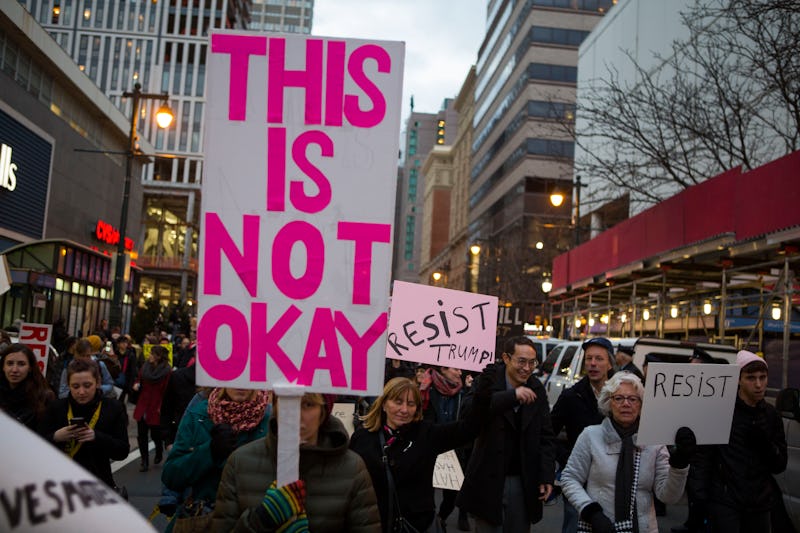 Jessica Kourkounis/Getty Images News/Getty Images
After a few weeks off the air, Saturday Night Live returned with a bang this weekend. Stars Kate McKinnon and Cecily Strong were back with their hysterical political commentary in sketches about Kellyanne Conway and the Women's March, but the most powerful sketch of the night actually starred no one at all. With a movie trailer-like video, SNL challenged Republicans to be the hero their party needs.
The fake movie trailer — complete with the "Universal" logo — opens by setting the very real scene: Images of anti-President Trump protests are followed by news clips of disbelieving talking heads and tense interviews. "A country in chaos," reads the on-screen text. "A nation divided."
Then, the focus turns to the president himself: "A president with unchecked power," the trailer continues. There are clips of Trump signing what appear to be his ever-controversial executive orders and more frightening faces of stressed-out talking heads. This plot is begging for a hero.
The protagonist remains anonymous, however, because he or she doesn't yet exist. Simply put, that's SNL's message for Republicans — that the GOP needs a hero from its own ranks who will stand up to Trump. Putting the party first isn't doing the country any good.
Since Trump's inauguration in January — and perhaps even earlier — the overwhelming Republican response has been to stay true to the party. Sure, not every Republican lawmaker agrees with Trump's approach to politics, and some have even said as much. Take Sen. John McCain, for instance: McCain has criticized everything from Trump's treatment of the media to his contradictory statements.
Still, the Republican Party and, particularly, its leadership continue to support the "president with unchecked power." SNL's message seems to say that it's no longer enough for Democrats to wear white and protestors to line the streets. Rather, the Republicans' sporadic criticism of Trump needs to turn into action so that the GOP has a hero other Trump skeptics can turn to.
SNL's first March episode didn't have any Republican heroes to turn to, but it did have some Republican enemies to poke fun at. The cast took aim at Trump adviser Conway's awkward Oval Office pose and Attorney General Jeff Sessions' woes with the Russian ambassador. It was all the perfect build-up to the hero-less GOP movie trailer.
Fittingly, the movie has no premiere date. Like its protagonist, the launch date is likely TBD. For now, the Republican Party will have to continue holding out for a hero.