'Game Of Thrones' Fans Will Be Super Familiar With Sophie Turner's Keepsake From The Series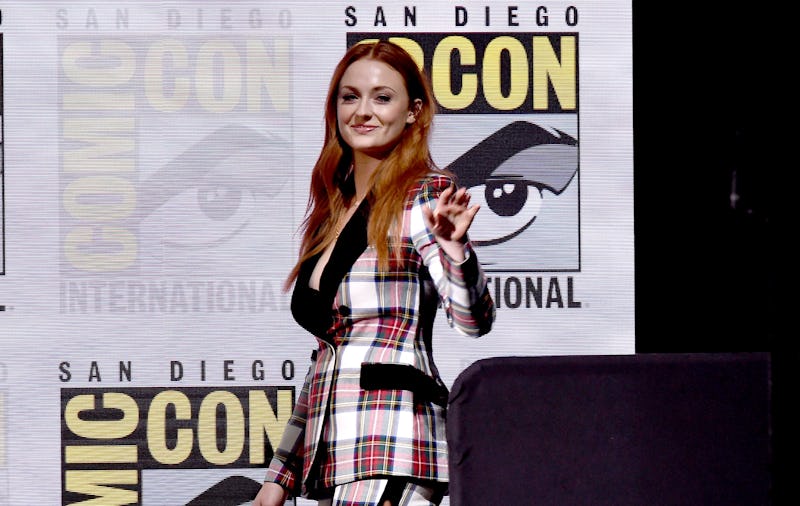 Kevin Winter/Getty Images Entertainment/Getty Images
Game of Thrones Season 8 has wrapped filming, which means it's time to take apart the set and rebuild it somewhere for fans to walk through and freak out in. Before that happens, though, the stars each get their own little part of it. Sophie Turner's Game of Thrones keepsake might be unexpected to fans of her character Sansa Stark, but diehards will recognize that her piece of the show has actually been one of her favorites all along.
On Oct. 6, Entertainment Weekly revealed that Turner kept Sansa Stark's corset after filming concluded on the show. Not lemon cake, not a wig, but literally one of Sansa's corsets. At a New York Comic Con panel moderated by EW on Saturday, Turner admitted that Williams and Kit Harington both took home swords from the show — in addition to the brown jacket that Williams revealed she kept in August 2018.
"Sansa really comes into her own [next] season," the actor announced to the crowd, "She's kind of been lost but this season she's very self-assured and knows what she wants." So like on-screen sister and IRL BFF Maisie Williams before her, Turner kept a prop that wasn't just a costume, but emblematic of the character itself. Also, she just really wanted it.
Back in 2014, Turner talked to Lucky Magazine about her costumes on Game of Thrones, and she could not praise the character's corsets enough. Per fan site Winter is Coming:
"Sansa's costumes are fitted to perfection. We have about 10 fittings for one dress, so I've definitely learned a lot about how to fit clothes—including corsets and everything."
But it wasn't just the costumes that she admired — Turner genuinely fell in love with the HBO show's corseting.
"I would love to wear my corset out, but it's not so practical or easy to breathe in. I wear corsets with all of my outfits. We've upgraded to a corset that doesn't do boobs, it just does waist, and it's the best thing in the world."
Again, this was more than four years ago! It's obvious that the corset has been on her mind for some time. And yes, perhaps she could have taken something more overtly Sansa-esque, but let's be real here: She already has a Direwolf tattoo. Does the actor really need anything else?
As the actor admitted to EW, not all of Sansa's wardrobe was so hot. In fact, there were pieces she downright disliked. That iconic fur-trimmed coat she rocked in Season 7, for example. "I hated that coat!" Turner exclaimed. "I dragged it around [all season] and no, I didn't want to carry it home." An exquisitely-tailored corset made just for her sounds much better by comparison. Even if she did wear the Red God out of Sansa Stark's cold, northern threads last year.
For fans that were hoping to hear either Game of Thrones spoilers or hints about Turner's upcoming X-Men: Dark Phoenix, so sorry: She kept mum on the subject. Same on the topics of her engagement to musician Joe Jonas, and any other personal details about her life besides her admiration for a Sansa corset. With so much time left until the Game of Thrones Season 8 premiere, though, a little goes a long way.