'Star Wars' Infamous Diversity Problem Is Summed Up In This One Cutting Tweet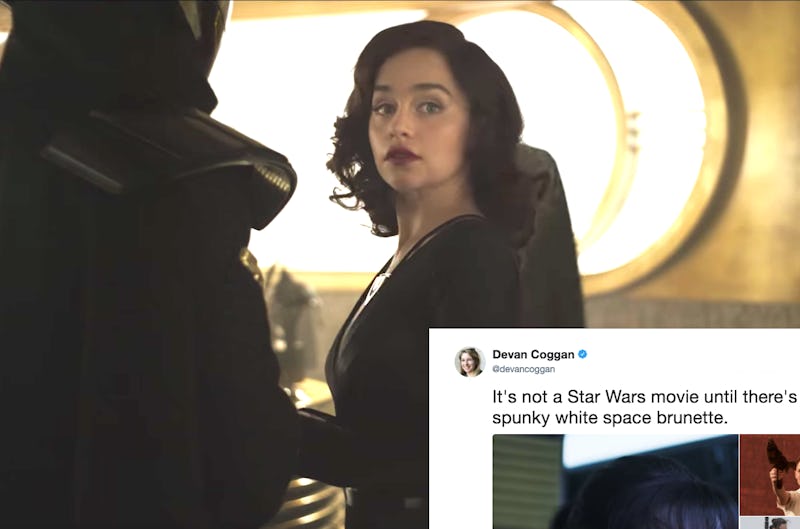 Lucasfilm/YouTube/Twitter
Star Wars has introduced the world to a wide range of fictional creatures, but, when it comes to the humans in space, the franchise has been drastically unvaried. In fact, this tweet calls out Star Wars' diversity problem, particular when it comes to the series' representation of women. It's a problem that continues even to the newest movie, Solo: A Star Wars Story, which has yet to come out. And once you see it, you can't un-see it.
Entertainment Weekly writer, Devan Coggan, tweeted, "It's not a Star Wars movie until there's a spunky white space brunette." With this tweet, Coggan included pictures of Rey, Padmé Amidala, Jyn Erso, and Emilia Clarke as Qi'ra in Solo. Princess Leia Organa from the original series could also have been included, but was instead the subject of a later tweet. Sure, things have gotten better in recent years as far as Star Wars' diversity goes. The latest film, The Last Jedi, introduced Kelly Marie Tran, a Vietnamese-American actor, and Ngô Thanh Vân, a Vietnamese actor, as sisters Rose and Paige Tico. But there's still a ways to go until the franchise has truly embraced Lucasfilm's pledge to improve the films' diversity.
The issue with Star Wars' lack of representation started at a time long, long ago with the first movie of the series that George Lucas wrote and directed, Episode IV: A New Hope, from 1977. According to Variety, all of the dialogue from the first movie was spoken by white characters, and most of those characters were men. Finally, three years later in 1980, the character Lando Calrissian (played by Billy Dee Williams) broke that embarrassing record with his speaking role in The Empire Strikes Back.
The rest of the original Star Wars saga, which spanned over six films, didn't make considerable improvements. Princess Leia and Padmé Amidala (played by Carrie Fisher and Natalie Portman, respectively) were the only two female characters with leading roles. Meanwhile, Mace Windu (played by Samuel L. Jackson) and Lando Calrissian were the only main characters of color. Some might think that Rey (played by Daisy Ridley) redeems the series, as she is a leading female character, but that didn't solve anything. Not even close.
According to a study reported by Variety, 2015's The Force Awakens, which stars Ridley and Fisher in leading roles, still only presented women speaking 27.8 percent of the dialogue. In that same film, white people spoke 62.5 percent of the dialogue, and there wasn't nearly as much diversity as there was in Rogue One. While things are getting better, they're still not perfect, and the new Solo trailer proves just that. In the trailer for Solo, the only characters who speak in it are white, even though the movie includes Donald Glover and Thandie Newton as main characters.
It's exciting that The Force Awakens, The Last Jedi, and Rogue One have women as their main characters — and Rey and Jyn are immeasurably important characters — but you have to admit that Coggan was onto something with her tweet about similar-looking white women getting the leading roles in Star Wars movies. In an ideal world, Star Wars would have women of all races playing the parts of badass Jedis — or maybe even the villains.
One of the most exciting new characters added to the Star Wars series was Rose Tico, played by Kelly Marie Tran, who was the first Asian American lead in the series ever. If Star Wars wants to continue its slow but steady improvement of the series' diversity, it should continue to introduce characters like Rose, then give them their own spin-offs. In addition to Han Solo's aptly-named spinoff, Cinema Blend announced that a Boba Fett spin-off might also be in the works. But there's no doubt that fans would also love to see a Rose Tico spin-off or an entire movie of Donald Glover as Lando.
Even with its female characters that are brave, cunning, and gifted, Star Wars still falls short in introducing people of color as main characters who speak a majority of the dialogue. More women behind the scenes would be excellent too, which the president of Lucasfilm, Kathleen Kennedy, has said she wishes to facilitate. "We want to make sure that when we bring a female director in to do Star Wars, they're set up for success," Kennedy told Variety in 2016.
So far, that hasn't happened yet, but thanks to the power of the Force — and the popularity of the Star Wars franchise — there will likely be plenty of opportunity to make wonderfully diverse films in the future.