With Rose In 'The Last Jedi,' Asian Americans On-Screen Are Finally Moving Away From "The Other"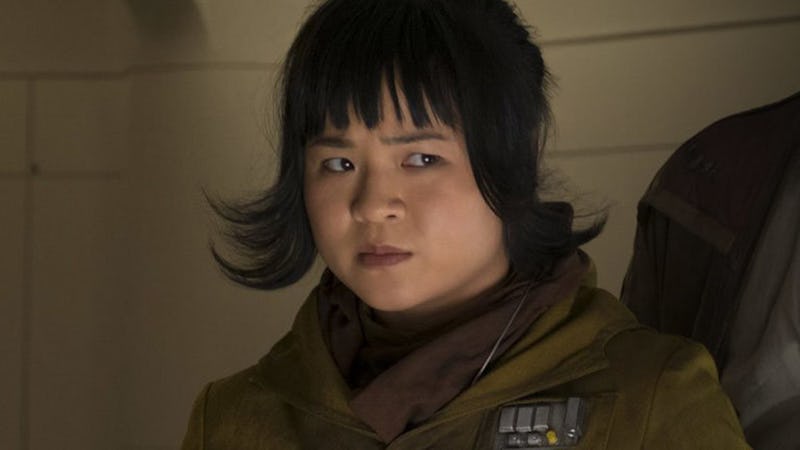 Star Wars/Walt Disney Studios Motion Pictures
Star Wars: The Last Jedi opens with something never seen before: the birth of an Asian American hero in the Resistance. Paige Tico (Veronica Ngo) might only have one scene in the film, but her presence sets the stage for another Star Wars first in her sister Rose Tico (Kelly Marie Tran). Not only is Rose the first female Asian lead in the Star Wars franchise, but she's the first Asian American lead in the series, period, and moreover, she represents a shift in Asian Americans moving away from being "the other" in Hollywood.
In The Last Jedi, Rose isn't just a background player in the Resistance or a glorified extra — she is a fully-formed hero. She plays a crucial role in the plot to save the Resistance fleet and also in Finn's journey to embracing his status as a hero of the fight against the First Order. And she does all of this without playing into the model minority stereotype. Yes, Rose is an engineer, but she's not presented as a mathematical genius who plays the violin every night. She has no patience for deserters, but doesn't think twice about breaking the rules. When she appears onscreen for the first time, vaguely Asian music doesn't start playing in the background. (It probably doesn't hurt that the role was written for "any ethnicity," as Tran revealed to Rolling Stone.) She's as much of a citizen of the Resistance as Poe and as much of a lead character as Finn.
Rose is not the first Asian character ever to appear in a Star Wars film, but she is the first to take on such an impactful role. Before her, the biggest Asian presence was Chirrut (Donnie Yen) and Baze (Wen Jiang) in Rogue One. And though they were two major characters, they weren't exactly on the same level as Rose. Moreover, as Chinese actors, they expand the Star Wars universe in a different way than Tran, a Vietnamese American. While Yen and Jiang do represent a significant step forward when it comes to representation of Asians in Hollywood, their casting is also emblematic of the kind of Asians Hollywood is comfortable with: the "other."
Throughout history, Asian and Asian American actors have been stuck in this trope time and time again. In the past, that's often meant playing the foreigner, leaning into the "fresh off the boat" stereotype, like Sixteen Candles' long Duk Dong. In modern Hollywood, the role of the "other" has been exemplified by Gossip Girl's Nelly Yuki (Yin Chang) or The Hangover's Mr. Chow (Ken Jeong). These characters are the stoic foreigners (courtesy of the model minority myth) or the wacky minorities, with rarely any in-between. And these roles are often little more than background filler — an easy way for filmmakers to create a more diverse picture without actually giving Asian actors much to do.
In the world of Star Wars, Chirrut and Baze were the "other" in that they were foreign. (Their mysticism with regards to the Force could also be read as playing into the stereotype of the ancient Asian spiritual guide.) Meanwhile, two of the only other Asian characters in Star Wars, The Force Awakens' Admiral Statura (Ken Leung) and Jess Testor (Jessica Henwick) fell into the "other" background category. And while these roles do have value in advancing Asian representation in Hollywood, there's no denying that they are limiting.
In The Last Jedi, though, Rose exceeds these limits, moving forward the representation of Asian Americans, especially women, beyond anything Hollywood has ever seen. Not only does she expand the definition of what race the industry deems "heroic," but she breaks ground in an even huger way, taking the lead in one of the few massive blockbusters to ever feature an Asian American female lead.
And even before The Last Jedi was released in theaters, Rose and actor Tran were breaking glass ceilings all over the place. When the cast of the film was featured on the cover of Vanity Fair in May 2017, Tran became the first Asian woman to ever appear on the main cover. Rose has allowed Asian women all over the world to see themselves represented in a new, prominent way in American pop culture, something Tran herself did not have growing up. "I remember spending so much of my childhood wanting to be someone else just purely because I never saw myself in anyone [on screen]," Tran said on The Star Wars Show.
The groundbreaking nature of Rose's role in Star Wars is the perfect end to 2017, the year Asians and Asian Americans in Hollywood said goodbye to being the "other." In 2016, when the conversation of diversity in Hollywood was bubbling up to the forefront, Asians were largely left out of the conversation. So ignored was the lack of representation on screen that Oscar host Chris Rock decided to make a joke about Asian children being good at math while also calling out Hollywood's lack of black nominees. Now, almost two years later, Asians are demanding to be included in the conversation, and making active strides towards more inclusivity in the industry.
Just take an actor like Jeong, once known for playing a "crazy Asian," who led an American sitcom (RIP Dr. Ken). Then there was Daniel Dae Kim, who, along with co-star Grace Park, left Hawaii Five-0 after reportedly being denied equal pay with his white co-stars. Kim went on to take over the role of Ben Daimio, a rare Asian American comic book hero, in the upcoming film Hellboy after a white actor was offered the role. John Cho, meanwhile, saw his first big dramatic leading role in the critically-acclaimed Columbus, from Korean writer-director Koganada. Hong Chau was nominated for a Golden Globe for her work in Downsizing. Guardians of the Galaxy vol. 2's Pom Klementieff became the first Asian female actor to play a lead role in the Marvel Cinematic Universe (though it should be noted that her character is not seen as Asian, but alien).
It's hard to think of anything greater than an Asian woman being a lead in Star Wars, but with Rose setting a new Hollywood standard this past year, 2018 is promising to be an even bigger time for Asian American women on screen. There's Ocean's 8, starring Mindy Kaling and Awkwafina; Crazy Rich Asians starring Constance Wu; and To All The Boys I've Loved Before starring Lana Condor, all set for release next year. Asian American women and characters are coming for Hollywood, and Tran's Rose Tico is just the beginning.