Starbucks & ban.do Just Dropped A Holiday Collection & You'll Want Every Piece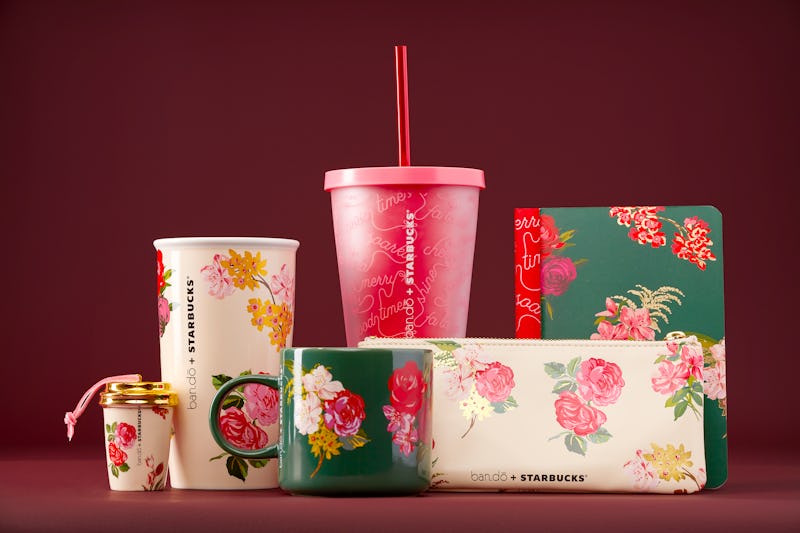 Starbucks
If you have a Starbucks lover in your life, you now have a bunch of new gift options for them this holiday season. Starbucks and ban.do collaborated on a holiday collection, including a notebook, a mug, an ornament, and more. It might only be the beginning of November, but for anyone who knows a Pumpkin Spice Latte or Peppermint Mocha enthusiast, shopping is easy this year.
The limited edition merch is available now in Starbucks Licensed Store Locations — both in standalone Starbucks stores, and locations within grocery stores and other retailers — in the U.S. and Canada (excluding Quebec), and the collab is not available online. There are six items in the collection, which features two design options. There's "floral", which is inspired by the patterns ban.do is known for using on their products, and "phrases", "which features popular holiday slogans made from ribbon-like typography — a nod to gift-giving during the season," according to Starbucks.
The ban.do collection isn't the only newly released holiday season offering from the coffee giant. Starbucks also added a new 12 oz. temperature-controlled mug from Ember. The mug works with the Ember app, which lets users control the temperature of their beverage to the exact degree of their choosing.
Starbucks also simultaneously announced new gift cards printed with holiday season-themed designs, such as a snowman, a chill dog with earmuffs, and the phrase "dashing through the snow". Co-workers and distant cousins, get ready. These are coming your way this December.
Here's a closer look at the ban.do collaboration, so you can know what to buy for your sister-in-law... or for yourself:
Ornament — $9.95
12 oz. Ceramic Mug — $12.95
Notebook Set — $11.95
Pencil (Or Whatever You Want) Pouch — $13.95
16. oz Cold Cup — $14.95
12 oz. Ceramic Double-Wall Travel Mug — $19.95
(It's the one that's second from the left.)
Starbucks' holiday goods aren't just limited to these newly released products, either. The brand has been rolling out holiday items for a while now. They're going to be selling a ton of different travel cups and mugs: a rose gold one, a black sequin one, a green ombre one, one that looks like that sand art kids used to (still do?) make. They also recently released their 2018 holiday cups, which this year come in "stargyle" (argyle with stars), houndstooth, stripe, and flora:
Finally (as if all that wasn't enough and, really, they certainly have even more products than this), Starbucks also continued to promote reusable cups by giving away free reusable red holiday cups on Friday, November 2. While the giveaway is over, it is now possible to purchase the cups for $2.50, where available. Using the cup in stores will get customers .50 cents off a grande holiday beverage order through January 7. In general, using a reusable cup (purchased at Starbucks or not) gets visitors .10 cents off of their purchase, regardless of the size of the drink.
So, yeah. If you want a holiday drink, a reusable cup, a gift for your aunt/best friend/Secret Santa person, or a Christmas ornament for your coffee-themed tree, Starbucks has you covered. And then some.