The Last Thing Stormy Daniels Said About Trump In Her Interview Was Absolutely Chilling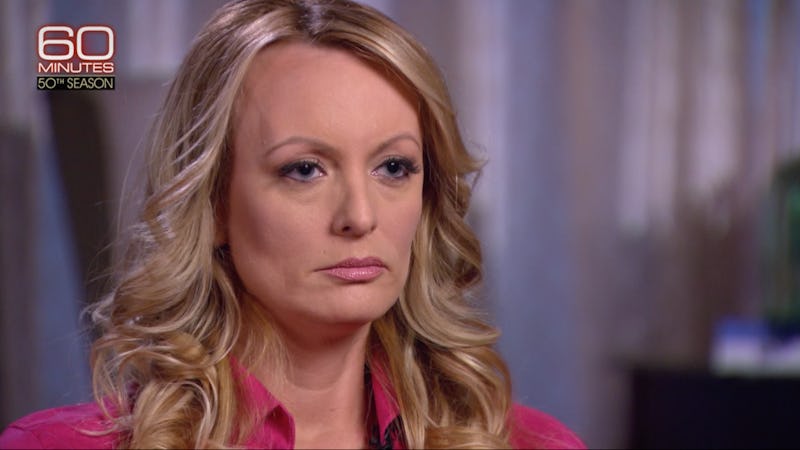 CBS/60 Minutes
At the very end of her first-ever TV interview about her alleged affair with the president, adult film star Stormy Daniels' quote about Trump on 60 Minutes was truly chilling. After speaking about how Trump's lawyer Michael Cohen paid her $130,000, reportedly to keep quiet about her alleged relationship with then-candidate Trump, host Anderson Cooper asked Daniels what she would say to the president if he was watching.
Her reply? "He knows I'm telling the truth."
During Daniels' nearly 30-minute tell-all interview, she revealed some interesting details about her reported relationship with Trump, which he's repeatedly denied. The alleged encounter took place in 2006, when Daniels was 27 and Trump was 60. At the time, Trump had just welcomed his son Barron with his wife Melania.
Daniels, whose given name is Stephanie Clifford, told Cooper that she'd been threatened into staying silent about her time with Trump. In particular, she described an instance when a man came up to her and her infant daughter and said, "That's a beautiful little girl. It'd be a shame if something happened to her mom."
Daniels also claimed she spanked Trump with a magazine that he was on the cover of and that he commented that she reminded him of his daughter, Ivanka. She reiterated to Cooper that she was taking a risk by coming forward with her story, and that she had no reason to lie.
While it's now been more than a decade after the incident took place, this wasn't the first time Daniels attempted to tell her story. In 2011, she told Cooper, she agreed to sell the story of her and Trump's relationship to In Touch for $15,000. Staffers from the publication told 60 Minutes that they killed the story once Cohen threatened to sue them; Daniels says she was never paid. Shortly after that was when she said she was threatened by a man in Las Vegas.
"I was in a parking lot, going to a fitness class with my infant daughter," Daniels said. "And a guy walked up on me and said to me, 'Leave Trump alone. Forget the story.'" That's when he leaned in and said it'd be a "shame" if anything happened to the little girl's mom, she said. "And then he was gone."
After the interview aired, CBS News reported that Trump had met with Cohen for dinner the night before 60 Minutes. Trump and his lawyers are accusing Daniels of breaking her non-disclosure agreement, and are seeking up to $20 million in damages. Cohen filed a motion to move the case to federal court, where they tend to enforce arbitration agreements more strictly, according to POLITICO. These agreements mean the case would be settled outside of court, forcing Daniels into a closed-door legal case, the details of which would remain confidential.
Cohen has been taunting Daniels in the press, telling Vanity Fair he'll "take an extended vacation on her dime" once he and Trump win their case against her. Her lawyer, Michael Avenatti, tweeted in response:
Mr. Cohen should ensure he makes REFUNDABLE reservations for that extended vacation he is planning on my client's dime.....
Some have dismissed this story as tabloid fodder, but CBS News asserts that it could be much more than that. Since Cohen sent Daniels the $130,000 just 11 days before the 2016 presidential election, it could "run afoul of campaign finance laws," CBS News reported.
So far, Trump and his lawyers have confirmed that the payment took place, but not the affair. Trump has not publicly commented on the case.
However, when Daniels took a polygraph test in 2011, the examiner found there was a more than 99 percent chance her story was true, according to the report, obtained by NBC.
Avenatti told CNN earlier this month that his firm has been approached by six other women with stories similar to Daniels, at least two of which have signed non-disclosure agreements. When asked if all these cases involved Trump, he replied, "Yes."