Stormy Daniels Says Someone Downright Threatened Her To Stay Quiet About Trump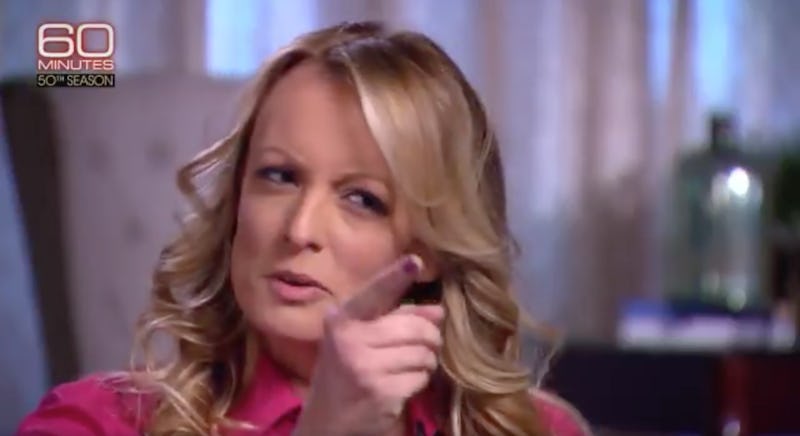 60 Minutes/CBS
On Sunday, Stephanie Clifford's 60 Minutes interview by no means fell short of expectations. It was jam-packed with details about her alleged affair with Donald Trump, along with an explanation of why she's speaking out about an alleged affair she denied for so many years. The adult film star, a.k.a. Stormy Daniels, told 60 Minutes that being reportedly threatened played a huge role in her silence. Bustle has reached out to the White House for comment from Trump.
After In Touch decided not to publish an interview it conducted with Daniels in 2011, she was reportedly approached by a man in the parking lot outside of where she took workout classes. She was with her young daughter at the time and told Anderson Cooper that the experience absolutely "rattled" her.
I was in a parking lot, going to a fitness class with my infant daughter. T-- taking, you know, the seats facing backwards in the backseat, diaper bag, you know, gettin' all the stuff out. And a guy walked up on me and said to me, 'Leave Trump alone. Forget the story.' And then he leaned around and looked at my daughter and said, 'That's a beautiful little girl. It'd be a shame if something happened to her mom.' And then he was gone.
In her mind, it was no doubt a threat. And she says she wanted to keep her family safe. Trump's lawyer, Michael Cohen, for his part, has denied ever threatening Daniels. He told Politico, "I can only speak for myself. … I have never threatened her in any way and I am unaware of anyone else doing so."
That part of the interview was a pretty big deal because it explains a lot. As Cooper mentioned, Daniels has repeatedly denied ever having a relationship with Trump.
If Stormy Daniels denied the affair in 2011, which you say is a lie, denied the affair in early January 2018, denied the affair in late January of 2018, doesn't that hurt her credibility? I mean, she's lying, she's lying, she's lying.
Not to mention, she's also signed a $130,000 non-disclosure agreement, or "hush" agreement, just over a week prior to the 2016 presidential election. Now, by speaking with 60 Minutes, Daniels risks having to fork over millions of dollars for violating that agreement.
Vox's Matthew Yglesias raised an important question after the interview aired, asking how many other women Trump could have potentially paid into keeping silent. For example, former playboy Karen McDougal also claims she had an affair with Trump in 2006. And now, she's suing the National Enquirer parent company for the right to talk about it. For the record, Trump denies the affair ever happened and the parent company, American Media Inc., insists the agreement it has with McDougal is valid. But, if Daniels' account of being threatened is true, it's possible other women could've kept silent because they, too, got threatened. It's unclear who reportedly threatened Daniels in that Las Vegas parking lot in 2011.
Now, though, Daniels is finished with the reported threats. She and her attorney Michael Avenatti are fighting to void the 2016 non-disclosure agreement so she can speak freely. During her interview with Cooper, Daniels acknowledged that she's taking a gigantic risk — but that she's also ready to defend herself once and for all in to the public.
Read More About Stormy Daniels
Stormy Daniels' Lawyer Has Actually Gone Up Against Trump In Court Before
Stormy Daniels' Net Worth Shows She Probably Doesn't Need Trump's Alleged Hush Money
Stormy Daniels Might Have Dropped A Major Hint About Her Alleged Affair With Trump
Curious If Stormy Daniels Is A Republican Or Democrat? She Once Considered A Political Career
Transcript Of Stormy Daniels' '60 Minutes' Interview Details The Alleged Trump Affair Like Never Before