Stormy Daniels Claims Trump Compared Her To His Daughter After She Spanked Him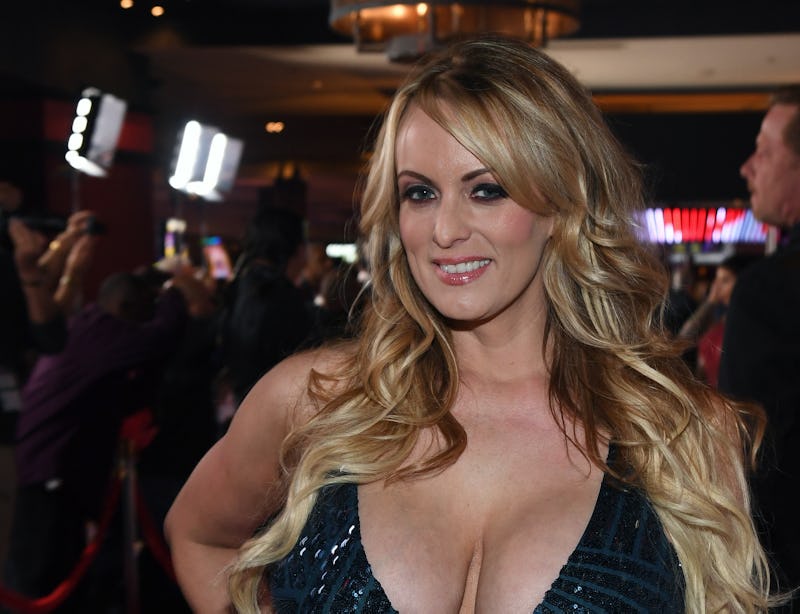 Ethan Miller/Getty Images Entertainment/Getty Images
On Sunday night, adult film star Stephanie Clifford's 60 Minutes interview included quite a few scathing revelations about her alleged affair with Trump, but one detail mentioned early on was particularly awkward. In conversation with Anderson Cooper, Clifford, better known as Stormy Daniels, claimed Trump compared her to his daughter sometime after she spanked him with a magazine that had his face on the cover. Bustle has reached out the White House for comment from Trump.
Trump has never publicly acknowledged his alleged affair with Daniels. However, his lawyer, Michael Cohen, has consistently denied the affair on the president's behalf.
The president's denial of the alleged affair did not stop Daniels from sharing some strange details of their alleged relationship, though. On Sunday night, she told Cooper exactly what she remembered from the one night she claims that she had sex with Trump. And according to Daniels, it started off with Trump asking her if she had seen a magazine cover he was recently featured on:
And so I was like, 'Does this —does this normally work for you?' And he looked very taken— taken back, like, he didn't really understand what I was saying. Like, I was— does, just, you know, talking about yourself normally work? And I was like, 'Someone should take that magazine and spank you with it.' And I'll never forget the look on his face.
Daniels told Cooper that she didn't think anyone had "ever spoken to him like that," and especially not a "a young woman who looked like" her.
"And I said, you know, 'Give me that,' and I just remember him going, 'You wouldn't.' 'Hand it over.' And— so he did, and I was like, turn around, drop 'em'," she said. Daniels claimed that Trump actually complied with her demands, turning around so she could spank him with the magazine, though she explained to Cooper that it was really all in jest.
"And from that moment on, he was a completely different person," she said, later adding: "He quit talking about himself and he asked me things and I asked him things and it just became like, more appropriate."
However, as Daniels then said, Trump didn't just loosen up after being comically spanked. He then drew an odd comparison — he likened Daniels to one of his daughters.
He was like, 'Wow, you— you are special. You remind me of my daughter.' You know— he was like, 'You're smart and beautiful, and a woman to be reckoned with, and I like you. I like you.'
Though Daniels didn't say which daughter Trump compared her to, Twitter users largely believed the daughter in question to be Ivanka, Trump's eldest daughter, who also works as an adviser in the White House. Though the president has two daughters — his youngest, Tiffany, is currently in law school — Trump has been famously close to Ivanka, whereas Tiffany has spent much of her young life living on the West Coast, across the country from her father.
Trump has faced criticism many times, particularly since joining the political arena, for making what many believe to be inappropriate statements about Ivanka over the years. These comments were largely quips scattered over the course of television and radio interviews. Neither Trump nor Ivanka have publicly responded to accusations that his comments were out of line for a father-daughter relationship, but many 60 Minutes viewers were quick to suggest that the daughter he referenced to Daniels, was, in fact, his eldest.
Sunday's interview with Daniels featured quite a few surprises, including allegations that she was coerced into silence about her alleged affair with Trump. But even the one-offs, like Daniels' memory of the spanking and the conversation afterward, packed a punch. Trump has not yet publicly responded to the interview's airing.
Read More About Stormy Daniels
Stormy Daniels' Lawyer Has Actually Gone Up Against Trump In Court Before
Stormy Daniels' Net Worth Shows She Probably Doesn't Need Trump's Alleged Hush Money
Stormy Daniels Might Have Dropped A Major Hint About Her Alleged Affair With Trump
Curious If Stormy Daniels Is A Republican Or Democrat? She Once Considered A Political Career
Transcript Of Stormy Daniels' '60 Minutes' Interview Details The Alleged Trump Affair Like Never Before