This New 'Stranger Things 3' Character Could Have A Mysterious Connection To Eleven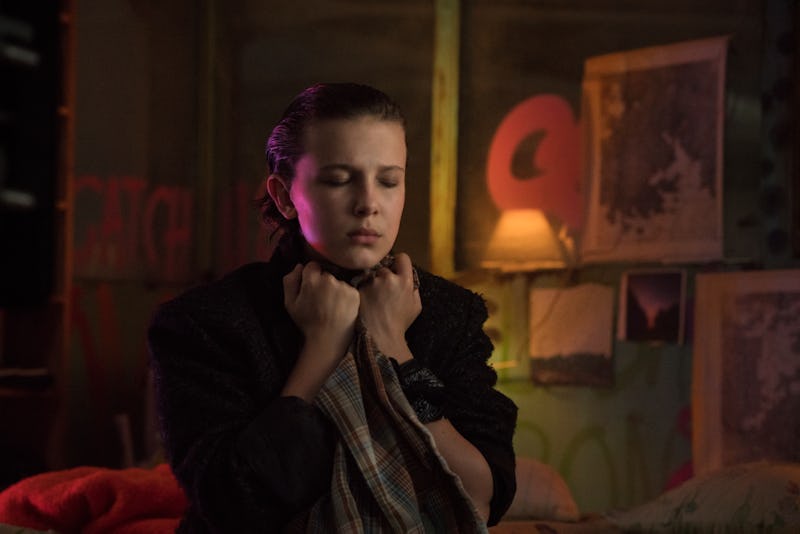 Tina Rowden/Netflix
With the upcoming third season of Stranger Things not slated to debut until sometime in 2019, fans of the sci-fi Netflix series have been scrambling to get their hands any and all information pertaining to the show's return. That said, the announcement that Francesca Reale is joining Stranger Things Season 3 in a major recurring role comes as pretty big news.
A May 9 report from Variety indicates that Reale will enter the show as Heather, a popular lifeguard at the Hawkins Community Pool who becomes major player in the plot of the show's mystery. Although details about Heather's storyline are pretty much still unknown, it's quite possible that character could be introduced on the series as a number and, perhaps, posses special powers similar to those currently held by Eleven and Eight (aka Kali). Executive producer Shawn Levy once hinted to E! that more Hawkins Laboratory experiments could appear on the series. "I think we've clearly implied there are other numbers, and I can't imagine that the world will only ever know Eleven and Eight," Levy shared.
While other details surrounding the show Season 3 return have been somewhat scarce, Deadline shares that the third-coming of Stranger Things won't pick up right where the second one left off. The outlet indicates that, much like the time-hop that the show experienced between the first two seasons, the storyline of its third season will jump a year into the future, finding itself in a world where a new evil threat will be introduced to the town of Hawkins.
Explaining the reason for the show's fast forward, the series' creators told The Hollywood Reporter:
"Our kids are aging. We can only write and produce the show so fast. They're going to be almost a year older by the time we start shooting season three. It provides certain challenges. You can't start right after season two ended. It forces you to do a time jump. But what I like is that it makes you evolve the show. It forces the show to evolve and change, because the kids are changing."
Vulture also points out that show runners Matt Duffer and Ross Duffer, AKA the Duffer Brothers, had so much material for Season 2 that some things had to be reserved and pushed into the storyline of Season 3.
Matt told Vulture:
"Billy was supposed to have a bigger role. We ended up having so many characters it ended up, in a way, more teed up for season three than anything. There was a whole teen supernatural story line that just got booted because it was just too cluttered, you know? A lot of that's just getting kicked into season three."
Along with the addition of Reale, there was also an announcement that a few other characters would be introduced in the show's return including: Mayor Kline, who will be played by Princess Bride alum Cary Elwes. According to Entertainment Weekly, the role will be "your classic '80s politician — more concerned with his own image than with the people of the small town he governs."
The show will also see the addition of Robin, played by Maya Hawke, who Netflix described as "an alternative girl" who is bored with her mundane job. Then there's Bruce, played by Jake Busey, who is depicted as a journalist for the The Hawkins Post with "questionable morals and a sick sense of humor," according to Deadline.
Though a newcomer to the Stranger Things narrative, Reale is no stranger at all when it comes to acting in Netflix original series. The 23-year-old actor enters the ST fold after playing the part of Emily on the streaming series' Haters Back Off for two season up until its cancellation late last year.
While the forthcoming season may seem like its a long time coming, emerging details about Stranger Things and its cast additions prove that Season 3 is shaping up to one of the show's biggest seasons yet.