Super Bowl Memes That Both Pats AND Rams Fans Will Think Are Funny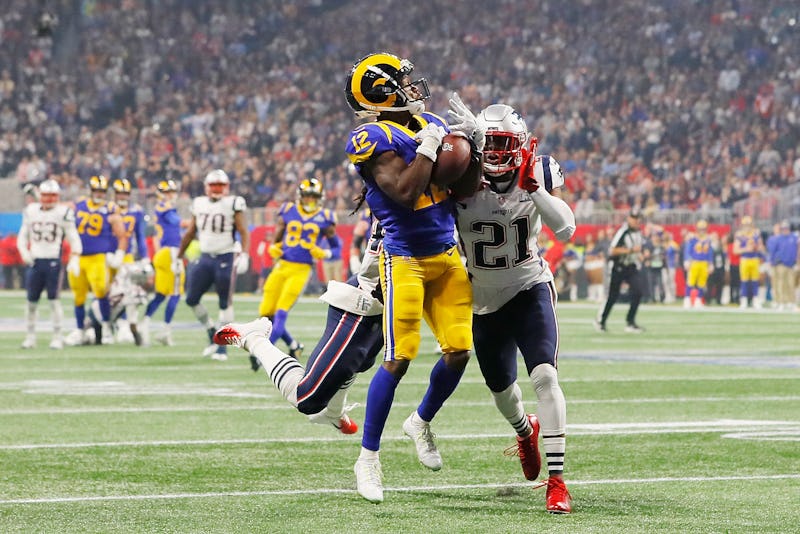 Kevin C. Cox/Getty Images Sport/Getty Images
Sunday's Super Bowl LIII promised a unique showdown between the New England Patriots and the Los Angeles Rams, with the Patriots beating the Rams 13-3 — marking Tom Brady's sixth Super Bowl win — to become this year's reigning champion. Now whether you're a football aficionado or just there for the guac, chips, and wings, the annual spectacle offers something that's arguably better than the game itself: the Super Bowl 2019 memes.
It doesn't matter if you experienced joy over your team's win, crushing disappointment at your team's defeat, or just an overwhelming sense of fullness because you were at a viewing party purely for the food (hey, absolutely no judgement here) — memes are the universal language that bring every fan together. And there were so many opportunities for that on February 3, from the halftime performances to game hijinks.
Before proceeding with the best memes of Super Bowl 2019, it's necessary to pay respect to the heroes that came before. Super Bowl 2015's maverick Left Shark paved the way and changed the meme game as we know it with his bumbling dance moves. Lady Gaga's 2017 halftime performance was filled with epic mic drops and swan dives galore. Justin Timberlake's Super Bowl 2018 performance reminded everyone of a Gap ad, and also a Super Bowl Selfie Kid was born. Ahead, game time, halftime, and winning team memes from Super Bowl 2019 that lived up to their meme predecessors.