'Supergirl' Season 4 Is Giving Kara A Break From Romance For This Awesome Reason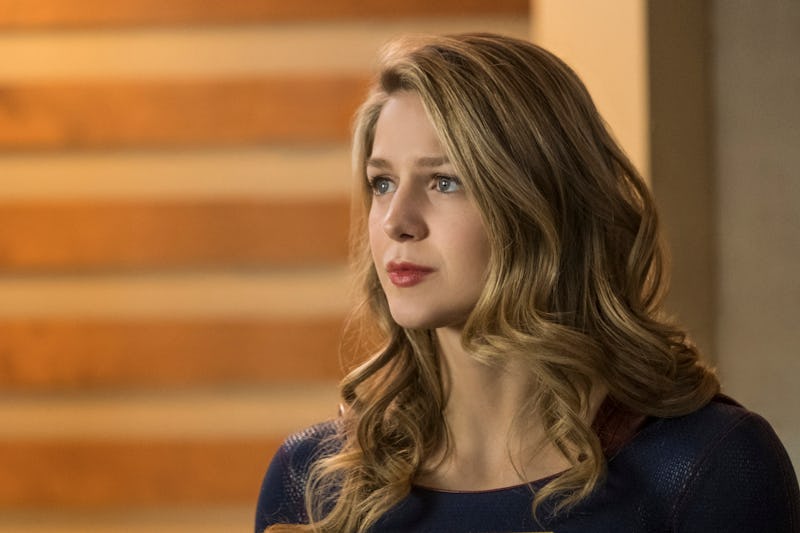 Katie Yu/The CW
Romance is a part of most TV shows, and Supergirl is no different. Kara Zor-El had a pretty epic love story arc over the past two seasons, but Supergirl isn't going to have a new love interest of any kind this season, according to Melissa Benoist.
In an interview with TV Line, Benoist said that there won't be "much" romance for her character in Season 4, saying instead, "You can find empowerment in many different avenues of life." Supergirl has always been a pretty empowering character, in National City as well as in real life. Over the course of three seasons (so far), it's been great to see her character truly blossom into a role model. Unfortunately there are very few female superheroes in lead roles on TV or in movies, so hearing that Supergirl can find that empowerment she radiates without a romantic interest is a good thing for fans to hear.
The actor went on to highlight what's important for such a strong character. Benoist said:
"It's not that I don't think there should be any [love interest], but I like seeing a woman fending for herself and not thinking about [romance]. If it falls into her lap, great."
Many fans of the show are likely yelling an emphatic "Yes!" to this statement, because it's such a great point. While her last love interest, Mon-El, never held Kara back from her duties and eventually became a pretty solid partner, it's great to hear that Supergirl is going to be a self-driving force, focused on her career and duties.
Mon-El, played by Chris Wood, had some great character development, opting to go back to the future by the end of Season 3. Despite their doomed romance, Kara learned many things from it, and had closure this time around (unlike at the end of Season 2, when she didn't know if he was dead or alive). That closure, on top of being more confident in herself, is going to bring out a much more confident Supergirl this season, one that's not looking for love, as Benoist said, and one that's ready to take on all the big bads thrown her way.
After the first episode of Season 4, Kara is at the top of her game in the superhero business and in her everyday life as Kara Danvers. Of course, at the end of the episode, her life gets a bit more complicated, but that's the fun of Supergirl, right? As Kara Zor-El, the super, she's worried about all these alien hate crimes popping up, and trying hard to save humans and aliens alike. And as Kara Danvers, the reporter, she's working towards upping her game in the world of journalism.
Speaking of Journalist Kara, she's also taken to the new reporter in the office, Nia, played by Nicole Maines, who she can tell is almost exactly like a young, Season 1, Kara. "What she sees initially is a really smart, capable, intelligent woman with great ideas," Benoist told TV Line. "She just wants to harbor that and help it grow the way Cat Grant did for her."
Even though fans of the show have only gotten one episode so far, it's looking like Supergirl is heading for a very good season. And with Supergirl focusing on taking care of herself and the city this year, it really can't go wrong.