This Eyeshadow Swatch Art From A 'Beauty & The Beast'-Themed Palette Will Make Any Disney Fan Swoon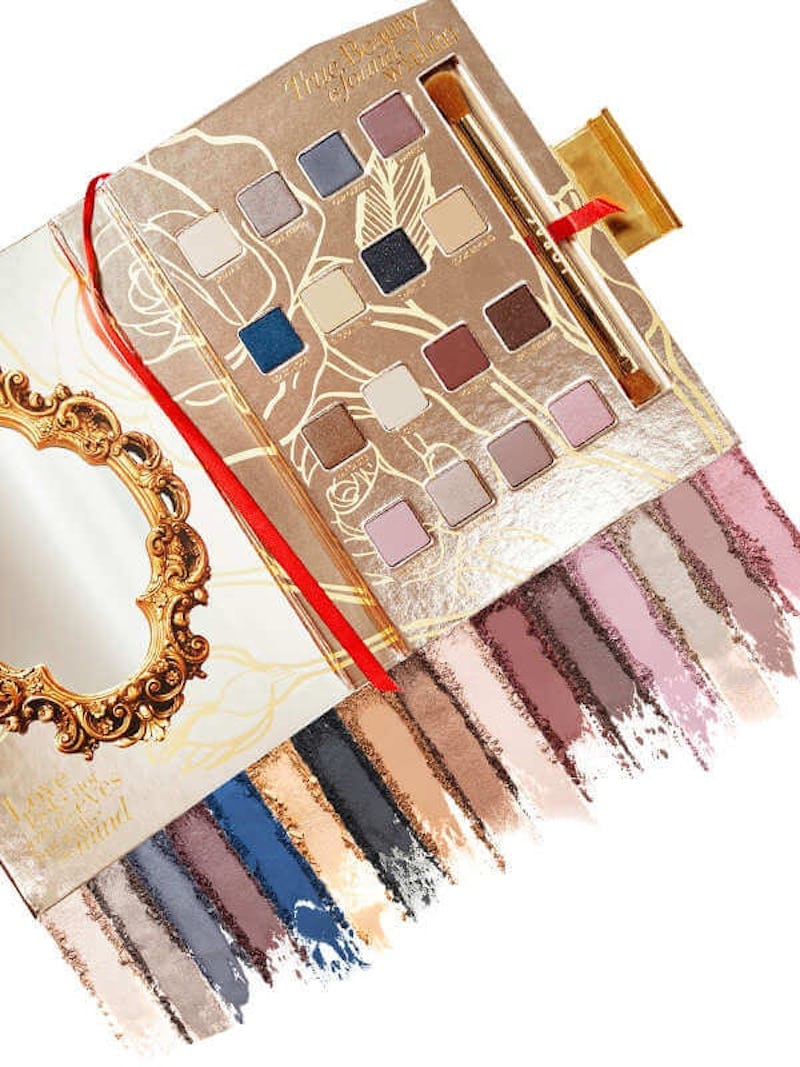 Courtesy of LORAC
Instagram swatch artists take makeup artistry beyond next level. These artists are insanely talented, using eyeshadows, powders, and lipsticks to create detailed images. Swatches are anything but typical blocks of color with these artisans! An Instagram swatch artist recreated an iconic Beauty & The Beast image on her thigh and it's utterly jaw-dropping. It's a masterpiece... in eyeshadow.
The artist, who is named Joy and who goes by the "aljureallure" handle, replicated the hand mirror, featuring Belle and her beast dancing and looking at one another lovingly in the reflection.
She used LORAC's Beauty & The Beast palette as her materials for crafting this image. I mean, it makes total sense to use an eyeshadow palette inspired by the recent film to recreate an image from the enduring and beloved tale. It's all so seamless, interconnected, and pretty much perfection.
Sure, the product is high quality and gloriously pigmented, as to be expected from LORAC. But we really need to talk about what this artist did with these shadows. The detail is astounding, from the fadeout of the handle of the mirror to the lines of their clothing.
It's so beautiful that it seems practically tragic to eventually wash it away with makeup remover and soap.
Have a look at this iconic Beauty & the Beast image in swatch form.
I mean, how blown away are you? The detail is something else. It's just so gorj. Bustle reached out to the artist to inquire about how she comes up with her sources of inspo and just how terrifically painstaking (or perhaps easier than we think) this artistic endeavor may be. In the meantime, you should totally throw her a follow because her work is epic. It's visually captivating.
My heart is fluttering on so many levels right now!
Here is the palette and some "regular" swatches. The art swatches are evidence that these shadows are ace. If they can be used as art tools, imagine their staying power and how well they will do their job as mixable and matchable eyeshadows designed for your lids!
UPDATE: We heard back from this Instagram artist, who told us that she "made my first swatch art project over a year ago with the Serpentina palette from Kat Von D Beauty. At the time, I wasn't trying to develop a new technique or start a new trend, but rather, I was just so inspired by the artistry behind that palette, the colors, and by the artist herself that I wanted to make something that would express all of that."
Now that's a killer source of inspo, right?
"When I make swatch art, it's not just about making something pretty, but creating something with substance and meaning," she said. "I generally start by researching the inspiration behind a given product, and then developing my own take on it. Stylistically, I have always loved detailed and tedious craft projects. I believe that when you are truly passionate about something, you want to indulge in the details rather than cut corners. So, needless to say I have been known to spend quite a bit of time on a single piece."
She continued, "You may notice that I don't have a ton of swatch art posts, and that is because I try to plan them out and take my time to do them right. I may not get as many followers as the accounts that post more often, but I know that I am creating a body of work I am proud of and the followers I do get will be ones that appreciate the work I do. By the way, my followers are awesome! They are so supportive and sweet and they lift me up and inspire me to keep creating."
She finished, "I like to take my time on these. As often as possible I try to hand draw my own designs, or in the very least create something fun with a collection of reference images, as was the case with the Beauty and the Beast post, in which we see the magic mirror revealing Belle and Beast dancing. Even though we all know what inspired those eyeshadows, I wanted to create something that would not only capture 'the feels' from that film, but also include a little of myself as well, which is where all the detail comes in."
So how long does this epic and intricate swatch art take? "From start to finish a swatch art project can take hours and hours, although some can be knocked out much faster," Joy told us. "Regardless, I absolutely love the process and the fact that I get to use the makeup in a way that it wouldn't normally be used!"
We love it, too!