Taco Bell Is Bringing Back Its Nacho Fries, This Is Not A Drill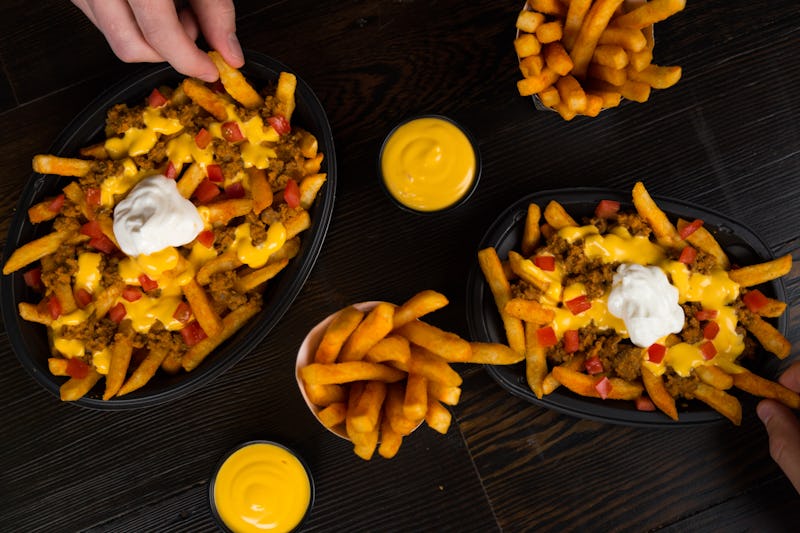 Courtesy of Taco Bell
Mark your calendars: July 12. It's happening. Whatever you have planned, cancel it, because this is more important. Taco Bell's nacho fries are coming back nationwide, after first making their debut in January — the biggest debut in Taco Bell history — leaving us all a giant puddle of emotions and wondering how we survived this long without them.
In case you haven't yet experienced the magic, Taco Bell's nacho fries are exactly what they sound like: nachos made with fries instead of chips. You know when you can't, for the life of you, decide what you want for lunch or dinner? TB's nacho fries are the answer to that, because they're a little bit of everything. The taste is difficult to describe, but it's some delicate combination of unicorns, glitter, and that feeling you get when someone plays with your hair.
While some people prefer to play coy and dip the plain fries in nacho cheese (who are you kidding?), others go the whole nine yards and get all the toppings. For a limited time only, you can get nacho fries a la carte for $1.29, or order the Supreme for $2.49. If you're really ready to commit — I mean, *really* ready — BellGrande will cost you just $3.49 and comes topped with beef, nacho cheese, tomatoes, and sour cream.
There's also a $5 deal that includes nacho fries, a Doritos Locos taco, a five-layer beefy burrito, and a medium drink, but I don't think you're emotionally prepared for this.
Be careful before you go in this deep. This is serious — serious like that one time you decided to get bangs. Except this will end much better.
You would be unwise to underestimate diners' love of nacho fries. People have been longing for their return since, well, since they went away the first time. Every day we wake up without nachos fries is a day of chaos. It's like we don't know who we are anymore.
The fries were originally meant to be a limited time only thing, but they were such a big hit, Taco Bell decided to extend the run. But then they pulled a fast one on us and snatched the fries away, destroying all of our dreams in the process. Why the brief break in nacho fries, you ask? I don't believe it was ever confirmed, but I like to think it's because Taco Bell finished off every last can of nacho cheese on the planet and needed to momentarily replenish.
Indeed, a Taco Bell representative told The Daily Meal back in March, "The fries' departure comes at the end of an extension due to the success of the product launch back in January." They definitely ran out of cheese. A sad day it was, but the Bell promised us the fries would be back soon.
Whatever the reason was, TB has returned and is ready for action, and come mid July, tacos will once again go on the back burner in favor of these delicious little pieces of potato heaven.
When you think about it, it's probably not all that surprising Taco Bell was open to giving the fries more time on the menu.
After all, they made a pretty penny off of them. According to Food & Wine, in the first five weeks of their availability, Taco Bell sold more than 53 million orders, eventually surpassing the previous record from the Doritos Locos taco of 100 million orders in 10 weeks, which happened back in 2012.
After spending six years as the reigning champ, a taco took a backseat to a fry. A greater story was never told.
Come July 12, be prepared to battle long lines and hungry people, because everyone is going to want to get their hands on an order of nacho fries.