Taco Bell's New Watermelon Freezes Are About To Be The Cutest Drink On Your Instagram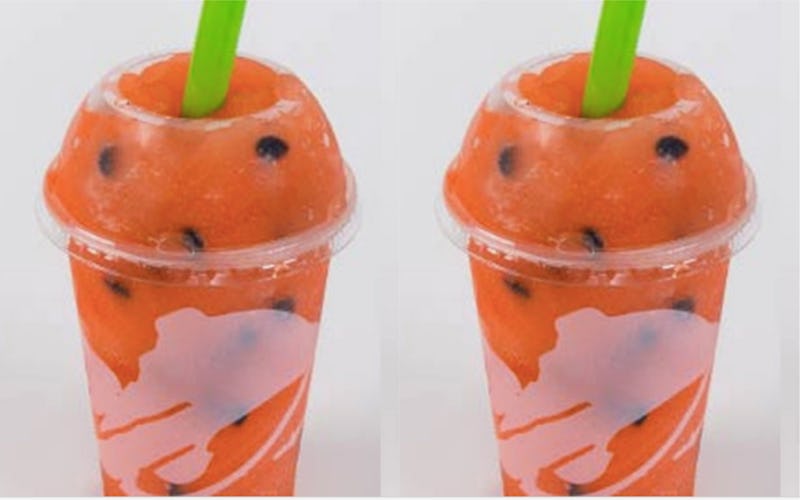 Taco Bell does not receive enough credit for its beverage options. The world's preeminent destination for inauthentic, but delicious Tex Mex has an under-appreciated knack for sweet sippables. Now, if you're a Crunch Wrap devotee, this won't come as much of a surprise. But, if you're unfamiliar with the treasure that is Taco Bell drinks you are missing out. Since it's never too late to hop aboard the Taco Bell train, why not start now? The chain just released a new treat that might be its best to date. The best part? Taco Bell's Watermelon Freezes includes candy seeds.
Taco Bell's freezes are basically its take on slushy frozen fruit drinks. You know, like Sonic's slushes, or 7-11's iconic Slurpee. But, where have you seen a watermelon-flavored slush with seeds you can eat?! You can't even eat the seeds in a real watermelon! Well, technically you can, but why would you want to? The only thing that is for sure is that you'll undoubtedly want to eat these. According to ChewBoom, the seeds are made of candy. They're the perfect extra little treat when the watermelon syrup flavoring your drink in itself won't satisfy your sweet craving. The pink drinks are finished with giant green straws, which completes the watermelon-y look.
Now, Freezes aren't actually new territory for the Tex Mex chain. Taco Bell has a number of frozen drinks currently on its menu. In addition to a frozen version of the crowd-pleasing Mountain Dew Baja Blast, Taco Bell introduced a freeze reminiscent of a red skittle earlier this year. The Skittles Strawberry Freeze tastes almost identical to the red candy for which it was named (and flavored). If that in itself isn't exciting enough, a Taco Bell PR representative told Bustle the freeze allows customers to "...experience what [they] love about strawberry flavored Skittles candies in every sip." Tasting the rainbow just got a whole lot more refreshing.
It would appear Taco Bell is on a roll when it it comes to ~rolling~ out new products in 2018. In addition to the Skittles Strawberry Freeze and the Watermelon Freeze, the chain has released a number of new items to chow down on as you drink up your freeze. Fans of all things viral, inventive, and meaty need not look farther than Taco Bell for tomorrow's lunch; the already outrageous Naked Chicken Chalupa got an upgrade this year in the form of Wild Sauce. If you're really looking to live más, add some nacho fries.
Taco Bell's Naked Chicken Chalupa may be unrecognizable when compared to the traditional Mexican dish, but the Wilder Naked Chicken Chalupa is a fast food marvel. Switching a layer of crispy chicken out for the traditional masa (corn) dough, Taco Bell's classic Naked Chicken Chalupa is filled with lettuce, tomato, cheese, and finished with avocado ranch dressing. The Wilder version has all of the same accouterments, but is topped with a spicy sauce in place of the ranch.
The chain's nacho fries reimagine the classic pairing of cheese and potato, adding a distinct flavor to the crispy snack. A thicker version of the classic fast food french fry is seasoned with a special seasoning mix. According to a spokesperson for the company, it contains habanero, cayenne pepper, and other spices. The fries are then paired with a side of warm nacho cheese for dipping. There's also the option to add extras like beef, pico de gallo, and sour cream to make your snack more of a meal.
What's the perfect complement for a salty, greasy, cheesy meal? Something frozen and fruity of course! Taco Bell's Watermelon Freeze is available at participating Taco Bell locations nationwide. A regular 16 oz. freeze sells for $2.39, according to the restaurant's website. As it's only available for a limited time, you'll want to snag one fast — just don't drink it too fast or your drink won't be the only thing that is frozen.