Tan France & Pete Davidson Went Shopping Together Again & The Details Are Too Perfect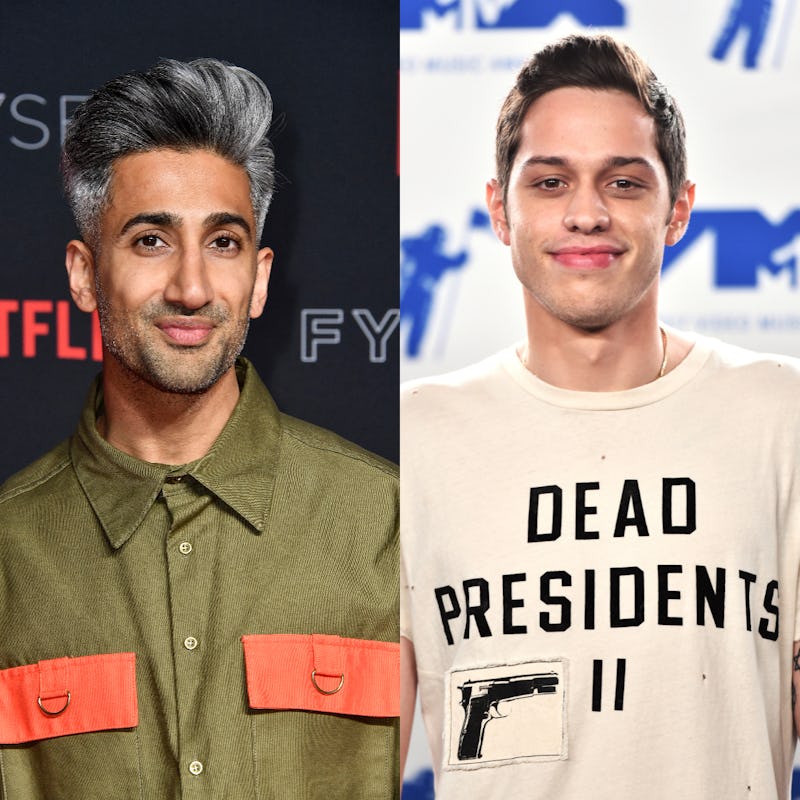 Frazer Harrison/Getty Images Entertainment/Getty Images/ Alberto E. Rodriguez/Getty Images Entertainment/Getty Images
While there's no confirmation on when newly engaged couple Pete Davidson and Ariana Grande will be tying the knot soon, it's never a bad time to refresh your wardrobe. After their hilarious trip to Saks in an April Saturday Night Live clip, Queer Eye star Tan France said he took Davidson shopping again and shared his well wishes for the couple during an appearance on Andy Cohen's Watch What Happens Live on Sunday, according to People.
"I'm very very, happy for them. I couldn't be more happy. I think if anybody finds love, that's amazing. I will always support that," France told Cohen, who was joined on the show by the other members of the Fab Five.
When a viewer called in and asked if France had helped Davidson pick out any clothes to wear for his new fiancée, France replied, "I just went shopping with him a couple of days ago — so yes."
France's co-star, culture expert Karamo Brown, also voiced his excitement for the couple, but said he didn't have any specifics about their upcoming nuptials. "We all know them and they're sweet," he said. "I texted them immediately and was like, 'Hey! Did you get engaged? Oh my gosh, congratulations! I want to send a gift!' But I was really being nosy and he didn't text me back."
Brown continued, "So I really have no details. I felt like it was my information too and I don't have it."
This isn't the first time the cast of the hit Netflix show has commented on Davidson and Grande's engagement. The guys appeared on People Now on Thursday, and when asked whether they would consider getting engaged as quickly as Davidson and Grande - reports of the pair's engagement surfaced just a few weeks after they made their romance public - France said he actually did.
"I did, I've been together with my husband for 10 years," France, who is married to illustrator Rob France, said. "We decided we would get married after five dates, and we've been together for 10 years. So it could work, you guys!"
The show's style guru also hinted that he might be helping Davidson with the ceremony. "He has asked if I would give him a hand, and I will happily give him a hand," he told People Now. "He's a friend. We love him very much. He's one of the best people I've met in a long time."
While there are no details yet as to what France's role would be, if the Queer Eye star has any say, Davidson's outfit for the big day is sure to be on point.
The Queer Eye cast aren't Davidson and Grande's only friends to give the couple their blessing. Davidson's buddy Nick Cannon, told Entertainment Tonight on June 14 that Davidson had called him before proposing to the singer, and Cannon told the publication, "He was really excited, so I was like, 'I love it, man. Keep it going.' Love is in the air!"
According to ET, during a recent appearance on Sirius XM's Chicks in the Office podcast, Glen Powell, who starred alongside both Davidson in the Netflix rom-com Set It Up and Grande in Fox's Scream Queens, also said he thought the pair was a perfect fit. "They're two sides of the same coin," said the actor. "I'll say they're both wonderfully bizarre in their own ways."
Neither Davidson nor Grande has revealed any details about the ceremony, so it's unclear when they'll be walking down the aisle, but all eyes are sure to be on the couple until then. And if fans see Davidson sporting a French tuck anytime soon, they'll have France to thank.