Target Just Dropped 1700 New Swimsuits With Zero Airbrushed Campaign Photos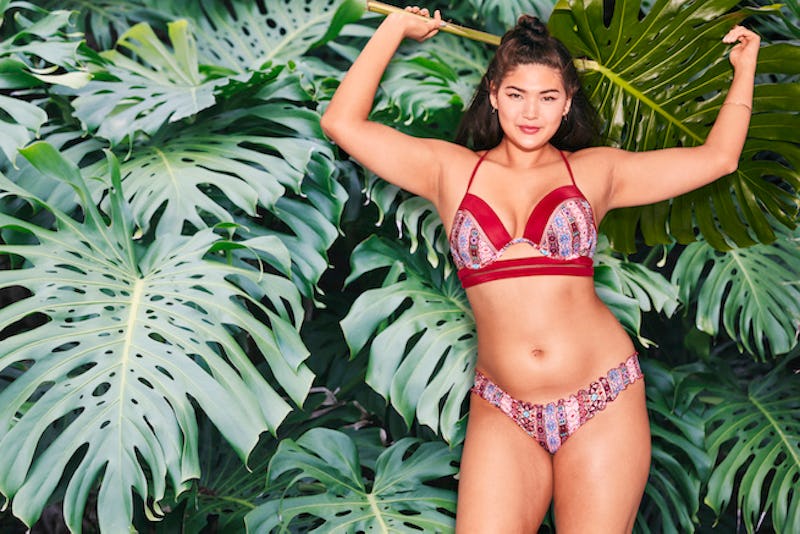 Target
Depending on where you live, the chilly winter temperatures might feel like they're holding on for dear life. In New York City on this fine mid-March morning, I personally considered wearing my coat inside of the house. However, I can feel the hope and promise of summer wash over me — and hopefully you, too — in the form of this can-it-be-summer-right-effing-now announcement: On March 16, Target announced its 2018 swim collection, a massive new product launch that consists of 1,700 different styles, colors, and cuts. What's more, the campaign images to go along with the launch have zero retouching, reshaping, or extreme airbrushing, a welcome deviation from a season that often feels like it's sponsored by Photoshop.
"It's our goal to take the stress out of swimsuit season and bring joy back to the beach by providing something for every Target guest," the brand wrote on it's corporate website to announce the collection. "To do that, we're offering more than 1700 styles throughout the year, including an expanded assortment of swimwear for all sizes. To show off the new styles you'll see bright, vibrant images throughout our marketing campaign—all meant to inspire guests to have fun while rocking their favorite swimsuit. Something you won't see? Reshaping or airbrushing. Building on the strong foundation we set with last year's campaign, we're celebrating women and encouraging them to embrace the beauty of their own bodies."
This isn't the first time in 2018 that Target has announced a push for more inclusivity in their fashion selection, either. At the beginning of the year, the brand announced Universal Thread, a denim collection with every piece offered in sizes 00-26, with plus-sizes and straight-size jeans, jackets, and other casual wear, offered at price points hovering around $25.
According to the brand, the collection was inspired by the beaches of Saint Tropez, Brazil, and Australia. Many of the pieces are full of color and bold prints as a result, with serious tropical vibes and interesting textural details that make the suits stand out. The generous new inventory is broken down into five categories: Modern Minimalist, Boho, Heartbreaker, Americana, and Tropical.
"This year's assortment features pieces showing off key trends in a variety of colors, textures and styles," the corporate Target website stated in the announcement of the collection. "Modern Minimalist highlights a sleek, contemporary vibe that sticks to solid colors and unfussy prints. Boho combines feminine details, like lace and crochet, with '70s-inspired prints. Heartbreaker, our selection of lingerie-inspired swimwear, includes mesh detailing, lace, ruffles, embroidery and more. Americana focuses on solids, texture, color-blocking and—of course!—classic stars and stripes. Finally, our Tropical trend plays up bright colors, exotic prints and bold graphics."
Check out some of the styles from the 2018 Target swim collection:
With 1,700 options to choose from in a range of sizes, swimwear shopping could from being the kind of experience where you leave without anything, to a joyful occasion for everyone except your wallet. Simply put, with bikinis, one-pieces, cut-outs, cute prints, halters, high waists, and more, it might be tough — or damn near impossible — to choose just one.
The 2018 Target swim collection ranges in price from $14.99 to $49.99, with most items falling under $24.99. The price point is impressive enough on it's own, but combined with the expanded size range, the wide variety of styles, and the message conveyed by the brand's lack of airbrushing or reshaping, the Target swimwear section is an easy place to imagine dropping some coin before the beach this summer. It's almost enough to make you forget that you're probably still freezing right now. Almost.