Target Is Selling $5 Bottles Of Rosé & This Is NOT A DRILL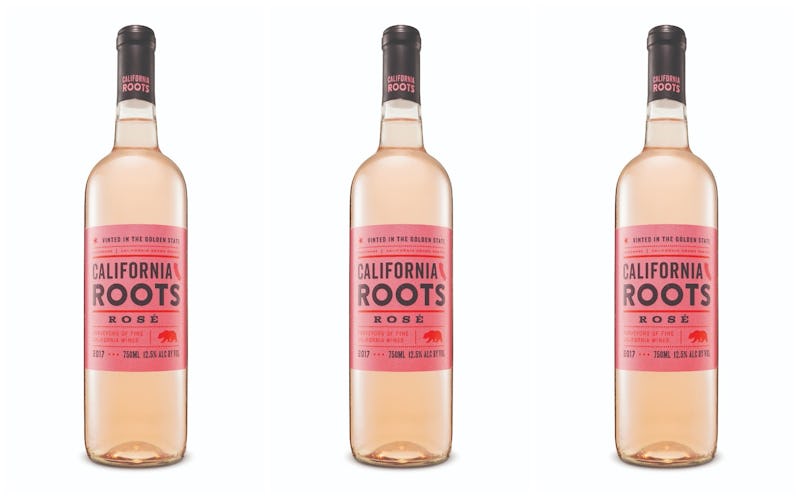 California Roots/Target; remixed by Lucia Peters
Although many would likely argue that "rosé all day" is a life philosophy that works no matter what time of year it is, there's no time for living that rosé life like the summer — and thanks to Target's $5 California Roots Rosé, this year, you'll be able to meet all your summertime pink wine desires without breaking the bank. Heck, you'll be able to do it even before summer rolls around, for that matter: California Roots Rosé is set to arrive at Target on April 8, 2018, just a few days from now. Get those glasses ready!
The California Roots brand of super affordable wine made its debut at Target at the end of August 2017, and according to the retailer, it's proven to be quite popular in the months since. "Since we started offering California Roots last summer, it has quickly become one of our top-selling wine brands, adding to the overall success of our adult beverage business," Mark Tritton, Target's executive vice president and chief merchandising officer, said in a press release. At the time, five varieties were available: A chardonnay, a pinot grigio, a Moscato, a red blend, and a cabernet sauvignon. The introduction of a rosé brings the number of varieties available up to six, covering all of the basics: An oaky white; a light white; a sweet white; a red table wine; a slightly more complex red; and — of course — a millennial pink option.
For the curious, California Roots Wine is owned by Trinchero Family Estates, located in St. Helena, Calif. in Napa Valley, according to the veeeeeeery bottom of the California Roots website. Trinchero itself is a major player in the wine market; nestled under its wide-reaching umbrella are more than 40 brands, including Sutter Home, Ménage à Trois, Bandit, and Terra d'Oro, along with its own label, Trinchero Napa Valley. (Several of Trinchero's other brands are available at Target, as well, among them Sutter Home and Charles & Charles.)
But, of course, the burning question is this: What does California Roots Rosé taste like? According to the press release, it has "notes of fresh berry and citrus"; recommended food pairings include "spicy grilled shrimp, grilled pesto chicken, Margherita pizza, or a crisp spinach salad." More generally, rosé tends towards fruity, floral, and citrus notes; it can be very sweet, but it doesn't have to be. (A dry rosé is A-plus in my book.) You'll often see grilled poultry, fish, and fresh veggies paired with it, but it's also good for drinking on its own, too.
Not much else is available about California Roots' variety right now, but some taste tests of the other wines offered by the brand might provide some insight about what we can expect. In 2017, Refinery29 pitted California Roots against similarly priced wines from a few other retailers and found that the Chardonnay was the best of the bunch; described as "mild and a bit crisp," it was "easy-drinking without being overly bland or sweet." It came out as the overall favorite of every single wine they tasted. BuzzFeed was complimentary of every variety; notably, the team over there liked the Pinot Grigio much better than the taste testers at R29 did. The Cabernet was determined to be "complex and hearty," while the Chardonnay tasted "expensive" — more like a $20 bottle than a $5 one. Lifehacker was less complimentary to the line overall, noting that the only one they found worth a repurchase was the Red Blend. Vinepair, meanwhile, had a few actual sommeliers test California Roots out, and although the whites weren't a hit, the Red Blend was a winner; "I'm actually impressed by this," noted one sommelier.
(That sommelier probably wasn't John Legend, but a person can dream.)
Although California Roots Rosé won't be hitting shelves for another few days, the listing for it is already up at Target's website. It doesn't currently include pricing, shipping availability, or in-store availability; however, once the wine makes its official debut on April 8, you should be able to pop back over to the listing to find all the relevant details about where you can get it near you.
Target currently offers a whopping 44 different bottles of rosé, according to the listings on its website — something which appears to be a relatively recent development. (According to the California Roots Rosé press release, Target has "nearly doubled our rosé assortment" following advice from their wine buyers noting that the popularity of rosé "is here to stay.") Although not all of them are to my taste — I tend to prefer my rosés dry, rather than sweet — there's almost certainly something there for everyone; I do also appreciate the few varieties available that corner the millennial market in particular. One of those varieties is, of course, Yes Way Rosé, which launched at Target just about a month ago on March 4; whereas Yes Way Rosé costs about $13 a pop, however, California Roots offers a lower cost alternative.
California Roots Rosé arrives at the House of the Big, Red Bullseye on April 8. Bottoms up!