Taylor Swift Missed Karlie Kloss' Wedding For A Perfectly Acceptable Reason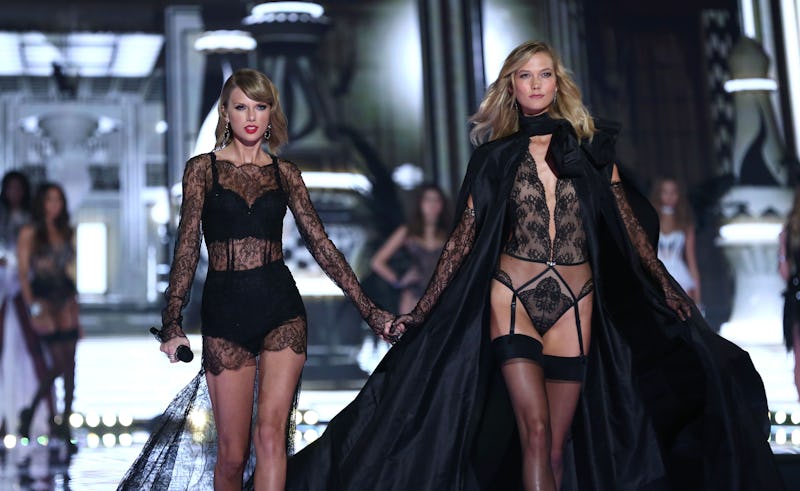 Tim P. Whitby/Getty Images Entertainment/Getty Images
As you may have heard, Karlie Kloss married her longtime love Joshua Kushner in a low-key ceremony on Oct. 18. You won't be able to count one of her well-known besties in attendance, though. According to Brides.com, there's a likely reason Taylor Swift wasn't at Karlie Kloss' wedding, and it has a little something to do with her busy schedule.
Kloss said "I do" to Kushner in upstate New York in a private ceremony attended by around 80 guests, according to People. However, the supermodel's BFF, Swift, wasn't there. Now, this could cause some to think that the duo's non-existent feud is back on. But, that doesn't appear to be the case at all.
In fact, the "Blank Space" singer likely wasn't at the celebration for a very simple reason: She wasn't even in the United States at the time. As Brides.com notes, on the same day as Kloss' ceremony, Swift posted on her Instagram Story and told fans that, after a lengthy flight, she had landed in Perth, Australia for one of her tour stops. So, it's likely that she simply could not have been at her friend's wedding because of a prior work commitment.
However, that doesn't mean that she still can't celebrate with the newlyweds. People reported that Kloss and Kushner are set to have a second, larger celebration with all of their friends and family sometime in the spring, which could obviously include the bestie herself, Swift.
In case you did miss the happy news, Kloss and her husband, Kushner, surprised the world by announcing that they had exchanged vows on Oct. 18. The supermodel posted a photo of the couple on Twitter and Instagram with a simple caption that read, "10.18.2018," along with a heart emoji.
The couple previously confirmed their engagement on July 24, with an Instagram post in which Kloss wrote, "I love you more than I have words to express. Josh, you're my best friend and my soulmate. I can't wait for forever together. Yes a million times over." She also include a diamond ring emoji for good measure.
A source told People that Kushner popped the question "during a romantic weekend together in upstate New York." Seeing as though it's where their engagement and wedding took place, it's safe to say that upstate New York holds a special places in the pair's hearts.
Even though Swift didn't attend this recent ceremony, there's no need to start up those "Kaylor" feud rumors again. After all, they've clarified multiple times in the past that there's "bad blood" in their friendship. Most recently, Kloss appeared on Vogue's 73 Questions video, where she was asked about the status of her friendship with the singer. In the video, she was asked to address Jennifer Lawrence's concern about the pair's relationship, which she discussed to the The New York Times in February, the new bride said,
"The world needs to know? Well, Jennifer Lawrence was interested. Jen, don't worry, Taylor and I are still really good friends."
So, there's no need to worry about why Swift didn't show up at Kloss' recent nuptials as the two are still everyone's favorite BFFs.