Sorry Joseph Kahn, But Criticizing Taylor Swift Isn't Inherently Sexist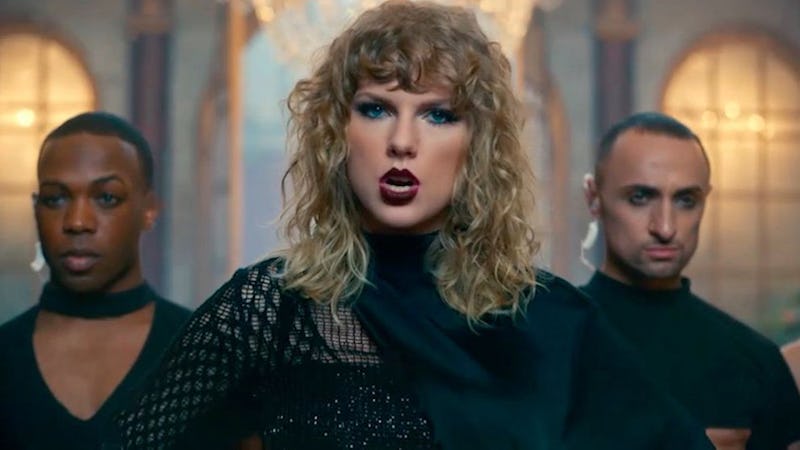 TaylorSwiftVevo/YouTube
Joseph Kahn is defending Taylor Swift once more; this time, the director of Swift's new video "Look What You Made Me Do" has taken to Twitter to defend Swift against sexist double standards. "If I plan something as a man I'm a 'genius,'" Kahn tweeted. "If Taylor as a woman plans something she is 'manipulative.' Double standards. This is wrong." He's right that there is a double standard when it comes to how male and female artists are treated. But what Kahn's tweet seems to say is that any criticism Swift has received for "LWYMMD" is sexist, which is a dangerous concept.
In a 2015 interview with Pitchfork, Björk said, that after being the only girl in bands, she learned "the hard way – that if I was going to get my ideas through, I was going to have to pretend that they – men – had the ideas." Women have to fight harder to be taken seriously as "musicians," and there's no doubt that, because Swift sometimes sings about exes, there are those who continue to underestimate her like male singer-songwriters haven't done the same. It's also true that the singer's "LWYMMD" hasn't gotten the raves some of her other singles have. Vulture said it was "dead on arrival," while USA Today said the video "wasn't smart — just petty." But, despite that, "Look What You Made Me Do" broke records on Spotify and YouTube, logging 8 million first-day streams on the music platform and another 19 million views for the lyric video.
The truth is, with this single, Swift isn't facing any more sexism than any other female artist is. So, this tweet comes across as just an easy way to write off the bad press for the song.
The bad press goes deeper than double standards, and no amount of bad press means that Swift has to stand by and ignore that she works in a business where women are much more harshly judged for their faults than men. In fact, fans and non-fans alike would probably love to hear Swift speak out about the sexism of the music business rather than her male director. She's done it before, telling Time in 2014 that there is no doubt that she is judged differently than her male counterparts for writing about her love life:
"And I think frankly that's a very sexist angle to take. No one says that about Ed Sheeran. No one says that about Bruno Mars. They're all writing songs about their exes, their current girlfriends, their love life, and no one raises the red flag there."
Even more recently, she received accolades for fighting back in her sexual assault case where she accused DJ David Mueller of grabbing her under her skirt during a 2013 concert meet-and-greet. (Mueller has denied the incident occurred and is the one who initially sued Swift for defamation.) Swift was awarded a "symbolic" $1 from the DJ, who was found guilty of assault and battery, but she also earned the respect of many who agreed with her clear statements and testimony that no woman should have to deal with that kind of harassment in the workplace.
But part of the reason so many were turned off by "LWYMMD" was that the defiant Swift of that testimony — who fired back when asked in court why no one else saw Mueller grab her bottom because "the only person who would have a direct eye line is someone laying underneath my skirt and we didn't have anyone positioned there" — wasn't anywhere to be found in this song.
It once again retread old territory, casting Swift as the victim of an unnamed enemy, which fans theorize is both Kimye and the media, for calling her out for lying. The singer said her new album, Reputation, symbolizes a new era for her, even going as far as to tell us on "LWYMMD" that the old Taylor is "dead." With this song, and perhaps with this entire album, she claims that she has been forced to explore her dark side, to become a rebel or, perhaps, even the villain. Unfortunately, villains don't often win over the hearts of the people. They fight for what they believe in, knowing that they won't be popular or might even lose in the end.
Right now, it feels as if Swift is just a rebel without a cause, who still cares way too much about what everyone thinks about her and isn't fighting for very much at all. But if she would like to start speaking out about the things she thinks are important, like the sexism that women face in the workplace and the fact that women are judged more harshly for doing the same things as men, there are a lot of people who are ready to listen. People who have, in fact, been begging for her to speak about her beliefs for years. She just has to be willing to listen, in turn, to those who disagree with her — and stop letting other people speak for her.