This Star Almost Didn't Join 'OITNB' & It Would've Been A Huge Loss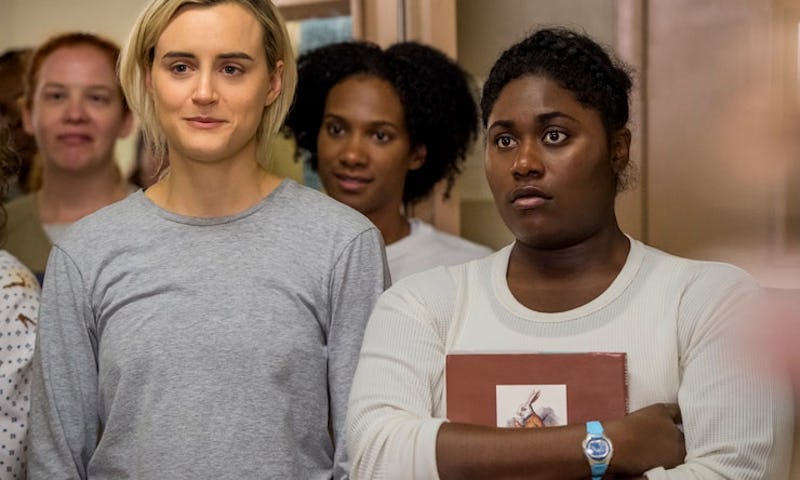 JoJo Whilden/Netflix
By now, Orange Is The New Black is a veritable tour de force. It's one of Netflix's biggest (and earliest) hits, but it's also an inclusive, timely, and crucially important glimpse at what life in prison could be like for many real-life women. And it almost looked a whole lot different. In a recent interview with People, star Danielle Brooks revealed she almost turned down OITNB because she was reluctant about the chance of nudity. As she told the outlet,
"To be honest I didn't know 'Orange' was going to be one of those dream jobs. I almost turned it down in the beginning because there was possibility for nudity, but I'm really glad I didn't do that."
And fans should be, too. While the character would still technically be in the show, another actor in Brooks' role — she plays Tasha "Taystee" Jefferson, a feisty but kind two-time inmate — would have changed the dynamic entirely. One of most compelling parts of the character is her relationship with BFF Poussey (Samira Wiley), a military kid with a heartwarming spirit. The two have incredible on-screen chemistry, and for a reason: They're real-life friends. They both attended Juilliard for college, and met on their first day there. Brooks recalled in an interview with The Cut, "I was met with her screaming 'WOOOOOOOOO! WELCOME TO JUILLIARD!'"
In fact, it was Brooks who encouraged Wiley to audition for the part of Poussey, so if she'd opted out, it's possible Wiley would have never signed on either.
Both characters took on pivotal roles in Orange Is The New Black's recent seasons. Poussey was killed off in a gutting tribute to the Black Lives Matter movement at the end of Season 4, and Taystee spent the entirety of Season 5 attempting to avenge her death and push for better quality of life for the inmates of Litchfield Penitentiary.
There's probably a whole list of talented women who could have played Taystee, but Brooks brings a kind of magic to the part that's difficult to re-create, and OITNB frankly wouldn't be the same without her.