Tessa Thompson Hints At A Marvel All-Female Superhero Movie & You'll Want It Immediately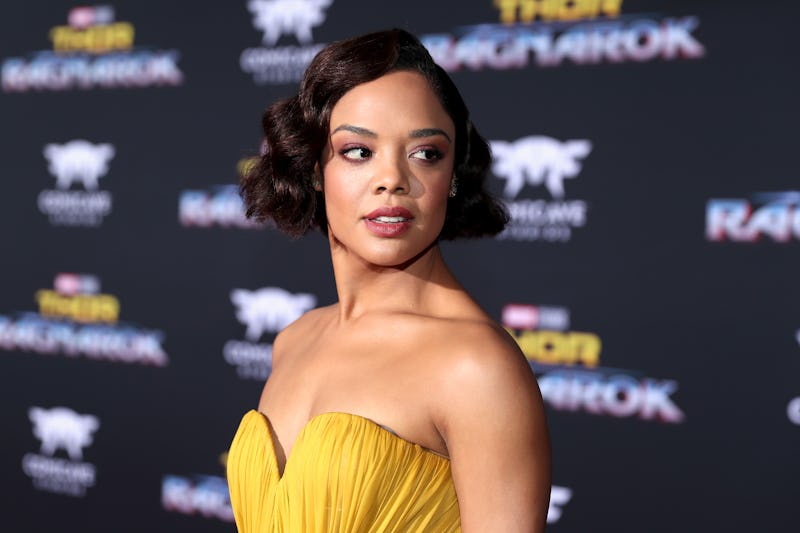 Rich Polk/Getty Images Entertainment/Getty Images
Audiences have witnessed more and more leading women kick ass on screen. But Marvel may be working on a superhero film that would truly be the first of its kind. In a new interview with IGN, Thor: Ragnarok star Tessa Thompson hinted at Marvel's all-female superhero movie — and it's one that could truly shift the course of film. With mega movies like Avengers, Justice League, and Suicide Squad, audiences have seen groups of superheroes join forces to combat evil. However, those groups are mostly men with a token woman or two sprinkled in. Never have we seen a team of female superheroes in battle without the help of their male counterparts, but of course, there's a first for everything. And this first may be closer on the horizon than you think.
Thompson is optimistic about the possibility of an all-female, Avengers-style movie, suggesting that Marvel President Kevin Feige is "really excited" by the idea. "If you look at what's happened already in Phase 4 with me and Valkyrie and our story, and then in Black Panther, the women rule supreme," she told IGN. Thompson plays Valkyrie in Thor: Ragnarok. And during the recent interview, she further pointed out the upcoming women-driven projects the studio has in the works.
"There's an interest, they're doing Captain Marvel, they're doing a Black Widow, there's an interest in having women at the forefront of this phase," Thompson continued. "I feel like it's hopeful, who knows?"
Marvel's recent history of being open to suggestions and collaboration is what also gives Thompson hope. "I'm not Marvel so I can't make it happen, but I can tell you that Marvel is hugely collaborative," Thompson continued to IGN. "I think even [Thor: Ragnarok] was basically the product of conversations they'd had with Chris [Hemsworth] and with Mark [Ruffalo] about what they wanted to do next."
In November 2017, Marvel's female actors Thompson, Scarlett Johansson, Brie Larson, Karen Gillan, Pom Klementieff, and Zoe Saldana pitched the idea of an all-female blockbuster to Feige, according to IndieWire. The Avengers style movie would feature Marvel's prominent female roles including Gamora, Scarlet Witch, Black Widow, Mantis, Captain Marvel, and Nebula.
Marvel's recent projects should give fans reason to believe the studio will continue moving the needle for representation on screen. Captain Marvel, starring Larson, will be Marvel's first woman-led superhero film when it opens March 2019. Meanwhile, its current release Black Panther is getting praise for its revolutionary black hero. Time magazine has deemed Black Panther as a "major milestone" in pop culture as a game-changing superhero movie "about what it means to be black."
Marvel's major competitor DC Comics is in a similar situation. It's first woman-fronted film Wonder Woman was a record-breaking triumph when it was released last year. But in Justice League, Wonder Woman (Gal Gadot) is the only female team member, just like Harley Quinn (Margot Robbie) and Katana (Karen Fukuhara) in Suicide Squad. And of course, in Marvel's Avengers, Black Widow (Scarlett Johansson) and Scarlet Witch (Elizabeth Olsen) hold it down as the only women of the crew.
There's no doubt teams of women have been increasingly seen at the forefront with films like the Ghostbusters remake, Pitch Perfect, and the upcoming crime-action Ocean's 8. And triumphant stories of individual female leads have been making waves as well, especially this awards season with Oscar-nominated films like Molly's Game, The Shape of Water, Lady Bird, and Three Billboards Outside Ebbing, Missouri.
But audiences have yet to see women joining forces in a superhero setting. A film like this could prove that not only can they work together, but can truly save the world without the aid of men alongside them.